GOKULAM GOPALAN: THE SOCIALLY COMMITTED BUSINESSMAN
UNIQUE TIMES
|
July - August 2020
Being a socially committed person is extra-ordinary – especially if you are into business. Not all people have the true courage to dedicate their life for their society. Specifically speaking, the present generation has come down to the level of selfishness. Needless to say, given the aforesaid facts, if there is someone who does not qualify the said assumptions, he deserves to be treated as a noble soul. Fortunately, a search for one such divine soul has culminated with a positive note. In this edition, a business legend, who has shown the world the importance of leading a socially committed life, is covered. That exceptional human is none other than A M Gopalan (popularly known as Gokulam Gopalan), the owner of Gokulam Group of Companies.
There is a saying that 'there is a small footprint behind every big'. Like what the saying implies, the beginning of this business leader's career was also humble. Born in a small village near Vadakara in Kerala, Mr. Gopalan was a very sincere student. He secured his graduation in Mathematics from the Kerala University. His interest for acting attracted him to the dream city of Chennai. His initial days in Chennai was extremely challenging. An accidental meeting with a doctor worked as a game changer. That opened a door of opportunities before him. He, with the help of the doctor – who found his educational accomplishments impressive, secured a challenging job opportunity as medical representative.
It is important for a businessman to identify his first spark. It is from that striking realisation he discovers his true potential as a businessman. To Mr. Gopalan, that spark happened when he joined his first job. His job required him to wear a kind of professional attire. At that point of time, because of his not-so-good financial position, he was not able to afford that. He is not a man who simply stares at hurdles helplessly. He found the solution to his problem in a brilliant financial plan. He started a mini chit fund involving not more than ten people with a monthly instalment of Rs. 60 each. Notably, it not only served his purpose but also formed a firm base for his chit business.
Now, his chit fund and finance company, Gokulam Chit Funds and Finance Private Limited, is around half a century old. This five-decade-old company, started in Chennai, has as many as 460 branches across the country. Gokulam Group, which is a very promising business Group, is not limited to this business. It has interests in hospitality, healthcare, education, logistics, food manufacturing, cinema and media entertainment, retail and even realty. It employs not less than 11,000 people. Its annual turnover is over Rs. 7,000 crore.
Gokulam Park (Chennai), Gokulam Park (Coimbatore), Gokulam Park Sabari (OMR, Chennai), Gokulam Park Hotel & Convention Centre (Kochi), Sree Gokulam Nalanda Resorts (Nileswaram), Sree Gokulam Vanamala (Guruvayur), Sree Gokulam Residency (Thrissur), Hotel Gokulam Fort (Thalassery), and MSR Hotel and Spa (Bengaluru) are the backbone of the hospitality arm of the Group.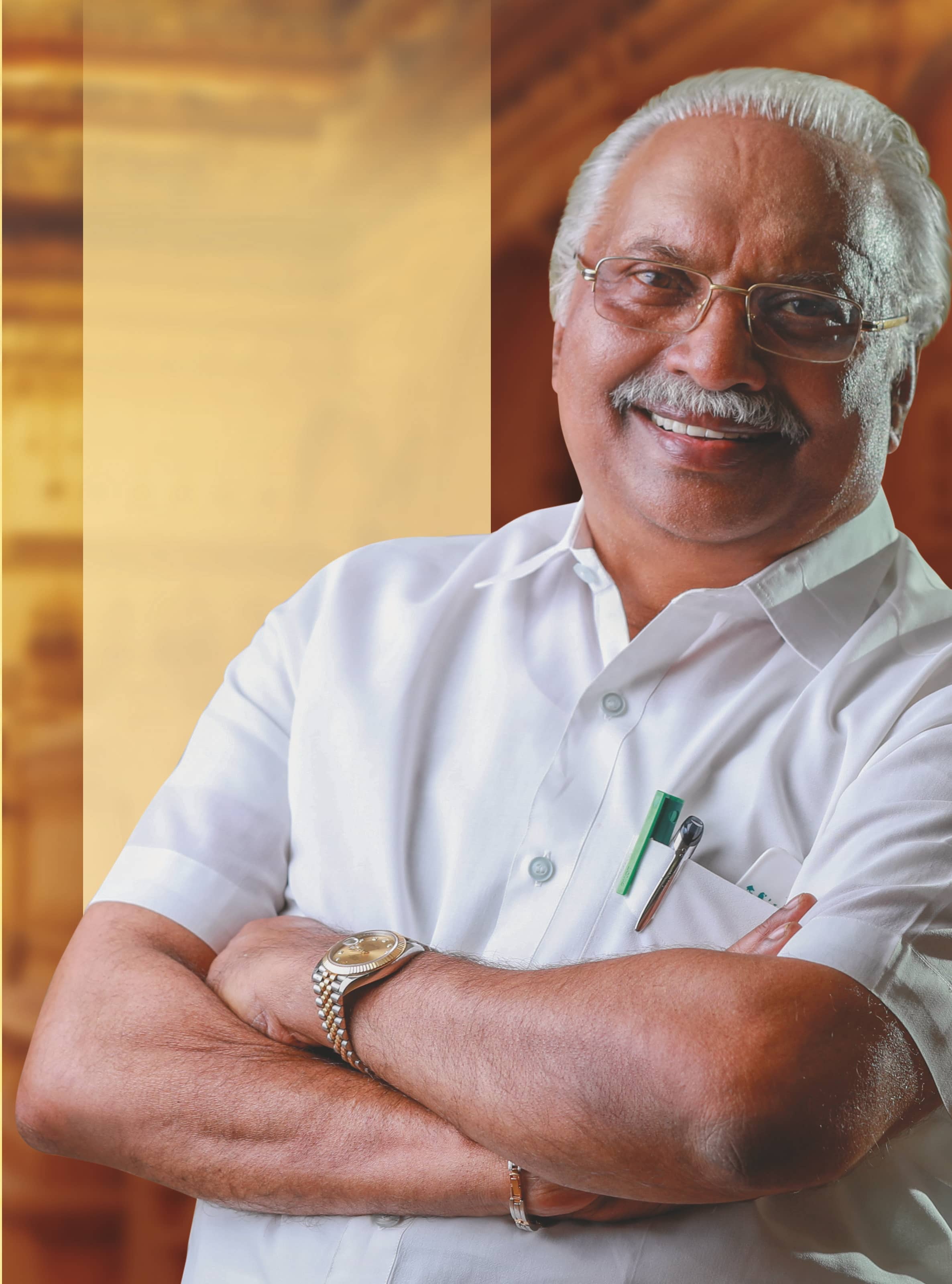 Mr. Gopalan has trust in the potential of the state's tourism sector. It is clear form his enthusiasm to increase his investment in the hospitality sector. The Group operates a chain of luxury boats in Alappuzha – the Venice of the East.
This legendary businessman is the one who values education more than anything else in this world. As he knowns very well that an investment in education is an investment in future, his investment in education is huge. He runs several educational institutions – not only in Kerala but also across the world, particularly in the Middle East. Dovecote Green Primary School (Dubai) is one of the Group's biggest contribution. Sree Gokulam Public School is now a very familiar, as well as respected, name in the state. The Group has more than seven schools and three arts colleges in the state. The educational institutions run by the Group stand out from the rest for the dedicated, as well as humanitarian, way in which they operate. It is silently bringing a revolutionary change in the education sector of the state.
Sree Gokulam Medical College and Research Foundation is an asset to the medical education sector of the state. The college, which the Group runs, offers world class medical education, and is one of the most promising medical colleges in the state. It is also popular for its social service initiatives. In the medial college, there is a separate block for rehabilitating senior citizens. The block primarily serves poor.
You can read up to 3 premium stories before you subscribe to Magzter GOLD
Log in, if you are already a subscriber
Get unlimited access to thousands of curated premium stories, newspapers and 5,000+ magazines
READ THE ENTIRE ISSUE
July - August 2020