A world of spices to tickle the tastebuds
Progressive Grocer|March 2020
The spices category is a growth leader in the food industry. Spices form an important part of virtually all recipes in all cultures, not only for their flavor and seasoning of foods but also for their numerous medicinal values.
India is known as the home of spices and boasts of a long history of trading with the ancient civilizations of Rome and China. Spices of India have found mention 7,000 years ago in the ancient civilizations of Egypt, Mesopotamia, Sumeria, Arabia and China, far before the Greek and Roman civilizations came into being. Historically, the Indian Sub-continent was well connected with the world's trading powers, which purchased spices in abundance from here. As a consequence, spices have played an important role in joining various cultures from around the globe and getting them to converge at a single point. Indian spices have been famed throughout the world since times immemorial and have been closely associated with cultural traditions, magic, preservation, medicines and embalming. In fact, India's famed spices inspired the quest of Europeans to come here and even re-script our history.
India is the largest producer, consumer and exporter of spices and spice products in the world. It is also the largest domestic market for spices in the world. The country is known for its wide variety of rich, earthy spices that lend immense flavor to dishes throughout the country. From tandoori chicken and corn chaat, to saag paneer and butter chicken, spices are used in cooking to bring out unimaginable flavors. Key spices produced in the country include pepper, cardamom, chilli, ginger, turmeric, coriander, cumin, celery, fennel, fenugreek, ajwain, dill seed, garlic, tamarind, clove, and nutmeg among others.
In terms of consumption, over 5 million tonnes (MT) of spices are consumed annually in India. According to industry experts, this consumption is almost 90 per cent of all spices produced in the country. Ginger-garlic, dry chillies and turmeric together contribute 44 per cent to 48 per cent of total spices in India. This consumption share is not much varied in the rural and urban markets. The southern region of the country plays a significant role in the spices market. It is not only the largest market but its average monthly per capita consumption is also the highest among all regions. Although the region of north India follows next to the southern region in terms of market share, but its monthly per capita consumption is among the lowest at Rs. 92. On the other hand, the western region with 23 per cent market share has monthly per capita figure of Rs. 118, which is the second-highest after the south market. Both regions exhibit higher per capita consumption than all-India per capita consumption figure of Rs. 103. Kerala, Andhra Pradesh, Gujarat, Rajasthan, Orissa and Madhya Pradesh are among the leading spice producing states in India.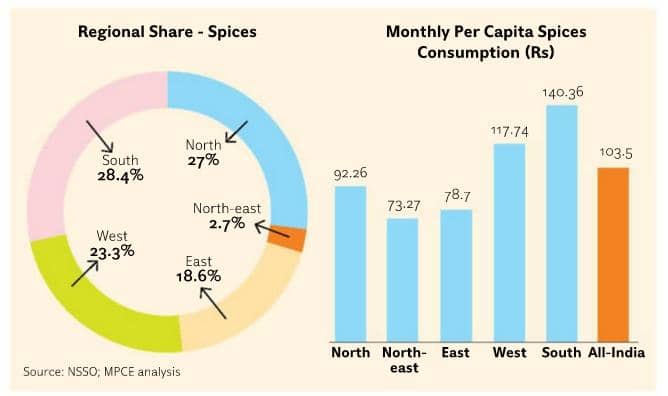 Market size & exports
The current market for spices, according to one estimate by a market research agency, is Rs. 40,000 crore and it has grown at a CAGR of 13 per cent over the last decade. This estimate projects the market to grow twice as big as its present size by 2020, with the same growth rate. According to another study, the Indian spices market is projected to reach approximately USD 18 billion by 2020 with growth in the sector expected to be led by branded spices and spice mixes. The Indian government is aggressively promoting spice exports through various initiatives such as setting up of spice parks. Spice parks offer common processing facilities to both producers and exporters.
About Rs. 6,000 crore is estimated to be the branded market in spices, which is still dominated by unorganized players. The old culture of buying loose spices and grinding them in old fashioned equipment called "chakki" is still dominant. The market share of organized players is only about 1520% and is led by players such as Everest, MDH, MTR, Catch, JK Masale, Eastern Condiments, Ruchi, Shelly's, ITC Spices, Mother's Recipe, Ramdev's Patanjali, DNV, Shubh Food's Tadka Blast, Paras Spices, and a few others.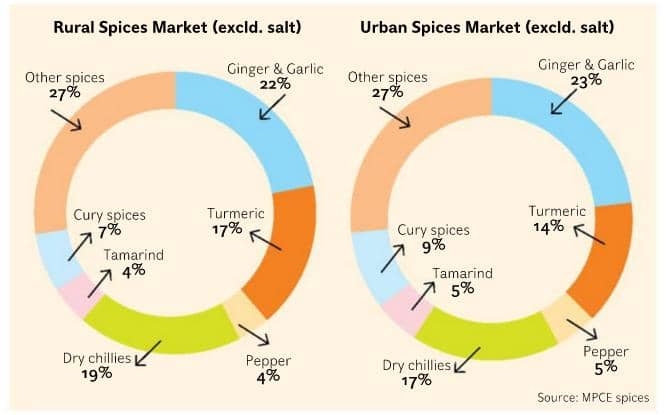 Globally, Indian spices are the most sought-after, given their exquisite aroma, texture and taste. India primarily exports pepper, chilli, turmeric, ginger, cardamom, coriander, cumin, fennel, fenugreek, celery, nutmeg and mace garlic, tamarind and vanilla. Processed spices such as spice oils and oleoresins, mint products, curry powder, spice powders, blends and seasonings are also exported. The country produces and exports about 75 varieties of spices to 120 countries. The major importers of Indian spices are the US, UK, Germany, China, the UAE, Vietnam, Indonesisa, Sri Lanka and Malaysia.
Globalization has improved spice trade across the world, as countries can import and export them more conveniently now than before. In recent years, owing to structural changes in the global spice market, India – which has historically been a bulk commodity supplier of spices – is now becoming a global hub for exporting processed, powdered and value-added spice products. Some countries – Germany, UK, Netherlands and France – which previously imported whole spices, have shifted to imports of ground and blended spices from India. The global food and beverage industry is witnessing rapid change in eating preferences among consumers and demand for botanical flavors is on the rise at rapid pace. Spice and herbs extracts, especially, are among the most in demand to add flavors and innovate recipes in food and beverages applications. This is creating a shift from merchant export businesses to process manufacturing businesses. The growing demand for value-added spice products has also led many Indian players to focus on research and technology in order to manufacture innovative products.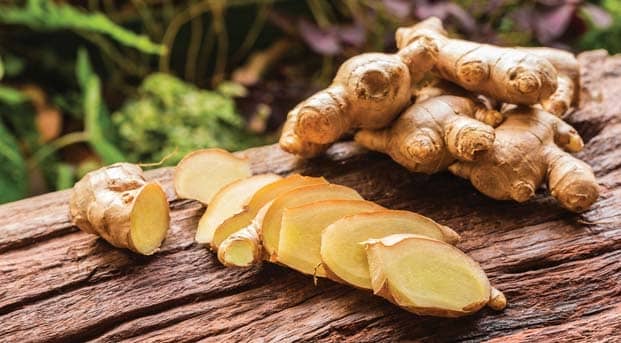 Trends in spices and condiments
With consumers journeying the world through their taste buds, the universe of spices and condiments has expanded and there is an increased demand for new flavors, spice and heat. People are going beyond the bland, traditional flavors and increasingly settling for customization. An increase in the disposable income and the influence of global trend on Indian foodscape are fueling the growth and demand for products like mayonnaise, salad dressings, and exotic flavored sauces.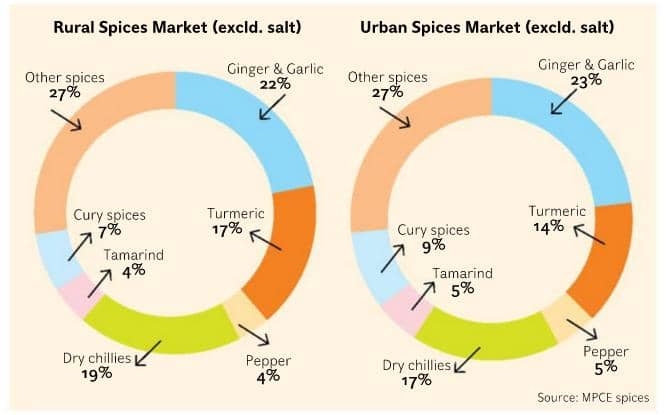 These developments have fuelled a growing appetite for novel cuisines, cultural mash-ups and experimentation and exploration of new dishes. Spices, seasonings, sauces and condiments marry ingredients, provide punch and flavour and can bring a dish to life, so they are vital for chefs and menus. "Spices, sauces and condiments aggrandize and intensify the flavor of the main ingredients apart from acting as a catalyst for balancing the flavors.Ordinary black pepper, for example, can balance out the heat beautifully when it's woodsmoked. A dish is prepared with a variety of components, and spices and condiments add to the grandeur of flavors," says Divya Bose, Chef trainer and Lecturer, IHM Pusa, New Delhi. While staple herbs, spices and condiments such as rosemary, coriander and ketchup remain firm favorites, the growing popularity for trend-driven ingredients has seen more and more chefs making room for Pan-Asian, Mediterranean, Middle Eastern, Mexican and Thai-based ingredients. Consumers are looking past traditional favorites such as Chinese to discover exciting and authentic flavors from Korea, Indonesia and Vietnam. Middle Eastern and Mediterranean flavors are becoming very popular, especially in spicing up breakfast dishes.
You can read up to 3 premium stories before you subscribe to Magzter GOLD
Log in, if you are already a subscriber
Get unlimited access to thousands of curated premium stories and 5,000+ magazines
READ THE ENTIRE ISSUE
March 2020