Make Your Money Last
Kiplinger's Personal Finance
|
October 2018
Create a stream of income that will see you through retirement.
You've spent much of your career socking away part of each paycheck in your retirement accounts, carefully choosing your investments and faithfully sticking with your plan. Retirement is near—or perhaps you've recently retired. Now comes the complicated part. How do you make sure your savings will see you through your retirement? And another big question looms: How do you protect your nest egg during a bear market—which will inevitably come roaring back at some point? // To help answer those questions, we take a look at three key decisions for new retirees: how much you can safely withdraw from savings each year, how to protect against having to sell investments in a down market, and how to supplement Social Security to lock in guaranteed income for life.
PART 1
SET YOUR STRATEGY
How do you tap a nest egg without depleting it too soon? The math is tricky because you don't know how long you'll need the money or whether you'll be hit with big medical or long-term-care bills. And no one can be certain that the stock and bond markets will deliver predictable returns over the next three or four decades.
In fact, many retirees are so afraid of running out of money that they are overly frugal—even when they have plenty of assets or the safety net of a pension, according to a recent study by the Employee Benefit Research Institute. EBRI found that people with $500,000 or more in savings at retirement spent down less than 12% of their assets over 20 years. That's good news for heirs, but it also suggests that retirees are scrimping unnecessarily.
To help new retirees navigate withdrawals, advisers often recommend the "4% rule" as a starting point. This strategy is designed to make a portfolio last at least 30 years—through bear markets and bouts of high inflation.
The rule is simple. Retirees in the first year of retirement withdraw 4% from their 401(k)s and other tax deferred accounts, where most workers hold their retirement savings. Thereafter, retirees increase the dollar amount of their annual withdrawal by the previous year's inflation rate. For example, if you have a $1 million nest egg, you withdraw 4%—or $40,000— the first year of retirement. If inflation that year is 2%, in the second year of retirement you boost your withdrawal to $40,800. If inflation jumps to 3% that year, the dollar amount for the next year's withdrawal rises by the same rate, to $42,024. And so on.
Research behind the rule.
This strategy has been a rule of thumb for millions of retirees, but it was considered radical when it was first proposed in 1994 by William Bengen. Bengen is an MIT graduate in aeronautics and astronautics who later became a certified financial planner.
"I got some hate mail," says Bengen, 71, now retired and living in La Quinta, Calif. Some of it was from financial advisers who had been telling clients they could safely withdraw 6% or 7% annually from their nest egg because the average annual return on a balanced portfolio was 7.5%, he says.
But those high withdrawal rates ignored the impact of bear markets. A bear market can devastate a nest egg if it happens early in retirement. Bengen looked at how portfolios would hold up under actual historical returns, including for someone who retired in the late 1960s and experienced two bear markets (1968–1970 and 1973–74) followed by a decade of high inflation. "That's a lethal combination for a retiree—bad market returns and high inflation," Bengen says. He concluded that a safe initial withdrawal rate from tax-deferred accounts for a 30-year retirement is 4%, with subsequent withdrawals adjusted for inflation.
Bengen recalculated his numbers for a 2006 book and found that by adding small-company stocks (which have greater growth potential than large-company stocks) to a portfolio, a retiree could bump up the initial withdrawal rate to 4.5%. (But 4% is still the recommendation for those Bengen calls his "Methuselah clients"—the ones who will likely have exceptionally long life spans.) When he made changes to the portfolio, Bengen also revised his 1994 recommended asset allocation of as much as 75% in stocks. Today, he recommends that retirees maintain a portfolio of half stocks and half bonds and cash.
Bengen says his rule was not meant to be etched in stone. A resumption of 1970s-style inflation—say, 9% or 10% a year—for a decade could cause the rule to fail, he says. Plus, as a planner, he would never have applied the rule without taking a client's total financial situation into account. For instance, a retiree who is determined to leave money to heirs might withdraw less, while another with a predictable, fixed-rate mortgage could take out more.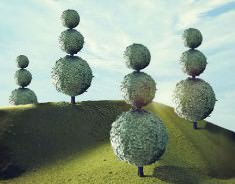 Other strategies.
You can read up to 3 premium stories before you subscribe to Magzter GOLD
Log in, if you are already a subscriber
Get unlimited access to thousands of curated premium stories, newspapers and 5,000+ magazines
READ THE ENTIRE ISSUE
October 2018