Along with its new airport, Turkey's biggest city has seen a raft of improvements that are bolstering its appeal as a business and leisure destination
The past year has been a watershed one for Istanbul. The city's tourism sector is recovering from the troubles of 2016, with arrivals for 2019 expected to have topped 15.5 million by the year's end (according to Istanbul chamber of commerce president Sekib Avdagic), up from 13.4 million in 2018. Hotel occupancy in the peak month of August, meanwhile, reached 87.7 percent – 4.4 percent up on 2018, and 10 percent above the European average – according to the Hotel Association of Turkey.
On June 23, a new young city mayor from the main secular opposition party was elected under the slogan "Her sey cok guzel olacak" (Everything's going to be great). One of the first ways that Ekrem Imamoglu is seeking to achieve his aim is by swiftly setting about reforming the city's cumbersome and opaque bureaucracy, which sees many services delivered through a tangle of city-owned companies and allegations of soft contracts being awarded to companies close to Turkey's governing AK party.
HOST CITY
Imamoglu has a good platform for these changes. Close to two decades of investment has overhauled the city's infrastructure and brought a sea change in the hospitality and retail sectors. Gone are most of the backpacker hostels; instead, Istanbul now boasts 220 four- and fivestar hotels, with a further 54 scheduled to open in the coming years.
"We're one of the most competitive cities on price – visitors spend an average of $90 per night for a room compared with $166-220 [elsewhere] in Europe," says Cemil Hakan Kilic, chief executive of the Istanbul Convention and Visitors Bureau (ICVB). Investments in hotel development isn't just confined to the city center or the main tourist spots of the Bosphorus – even the grayest outlying industrial and business districts now boast high-end branded hotels.
Also transformed is Istanbul's dining scene, no longer confined to the traditional regimen of kebabs, fish and bar food, it now covers all the bases from sushi to vegan. Change has come both organically and thanks to local restaurant management groups such as D-Ream, whose portfolio of 52 upmarket restaurants such as La Petite Maison (French), Lacivert (fresh fish and seafood in a restored Bosphorus mansion) and Fenix (American and Japanese) employs internationally trained chefs and offers diner-friendly online booking.
The retail sector, too, is developing apace. The world-famous Grand Bazaar is still there but the city also has myriad new shopping malls boasting a full range of international outlets alongside the best homegrown brands.
There's more to come in 2020, with the expected opening of the $700 million Galataport complexes, a state-of-the-art cruise ship terminal being built on a stretch of derelict central Istanbul dockland. Capable of simultaneously handling four of the largest (Oasis-class) vessels and up to 15,000 passengers a day, it will also have 560,000 square feet of retail space and 463,000 square feet of offices. It is expected to welcome up to three million tourists a year, and to spark the redevelopment of the surrounding historic port district.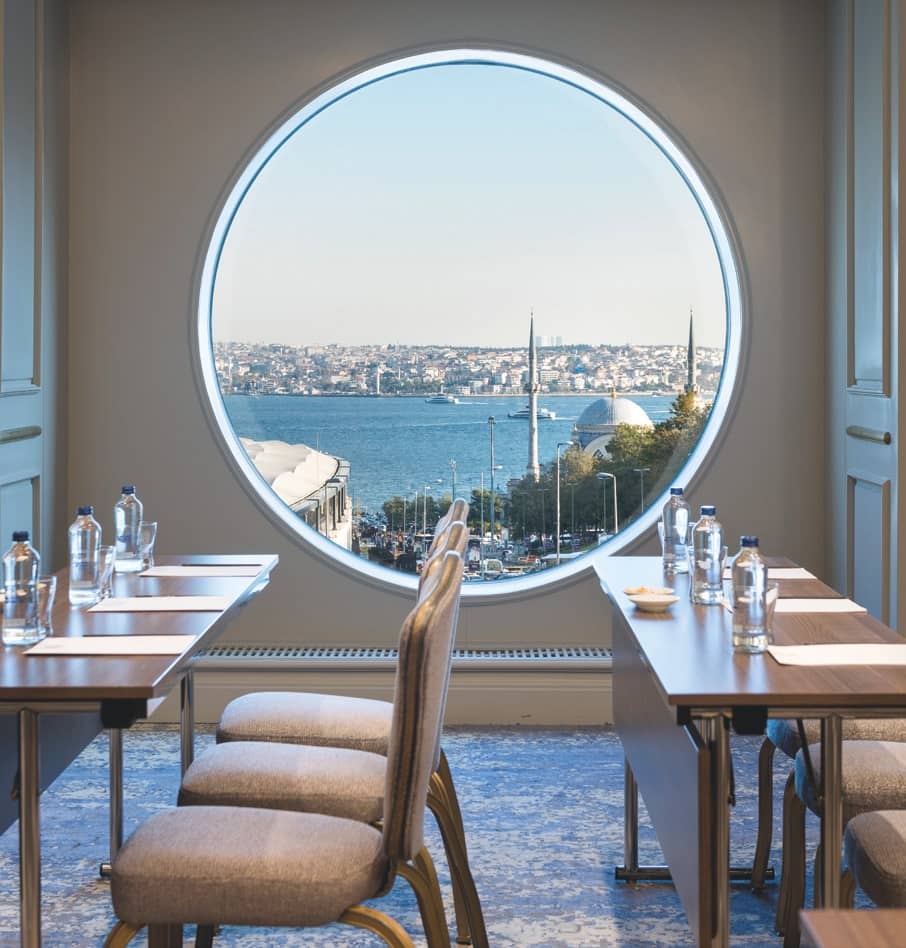 BUSINESS HUB
As Turkey's biggest city and the country's financial and business center, Istanbul pretty much controls the Turkish economy. Home to 56 universities and seven technology parks, it is also the incubator and hub to much of the innovation that has driven the country's rapid growth over the past three decades.
Continue Reading with Magzter GOLD
Log-in, if you are already a subscriber
Get unlimited access to thousands of curated premium stories and 5,000+ magazines
READ THE ENTIRE ISSUE
February 2020