The Front - Runner
Bloomberg Businessweek
|
July 20, 2020
Oxford's Covid-19 vaccine, devised by Sarah Gilbert, is in human trials. AstraZeneca has lined up agreements to produce 2 billion doses.
Now the world waits
In April, Sarah Gilbert's three children, 21-year-old triplets all studying biochemistry, decided to take part in a trial for an experimental vaccine against Covid-19.
It was their mother's vaccine—she leads the University of Oxford team that developed it—but there wasn't a big family talk. "We didn't really discuss it, as I wasn't home much at the time," Gilbert told me recently. She'd been working around the clock, as one does while trying to end a pandemic, and at any rate wasn't worried for her kids. "We know the adverse event profile and we know the dose to use, because we've done this so many times before," she says. "Obviously we're doing safety testing, but we're not concerned."
With safety low on her list of worries (her triplets are fine), Gilbert is focused on quickly determining how effective the vaccine will be and how it will be made. In April, Oxford struck a deal with British pharmaceutical giant AstraZeneca Plc to spearhead global manufacturing and distribution and help run more trials around the world. AstraZeneca has agreed to sell the vaccine on a not-for-profit basis during the crisis if it proves effective and has lined up deals with multiple manufacturers to produce more than 2 billion doses.
Gilbert has been all over the British press, but she appears to regard public attention as a distraction. For more than two decades she worked anonymously, developing vaccines while also, of necessity, churning out endless grant applications. Her research was rarely discussed outside scientific circles. Now she's leading one of the most high-profile and advanced vaccine candidates against Covid-19, with Phase III, or final stage, trials underway involving thousands of people in Brazil, South Africa, the U.K., and, soon, the U.S. Money is no longer a struggle.
At the end of April, crunching a process that normally takes about five years into less than four months, Gilbert and her colleagues at Oxford's Jenner Institute started a human trial on 1,100 people. When Gilbert testified before a parliamentary committee in early July, one member compared her effort to going into a shed and coming out with a jet engine. Gilbert's team has leapfrogged other vaccine contenders to the point where it will likely finish vaccinating subjects in its big 10,000- person efficacy trial before other candidates even start testing on that scale, Kate Bingham, chair of the U.K. government's Vaccine Taskforce, told the committee in early July. "She's well ahead of the world," Bingham said. "It's the most advanced vaccine anywhere."
Anthony Fauci, director of the U.S. National Institute of Allergy and Infectious Diseases (NIAID), has sounded a note of caution about Oxford's front-runner status. "You've got to be careful if you're temporarily leading the way vs. having a vaccine that's actually going to work," he told the BBC recently. Most vaccines in development fail to get licensed. Unlike drugs to treat diseases, vaccines are given to healthy people to prevent illness, which means regulators set a high bar for approval and usually want to see years' worth of safety data. In the Covid-19 pandemic, it's not yet clear what regulators will accept as proof of a successful and safe vaccine. The U.S. Food and Drug Administration has said a vaccine would need to be 50% more effective than a placebo to be approved and would need to show more evidence than blood tests indicating an immune response. Regulators in other countries haven't spelled out what would be acceptable.
Gilbert has voiced remarkable confidence in her chances, saying the Oxford vaccine has an 80% probability of being effective in stopping people who are exposed to the novel coronavirus from developing Covid-19. She has said she could know by September. Asked by MPs in early July whether the world would have to struggle through the winter without a vaccine, Gilbert said, "I hope we can improve on those timelines and come to your rescue."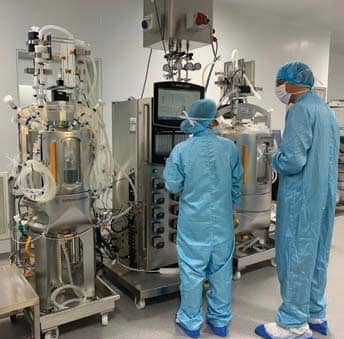 Gilbert, who is 58, has the hyperefficient, serious demeanor you'd expect from someone who might be on the cusp of a breakthrough and hasn't a minute to spare. When I first called her in early March, she abruptly ended the conversation after 10 minutes to speak to someone about the technical process of manufacturing the vaccine. It would have been crazy to take offense. Gilbert says she wakes up at around 4 a.m. most days "with lots of questions in my head," works from home for a few hours, then rides her bicycle to the institute, where she works into the evening. The Oxford team, just a handful of people in January, now comprises roughly 250.
The vaccine is a so-called viral vector type based on years of research by Gilbert and Adrian Hill, the head of the Jenner Institute. Traditional vaccines are made with a weakened or inactivated form of the germ that causes infection to stimulate an immune response. They aren't easy to develop and produce quickly. The Oxford team has created a technology that can speed the process by using a harmless virus as a kind of Trojan horse to carry the genetic material of a pathogen into cells to generate an immune response. In the case of Covid-19, Gilbert has taken a chimpanzee adenovirus (a common cold virus) and inserted genetic material from the surface spike protein of the SARS-CoV-2 virus as a way of tricking the immune system to fight back. The chimp adenovirus platform stimulates both antibodies and high levels of killer T-cells, a type of white blood cell that helps the immune system destroy infection.
Gilbert's approach is similar to a viral vector vaccine developed by the Chinese company CanSino Biologics Inc. that's in Phase II human trials. The difference between the two is small but maybe crucial: CanSino uses a vector-based on a human adenovirus that many people have already been infected with. Early tests showed that people with preexisting antibodies to the adenovirus neutralized the vaccine before it could elicit a strong immune response to SARS CoV-2— the Trojan horse is destroyed before the troops can get out. Johnson & Johnson is developing a similar vaccine based on a human adenovirus; it will begin human trials in the second half of July.
A successful vaccine likely won't be 100% effective, no matter who wins the race, and success might have different definitions. Not all vaccines produce what's called sterilizing immunity, in which the body produces neutralizing antibodies that block a virus from getting into cells. Some vaccines don't prevent infection but trigger the immune system to protect against illness. Jonas Salk's polio vaccine doesn't stop infection but prevents the disease that crippled millions. I asked Gilbert what her definition of a successful vaccine would be, but she wouldn't be drawn out on specifics. "We need a vaccine with a high level of efficacy against disease, which also has a significant impact on virus transmission," she said.
You can read up to 3 premium stories before you subscribe to Magzter GOLD
Log in, if you are already a subscriber
Get unlimited access to thousands of curated premium stories, newspapers and 5,000+ magazines
READ THE ENTIRE ISSUE
July 20, 2020