Town And Country
Billboard|April 15, 2017
Taylor Swift wrote their latest hit, and the Ryman just honored them with a residency. But lately, the sumptuously soft-rocking Little Big Town come off less like Nashville insiders than they do outlaws, stirring up controversy with "Girl Crush," working with Pharrell and urging all people to overcome their differences: "There's probably not a house in America that's not divided right now"
THE MEMBERS OF LITTLE BIG TOWN — KIMBERLY Schlapman, Phillip Sweet, and Karen Fairchild and Jimi Westbrook, who have been married since 2006 — choose to believe that, in Westbrook's words, "music always unites." "We have simple things we fall back on as a foundation of the band," explains Fairchild one recent afternoon in a drafty but bright downtown Nashville loft. "Family, faith, taking care of each other." Which may be why they're somewhat at a loss to weigh in on what's happening just four blocks away, at the Municipal Auditorium, where President Donald Trump has staged a rally timed to the 250th birthday of Andrew Jackson. Roads have been closed, news cameras dispatched and thousands of people have gathered, despite the mid-March cold snap, to participate in — or protest — the event.
Fairchild, 47, who was busy choosing the band's outfits for that day's photo shoot, didn't even realize Trump was in town. "That's why all those people were out there with the hats on," Westbrook, 45, points out to his wife in a tone of gentle amusement, referring to the wearers of "Make America Great Again" ball caps he'd spotted from the second-story window. Fairchild was "happier" not even knowing about the nearby spectacle, notes Schlapman, 47.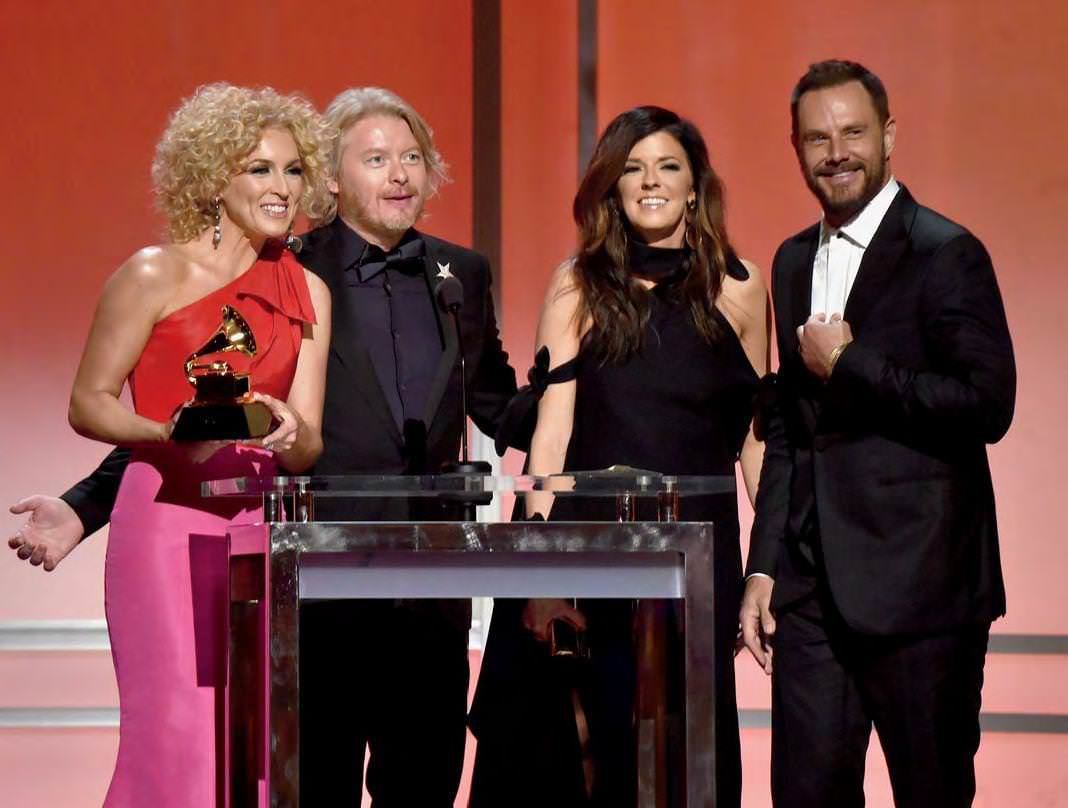 Indeed, the polarizing scene down the street clashes with the convivial conversation, fueled by paper cups of red wine, about the ability of music — in particular, country-pop like Little Big Town's, all feathery, four-part harmonies, easy sentimentality and stylistic fluidity — to bring people together. But it also fits right into it: Before Trump came up, the band was discussing how the combination of politics and social media feeds an ugly impulse, as Westbrook says, to "tear people down." Little Big Town is hardly radical in the context of pop music, and while it's often compared to Fleetwood Mac, its four members agreeably sharing two tour buses — as they do now, with spouses and preadolescent kids in tow — is a far cry from the cocaine-dusted, partner-trading '70s exploits of John, Stevie, Lindsey, Mick and Christine. Lindsey Buckingham even told them that they were wise to limit the romantic pairings in the group to the one between Westbrook and Fairchild. (The two have a son. Schlapman is married with two daughters, and Sweet, 43, has a daughter with his wife.)
But in Music City, LBT is unique: It's a coed vocal group that's progressive but not polarizing and as steeped in soft-rock smoothness as it is in country's core values of rootedness and authenticity. "They don't sound like anybody else," says Vince Gill, who asked them to sing harmony on his 2016 album Down to My Last Bad Habit. "In the history of country music, there's nobody like them." At this year's Academy of Country Music Awards, LBT won vocal group of the year — its fourth win in the category.
You can read up to 3 premium stories before you subscribe to Magzter GOLD
Log in, if you are already a subscriber
Get unlimited access to thousands of curated premium stories and 5,000+ magazines
READ THE ENTIRE ISSUE
April 15, 2017