THE KANNADIGA WEDLOCK
Wedding Affair|February - March 2020
Kannadiga Weddings are a magnificent blend of modern and traditional values that highlight the true cultural essence of Karnataka. Attending a pious union of souls amidst the chanting of mantras, one could feel the peace brewing from within.
THE INITIATION
The process commences with the exchange of bio-data and horoscope. Once horoscopes are found compatible, the families meet at the bride-to-be's place for the first time in an intimate gathering known as Hennu Nodo Shastra. Followed vice versa, the bride's side (excluding the bride) visits the groom's abode to confirm the match. Once the alliance is formalised, the groom's side followed by bride's would call their family members/relatives to meet their prospective in-laws for a lunch/dinner ceremony known as Obattu Oota.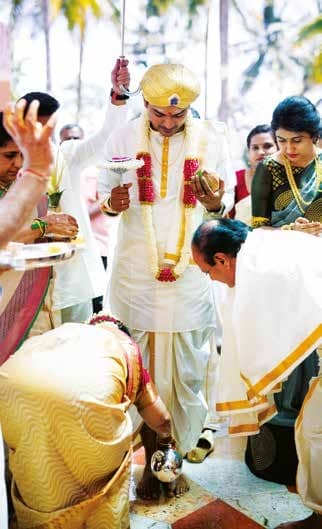 PRE-WEDDING
Tambula exchange takes place wherein parents of the bride and groom-to-be, exchange tambula (coconut) along with betel nuts, betel leaves and fruits. A saree, mostly in shades of green is presented to the bride-to-be from her future in-laws along with bangles, flowers, sweets, and fruits which marks her first piece of clothing from the groom's side. Similar articles such as clothing, dhoti, sweets, and fruits are presented to the groom by the bride's side. Off late another major part nischitartham — exchange of rings, is followed.
Before nischitartham the priest would have checked for the most auspicious date for the marriage in discussion with the families. A formal announcement of the wedding is made at the end of nishchitartham or through another ceremony known as the Lagna Patrike Shastra which is writing the first draft of wedding muhurtham invite with the help of the family priest and publicly announcing the engagement of the two.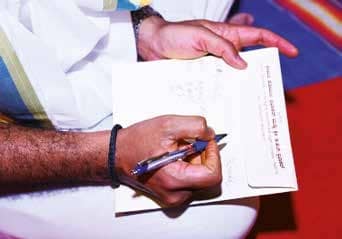 Depending on families, time and other factors, pre-wedding rituals for the boy and girl are held in their respective homes.
Rituals begin with Ganpati puja which is believed to ward away all impediments, followed by Chapprada Shastra. It is performed in both the bride and the groom's house prior to the wedding. It is marked by planting the pillars, tying them with coconut and plantain leaves and later decorating with flowers to make an arched entry (chappra) along with rangoli in front of the house for an auspicious beginning to the wedding.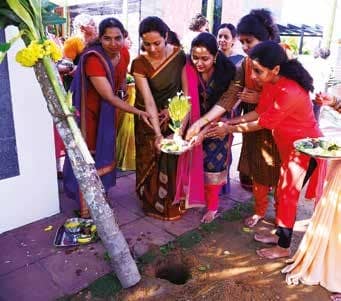 You can read up to 3 premium stories before you subscribe to Magzter GOLD
Log in, if you are already a subscriber
Get unlimited access to thousands of curated premium stories and 5,000+ magazines
READ THE ENTIRE ISSUE
February - March 2020