Land of opportunity
Truck & Driver|July 2020
Behind the success of South West Express is a heartening rags-toriches tale of immigrants to Oz, "The Lucky Country"
When it comes to liveries that make a striking visual impact, South West Express of Bunbury, Western Australia really has it sorted. The uncommon pairing of white and yellow with some grey thrown in for good measure may not sound so spectacular on paper, but when you encounter one of its trucks out on the road it certainly stands out. While the cab and trailer sides are left in factory white, a bright yellow is used for the chassis, grille, wheel hubs, and sunflower logo. Round this off with some polished alloys or Alcoa Dura-Bright rims and you are sure to identify a South West truck from a long-distance away.
As his surname indicates, Mark Mazza descends, through his father, from Italian immigrants and, via his mother, Irish incomers. One side fled the impoverished Calabrian countryside torn by civil war and Mussolini's legacy while the other side originally fled Ireland after that country was ravaged by The Great Hunger, a food shortage attributed to the export of much-needed produce by the ruling forces after the potato crop failed for two successive years.
Mark has traced his family history, particularly on his father's side, and makes the humble observation that his ancestors "came from nothing". Rather than having a sense of entitlement, it is this recognition of the past that has instilled a hunger to succeed in many immigrants to "The Lucky Country". With a hard work ethic, Australia has been the beneficiary of many of these descendants, typified by Mark Mazza's work philosophy.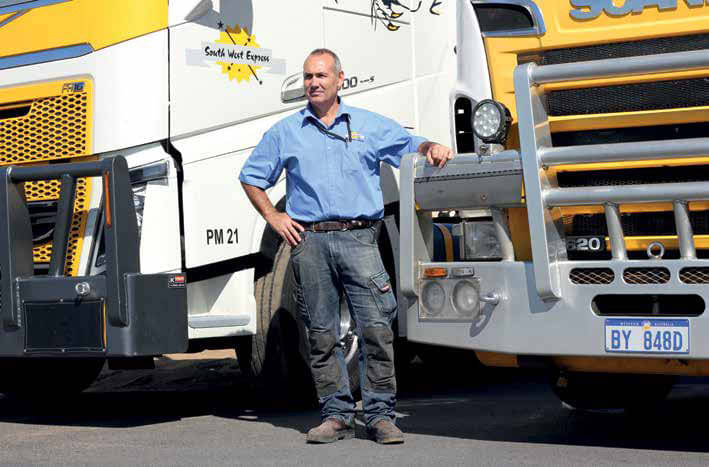 Atkinson 4870
The Giacci name is well known in the southwest of Western Australia and it was here that Mark first gained experience as a truck driver. The burning ambition that led Antonio Giacci to purchase his first truck in 1953 was the same spirit that prompted Mark Mazza to take the plunge on an Atkinson 4870 in 1993.
Power came from a Cummins 350 Big Cam with a direct-drive 15-speed gearbox, which saw the truck running at about 80 km/h or 100km/h with overdrive selected.
A regular contract hauling frozen chips from Manjimup to Perth for Birds Eye meant things were progressing nicely for Mark and his wife/business partner Andrea.
The world of transport, however, is a tough one and when the Manjimup plant unexpectedly closed down, Mark with faced with a tough decision; either sell up or persevere in seeking out some new work. Although it sounds worlds away from the current workload of rolling pallets of foodstuffs into spotless refrigerated trailers, a contract hauling raw offal from Bunbury to Waroona kept the Mazza dream alive and the cash flowing for the succeeding 18 months.
You can read up to 3 premium stories before you subscribe to Magzter GOLD
Log in, if you are already a subscriber
Get unlimited access to thousands of curated premium stories and 5,000+ magazines
READ THE ENTIRE ISSUE
July 2020