GEARS 'R' GOOD
Truck & Driver|August 2020
W. Marley is an old-school haulier with its roots in agriculture and a superb fleet of Volvos from the latest FM and FH to old-school FL10s
We must admit, this is one of our favourite fleets in the country. A unique mix of new and old Volvos, ranging from the latest Euro 6 equipment to some superbly turned out retro kit from the '90s, there's so much to like here. Plus, pretty much everything has a manual gearbox!
We do love a manual gearbox here at T&D. But we're also realistic, and know that they're very much a niche item these days. Daf and Scania will still offer you one on most of the range and you can get certain Mercedes-Benz, MAN and Iveco models with a stick, but not on big cab tractor units. Volvo and Renault have stopped doing them at all. There just isn't a demand for them beyond owner-drivers, small family fleets and certain specialist applications.
Why would you even want one? Some folk are flabbergasted that there's other people out there who still prefer a manual. In some cases they're being deliberately obtuse about it, because driving a truck is a tactile, emotionally rewarding experience in a way that something like driving a forklift, or fitting double-glazing is not.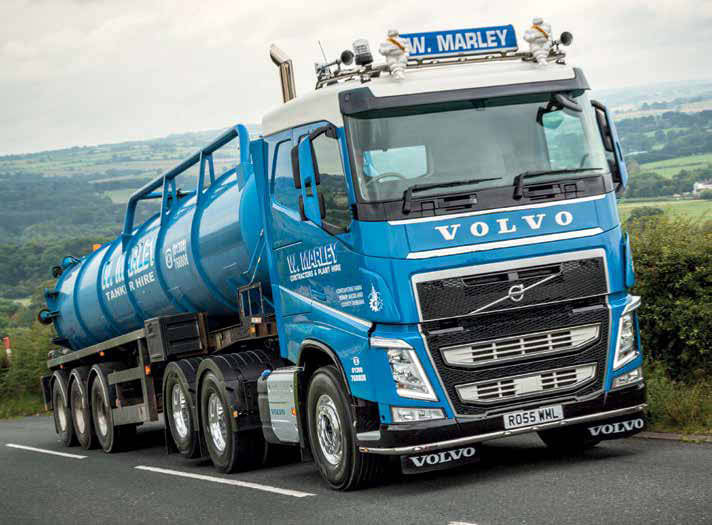 The latest autos are now so fully integrated into the truck, if it doesn't have the ability to self-shift then you're not getting the full range of technology benefits such as predictive cruise and eco-roll.
But then again, having a clutch pedal gives you an ultimate level of control at low speed. You can limp a manual out of harm's way, or home, in certain situations where you could not with an auto. For most of the people still specifying manuals though, it's about the enjoyment of driving. Shifting gears with a lever and a clutch pedal is satisfying. There's also a valid train of thought that if you're doing the gears yourself, you're a lot more focussed on the job.
Ross Marley loves his manual Volvos. His father William started the family business as an agricultural contractor, and to begin with he would use the services of local hauliers to move tractors and equipment.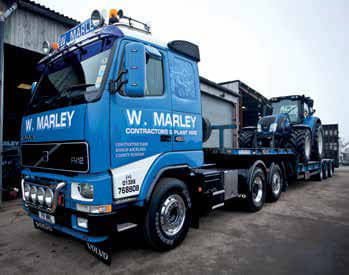 During peak times, he sometimes found it difficult to find someone free, so William did the logical thing and bought his first truck, a Volvo F7 tractor unit.
"We've got a fully restored F7 along with the original one, which is awaiting restoration" says Ross. The company has gradually built up a superb, unique fleet of Volvo trucks. They're still running a number of FL10s today, and it makes perfect sense to do so.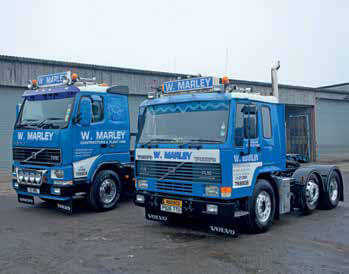 You can read up to 3 premium stories before you subscribe to Magzter GOLD
Log in, if you are already a subscriber
Get unlimited access to thousands of curated premium stories and 5,000+ magazines
READ THE ENTIRE ISSUE
August 2020