In Peak Form
Super Street|January 2020
INSIDE ONE MAN'S OBSESSION WITH EXTREME SPEED
Telling someone in the car community you're building a Honda Civic hatchback is like informing your uncle you like to watch sports and drink beer on the weekend. However, tell them you are building a Civic almost entirely out of carbon, with enough downforce to give a Formula 1 engineer a hardon, and you'll likely receive a raised eyebrow.
Cody Loveland may have kicked off his racing career in 2012 with a bang, but it wasn't until the 2017 Pikes Peak International Hill Climb when things really began to steamroll. Codenamed Enviate, Cody's pushrod-equipped, twin-turbo, LS-powered, carbon-fiber Acura NSX was a juggernaut that year, earning the team a Second Place win in the Unlimited Class. This win was secured after team driver and former Stig, Paul Gerrard, was able to bump-start the vehicle and cross the finish line after stalling on the mountainside for more than 30 seconds.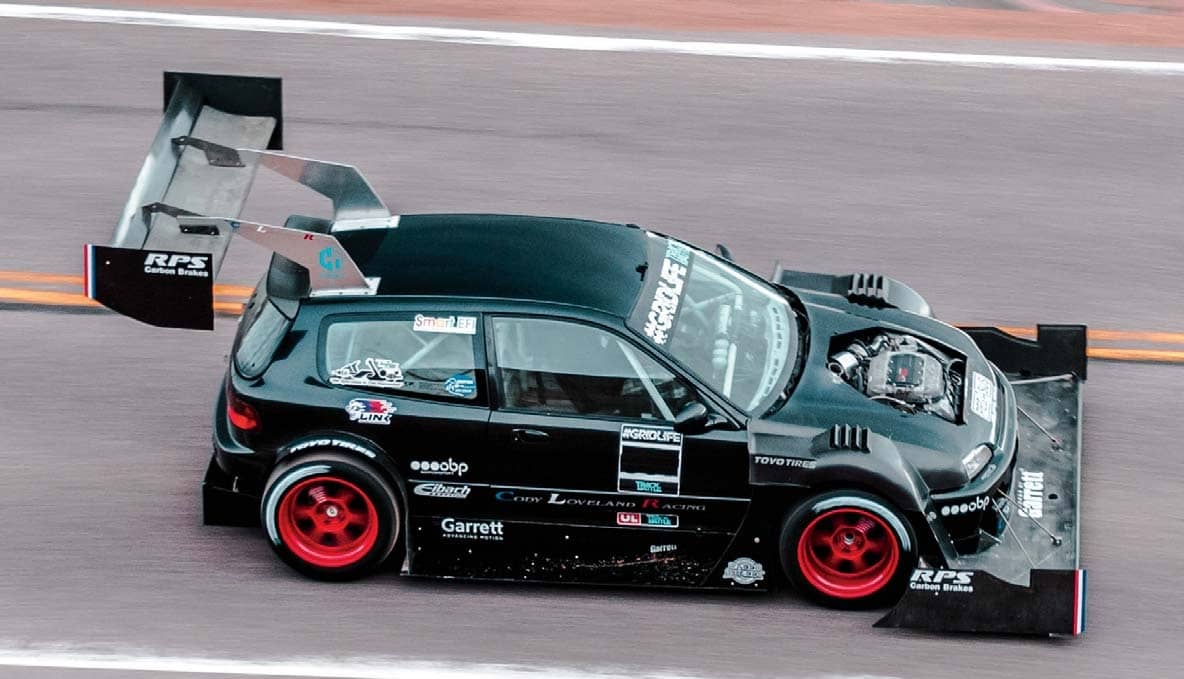 But we're not here to talk about Enviate. Today's focus is on his rambunctious little brother, Beastie Hatch. Utilizing many of the same aerodynamics as its brawnier sibling, Beastie borrows Enviate's front and rear wings and incorporates countless other downforce-focused carbon components. Some of these specialized aero additions include a custom undertray, vented fenders, gaping side skirts, and diffusers that, when combined, generate enough downforce to crush most aftermarket coil-overs like an empty can of Colorado craft beer.
We caught up with Cody to learn a bit about what goes into building and racing something as hard-core as Beastie Hatch and get a little backstory on one of racing's greatest underdog success stories. Here is what we found goes into staying in "peak form."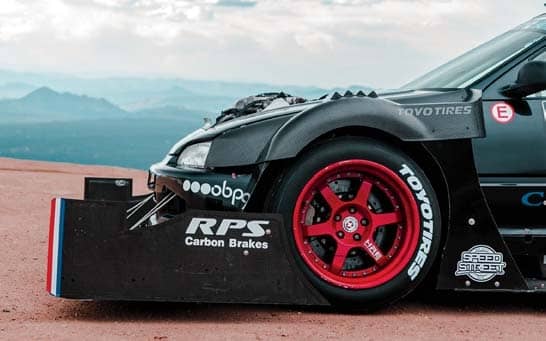 Let's start with the basics. What got you into cars?
I was heavily into mountain biking as a kid and well into my teenage years. I worked at local bike shops, and when I turned 16, I started to gravitate toward cars. That's when I met Andy Hanna, who was a few years older than me. He introduced me to the tuning scene. From there, I hit the ground running, and in 2003 I founded a little company called LoveFab, which I ran until 2017. This period of my life expanded my knowledge from simple turbo kits to building complete aero-intensive cars, with the Enviate hypercar being a prime example.
What's your reasoning for modding this specific platform over others?
In 2013, I decided I needed a fun daily driver. Since I wasn't keen on owning just another four-cylinder Civic, I sourced a V-6–swapped EG. Part of my reasoning was because I simply love this chassis, but also because it's always cheaper to buy something like this "done," than to do it yourself.
You can read up to 3 premium stories before you subscribe to Magzter GOLD
Log in, if you are already a subscriber
Get unlimited access to thousands of curated premium stories and 5,000+ magazines
READ THE ENTIRE ISSUE
January 2020