KYMCO AK550 ROAD TEST
Bike SA|March 2020
Sometimes, it seems that motorcyclists are swayed too much by perceptions.
To put a label onto a particular class of bike is to conjure up prejudice without the critic having ridden the bike because of the perception of the supposed limitations of such machines; a superbike is too fast/uncomfortable, an adventure bike is too big, a commuter is too boring.
Nowhere is this more insidious than with the humble scooter. In many countries, a scooter is seen as a perfectly practical mode of transport with no negative connotations. In South Africa, however, they are rather looked down on and not considered 'proper' 'bikes, which completely misses the point.
The point being, of course, that they aren't proper 'bikes; they are exactly the opposite because not everyone wants or needs a'proper' bike. What they need is a cheap, convenient mode of transport and that is what a scooter affords them.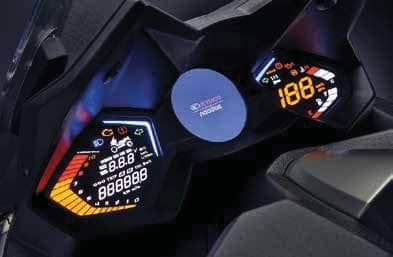 Not all scooters are created equal, however. Some bright spark, somewhere, once questioned why you shouldn't put a larger engine in a scooter and give it some oomph. And, guess what? It worked. They proved that a scooter could be enlarged - in every sense - and turned from a small-wheeled buzzbox into a motorbike with all the practicality and ease of use of a scooter, giving the best of both worlds.
And, lest you think that they aren't that popular, that they are just a bit of a fad, what would you think if I told you that Yamaha has sold more than 230,000 T-Max's in Europe since its introduction in 2000. Those aren't small numbers.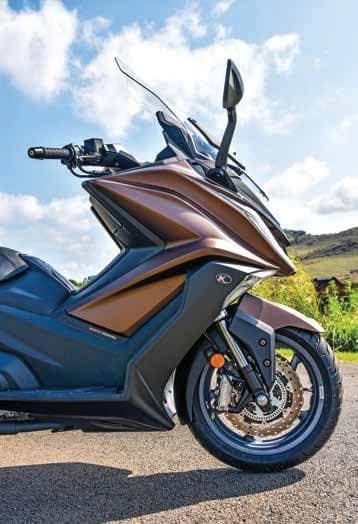 Which brings us neatly to the subject of this test, the Kymco AK550. Marketed in South Africa by the same importer who brings you Yamaha, it goes directly headto-head with the T-Max, which for 2020 has a larger engine displacement of 560cc. Up to that point, the Kymco AK550 was only beaten by the Suzuki Burgman 650 in terms of engine size (if we conveniently forget the insane 850cc Aprilia and, really, who would want to forget it?)
You can read upto 3 premium stories before you subscribe to Magzter GOLD
Log-in, if you are already a subscriber
Get unlimited access to thousands of curated premium stories and 5,000+ magazines
READ THE ENTIRE ISSUE
March 2020