Peter Stewart's love for the African bush began with a school excursion to a local game reserve in KwaZulu-Natal. "I can still remember sleeping under the night sky next to the safety of a fire, listening to the sounds of the African night and waking up at the crack of dawn to begin the day".
He spent three years studying at the School of Graphic Design at Natal Technikon in Durban where he met up with a few other students who shared his passion for wildlife. They did a few wildlife paintings in their spare time and compared notes and techniques. "We all started working at the Natal Parks Board Crocodile Centre in St. Lucia, painting and constructing displays for the visitor centre. With my love for wildlife and conservation it was only natural that I ended up working as a graphic designer with the Natal Parks Board in Pietermaritzburg". After many years of working for the Parks Board, WWF-UK in England and starting his own graphic design business in Durban, he finally took the plunge to become a full-time artist in 2011.
Peter's paintings convey a deep understanding that is only achieved from knowing the subject matter intimately. Utilising subtle value and temperature shifts, fine draughtsmanship and pure intuition he weaves a world of breathable air and tactile forms.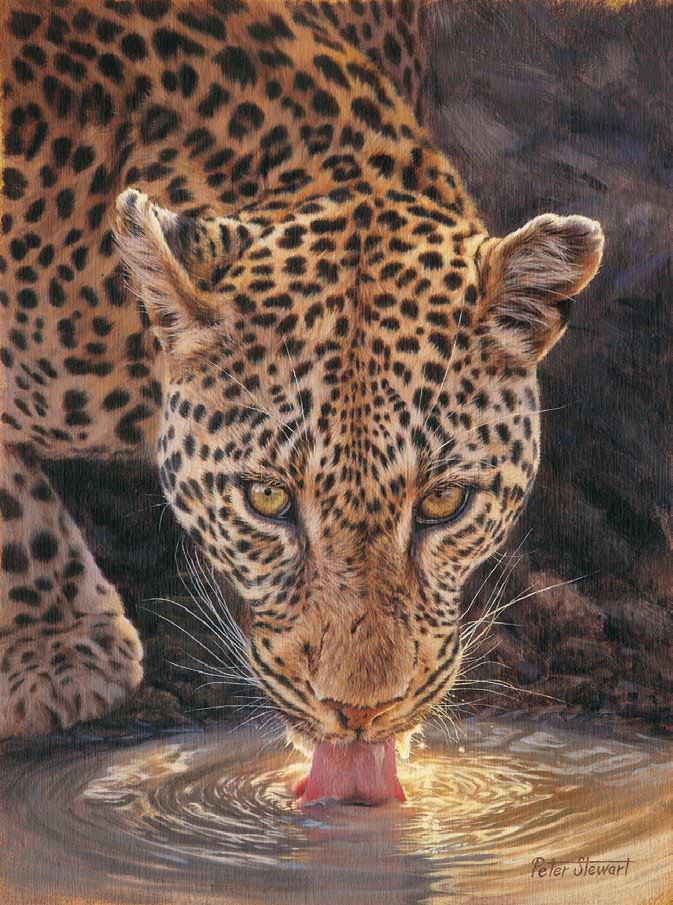 "Over the years I have come across many exceptional wildlife painters that have continued to inspire me and I am a firm believer in following the greats that have blazed a trail before me. A study of the past and present masters will reveal many intricate techniques and details that go into creating a three dimensional illusion on a two dimensional surface. This can only be achieved by understanding and studying nature and how the science of light effects both the subject and the atmosphere. The great painters will always tell you: 'it's all about the light'".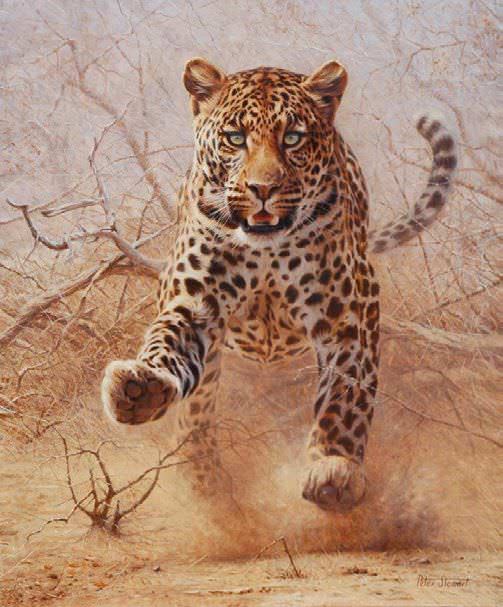 He describes himself as a 'self-taught internet artist'. "I have learnt so much from this incredible resource of information. Before I started painting full-time I was following a group of American realist painters such as Michael Klein, Edward Minoff and Kate Lehman of the Grand Central Atelier in New York run by Jacob Collins. I also studied the work of Jeremy Lipking, Tony Pro, Richard Schmid and Scott Christensen. I would send them examples of my work via e-mail along with lists of questions and they would reply with very helpful tips, suggestions and lengthy answers. In this way I found these artists to be very giving of their time, knowledge and techniques".
Continue Reading with Magzter GOLD
Log-in, if you are already a subscriber
Get unlimited access to thousands of curated premium stories and 5,000+ magazines
READ THE ENTIRE ISSUE
Issue 25
Painting With The Zorn Palette
The South African Artist
Speaking To The Heart
The South African Artist
Oil Painting Essentials
The South African Artist
True To His Roots
The South African Artist
Eagle In Polychromos
The South African Artist
Painting At The Bottom Of The World
The South African Artist
All About The Light
The South African Artist
Painting Big Sky Country
The South African Artist
Winning Portraits
The South African Artist
Portraits With Passion
The South African Artist
"I'm Not Nice!"
New York magazine
Well, Here We Are
New York magazine
The Voice of a Generation
New York magazine
Still Gazing in Awe at Jude Law
New York magazine
Republicans Don't Even Know What They're Covering Up
New York magazine
Peter Thiel's Latest Venture Is the American Government
New York magazine
Medea in Brooklyn
New York magazine
In Conversation: FRANK GEHRY
New York magazine
Good-bye to Gotham
New York magazine
ROD STEWART COULD DO TIME FOR PARTY PUNCH!
National Enquirer