Sonya Danita Charles is a 26-year-old marketer and part-time model. Nadirah Zakariya is a 34-year-old photographer. Although the two had never met before their shoot with #TeamCLEO, Sonya and Nadirah have a lot in common. Besides having creative interests, they were both born with vitiligo, a skin condition where patches form because of a loss of pigment.
Growing up, both women experienced negativity surrounding their condition. Sonya was even bullied in school, but has since worked towards self-acceptance. Nadirah, on the other hand, has been pretty accepting of herself from an early age. We speak to both about how it feels to live with such a visible condition, and how they're changing the perceptions of others.
SONYA DANITA CHARLES 26,
Marketer and Part-time Model
Tell us a bit more about yourself.
I was born and raised in Kuala Lumpur, and moved to Los Angeles when I was 18 to study business and fashion marketing. Since I 've been back, I 've been working in the fashion industry. I love travelling, working out and hiking in my spare time.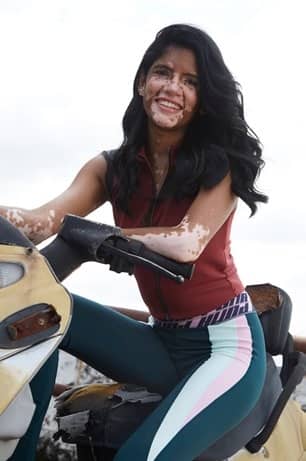 How did you deal with being bullied in school?
I didn't do anything at first because I was too ashamed and afraid to stand up to them. It came to a poin