From Rags to Ritchie
Cranes & Access
|
July/August 2020
From selling £2,000 of used furniture at its first auction back in 1958 to selling more than $5 billion of used equipment last year, Ritchie Bros has grown into the world's largest auctioneer of used heavy equipment.
With increasingly large volumes of cranes, aerial lifts and telehandlers going under the hammer, C&A spoke with the company to find out more about how it sees the used equipment market developing, the impact of Covid-19 and how the pandemic has inadvertently coincided with the company's drive to provide a complete online offering - with it breaking a number of company records along the way. We also take a look at the various data and analytics tools the company has generated over the past 18 months to discover how they are able to help both buyers and sellers better understand market and pricing trends as well as when and where to sell equipment.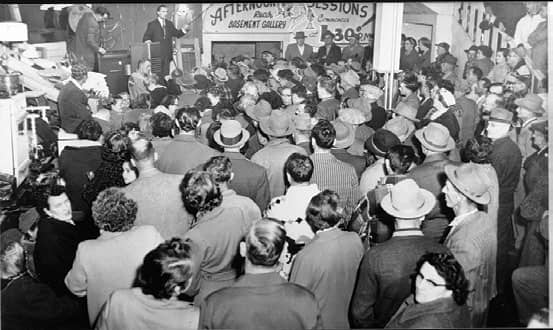 Humble beginnings
In 1955 the three Ritchie brothers - Ken, Dave and John - took over their father's business, the OK Used Furniture Store in Kelowna, Canada. Barely three years had passed before they were faced with an unexpected debt repayment demand from their bank for $2,000. Unable to pay it, a close friend advised them to organise an unreserved auction to sell off their large inventory. The auction not only raised sufficient funds to repay the loan in full, but also presented a new way of doing business.
A short while later Ritchie Bros was incorporated in order to host auctions of used furniture. Then, in 1963, they decided to put everything they had into a single contract and hold their first heavy equipment auction. The auction proved a huge success, generating close to $600,000 in revenues, with the brothers deciding to sell the furniture shop to focus on used equipment auctions. And the rest, as they say, is history…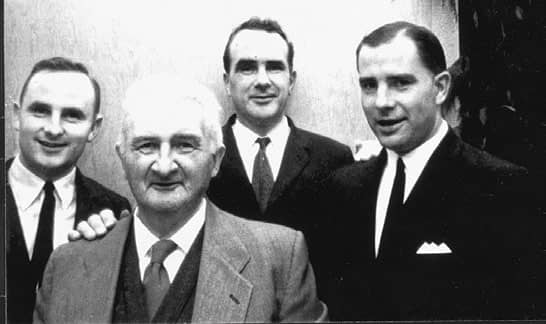 Last year the company sold $5.14 billion worth of used equipment at its 40 auction sites throughout the world as well as on its various online platforms - IronPlanet, Mascus and Marketplace-E. With more than 60 years' experience in dealing with used equipment the company also offers inspection, appraisal, refurbishment, shipping and financing services. To find out more we caught up with Ritchie Bros chief marketing officer, Matt Ackley, who previously worked for online commerce companies eBay and Fairmarket as well as tech companies Google, Marin and Accenture before joining IronPlanet in 2016.
Positive signs?
You might well be surprised to learn that historical data shows a correlation between the end of a financial downturn and an upturn in used equipment prices - this was certainly the case in the years that followed the recession of 2008 as well as when oil prices crashed in 2014/5. With Covid-19 still in full swing and the extent of the financial fallout still an unknown entity, it is too soon to see if this latest downturn will follow suit, but the latest sale prices at Ritchie Bros auctions indicate that prices are beginning to pick up.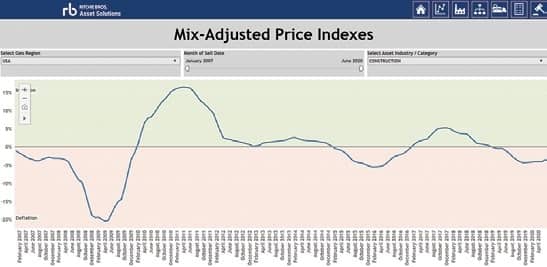 Commenting on the market as a whole, Ackley, says: "Coming into 2020 we were seeing mild year on year declines in prices with construction equipment down approximately three percent due, in part, to supply outstripping demand in 2019. Since Covid-19 hit in mid-March however we have been encouraged by the level of volume in the marketplace and also that the year on year price declines have started to moderate and improve through this period."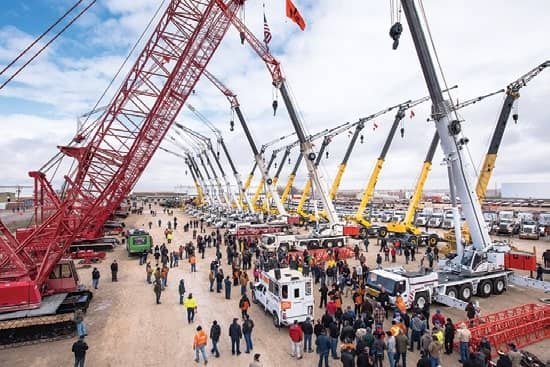 Certainly the volume of cranes, aerial work platforms and telehandlers - which have always done well at auction - has increased at the company's auctions over the past 12 months. A quick look at the data from sales in Europe and North America reveal that the volume of aerial work platforms and telehandlers sold increased 20 and 25 percent respectively from 2018 to 2019. At the same time, All Terrain and crawler crane sales were 12 percent higher, while Rough Terrain sales dropped 15 percent following a particularly impressive year in 2018 when 650 units were sold.
A good time to sell?
Generally, higher volumes of equipment tends to result in lower prices. It is probably too early to determine whether volume levels will continue to grow but with the impact of Covid-19 this might not be the case. The sale of new equipment - and subsequently the part exchange of older machines will have been dealt a blow as many companies put capital expenditure on hold, or at the very least greatly reducing it. This, plus potentially longer lead times resulting from facilities being forced to close for the early part of 2020, will likely mean companies holding on to their aging fleets for longer. All of which will drive up demand - and in theory prices - for used equipment.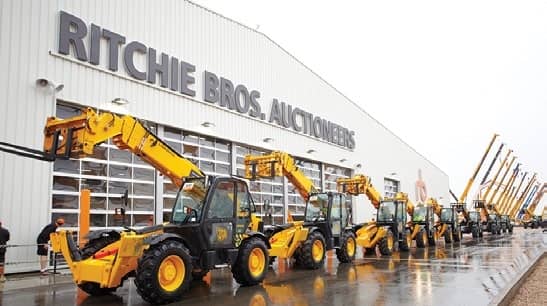 In terms of buying, the general conception - or perhaps misconception - is that used equipment is sold off to developing markets, and while this does happen the numbers purchased at Ritchie Bros auctions for developing markets are a lot less than you might think.
You can read up to 3 premium stories before you subscribe to Magzter GOLD
Log in, if you are already a subscriber
Get unlimited access to thousands of curated premium stories, newspapers and 5,000+ magazines
READ THE ENTIRE ISSUE
July/August 2020