Lizzie Armanto
Previous spread: Just 'cause you're skating vert doesn't mean you can't be glamorous. Beyonce would love this!
Let's get some basic stats, Lizzie.
I'm 24 and I grew up in Santa Monica and now I'm living in Encinitas.
What age did you start skating?
I didn't really start 'til I was 14. We had the crappy boards for awhile, trying to roll down the hill we lived on in Glendale. It was kinda steep so it wasn't ideal at all. Then we moved to Santa Monica and my brother wanted to try it. Plus, it was the culture there too. You'd see people skating around. My mom took us both to the park and I wasn't gonna have my brother be better than me. That's what started it.
Were you good from the beginning?
I definitely had to work for it. My mom was a single parent. My parents had just got divorced and we moved to Santa Monica and I was changing schools again and it was a whatever time. My mom would let us come home from school, clean the house, do chores and then do homework or go to the library. So once we started going to the skatepark she was, like, "You can do that whenever you want." So since it was way better than any of the other options we just started hanging out there.
This was The Cove in Santa Monica?
Yeah, it's pretty good. There's, like, a pool, two bowls and a street/flow course. There's someone at the front who works there. You have to pay so there's nobody lurking there doing anything really dumb. It was kinda like after-school care, which was good for my mom at the time because she felt like it was safe for my brother and I to hang out there.
Was your mom excited about you skating?
She got us the boards. I think she was super into it because she knew it was an outlet for us. And it was super safe. And when she was younger she used to skate to get around, though she didn't go to the park to try to do tricks or anything. So she got it. My grandma though… when my mom told my grandma I was skating she was, like, "Elizabeth? She's too fragile!" For awhile she was really concerned about that. But later on I took her to a contest and once she saw it in person I think she understood.
Were there other girls at the skatepark?
At that time, no. There was this woman, Melissa, she'd come skate there but other than that I really didn't see any girls.
Were you cool with being around all dudes?
I mean, I didn't really talk to anyone. I'm shy and back then I was even more shy. I just talked to my brother and the people who worked at the park. Eventually my neighbor started doing it and she was a girl so I'd go with her. I wanted someone to try stuff with so I'd try to get her to try stuff with me.
So was it normal for you to start doing hand plants and airs?
That came later. I just liked carving around and being at the park and messing around and being a kid. I started learning tricks when I started going to other parks. I learned basic tricks at The Cove, but when I started skating the Vans park in Orange and saw people skating the Combi I was, like, "I want to do that."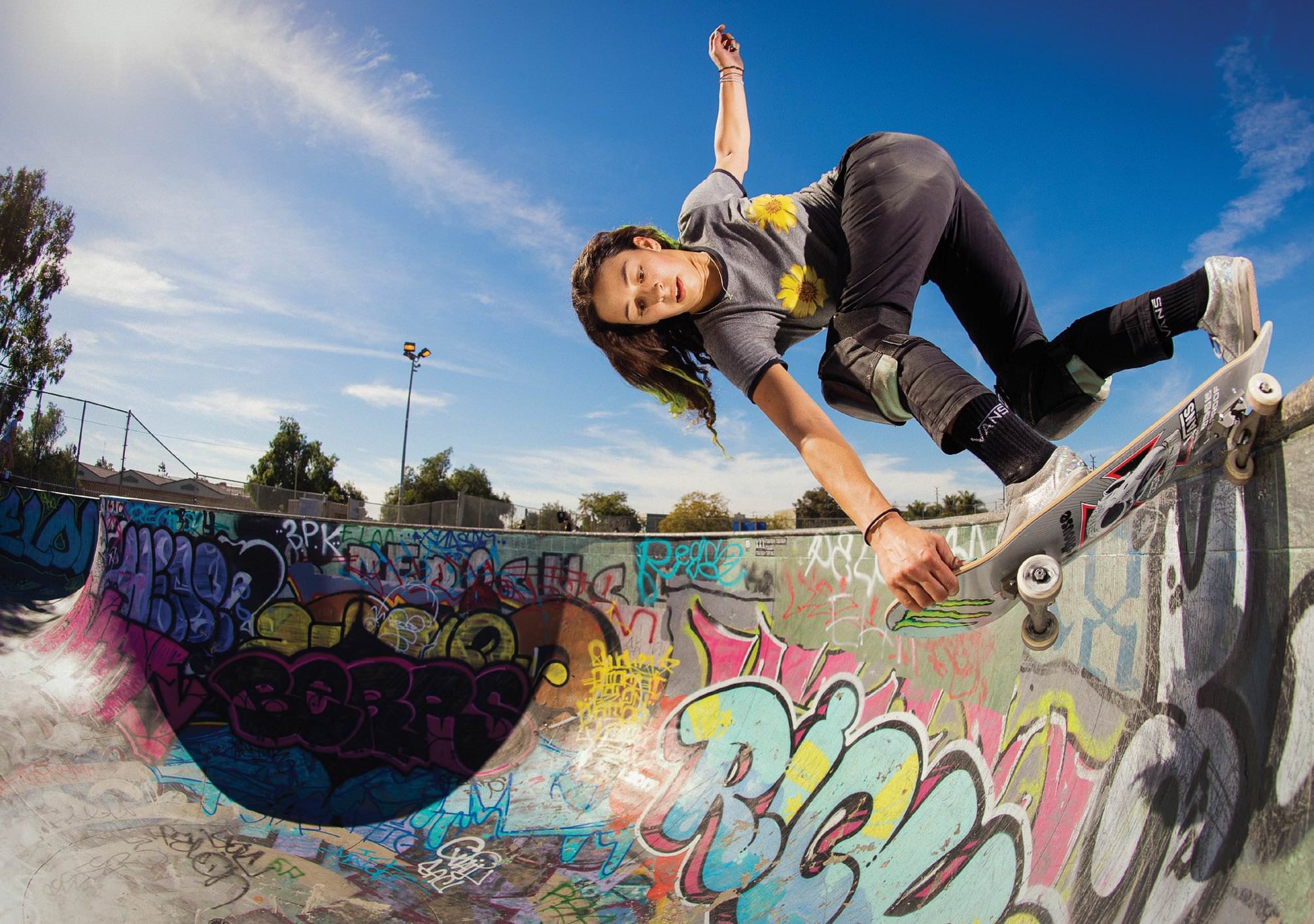 So you were a teenage girl but skating pools and bowls you ended skating with a lot of grown men. What was that like?
I think even at my home park I ended up skating with a lot of older guys. They'd be off in the corner trying to do their own thing. It seemed like a safe place. Kids my age were acting wild and I was kinda shy so I'd go to the place that wasn't crowded. And that's where all the old guys ended up skating so I made friends with them. I skated with Pat Ngoho a lot.
Were they encouraging to you?
Yeah, for the most part. I'd ask them about tricks that I was trying to figure out and everyone was nice to me.
How was high school?
Whatever. I went to SaMo high. There were 4,000 people at my school. You could be in a sea of people and not talk to anyone. I just kinda got through high school. My mom, as long as my grades were good she'd let me do whatever I wanted. So I'd just go to the skatepark and focus on that. My senior year I turned 18 so my mom was cool with me going on trips, going to contests. I got to go to Australia and miss a week of school and she didn't care.
Dream come true.
I was, like, "I don't want to be here. I'm done."
But you're in Santa Monica, California, and you're a sponsored skater. Didn't that help you at all? Didn't people want to know you?
I didn't talk about it. I was, like, "Everyone here is dumb." Even to this day if I'm in Santa Monica and I see someone I went to school with who might want to talk to me I'll turn the other way. It's just some strained conversation, like, "It's great to see you. We should totally hang out." It's some empty promise. It feels like a lie. I don't want to start things I can't finish. I'd get way too mental about it.
So you didn't go to prom?
No. Everyone's an idiot. Why would I want to spend money to try to be a part of this social scene I don't give a shit about?
Are you and your mom still really close?
We are. She helps me with a lot of things. She's definitely super supportive and proud of everything I'm doing. All the people I've met in skateboarding and the community of it, my mom ended up meeting a bunch of people and making friends herself and she ended up skating herself, at The Cove. She's super into it.
Nice. What kind of moves she got?
Right now she just carves around and has fun. Actually she told me, "Help me drop in." It's just a matter of figuring it out.
Her being a single parent, are you guys more than mother-daughter? Are you guys friends too? Is it different than what you see with other people and their parents?
I don't know. My mom got remarried so now I have a stepdad.
"You're not my dad, Randy!"
Yeah, his name's Larry. Larry the stepdad. So for awhile the relationship was strained because the way we work is different. I'm a lot like my mom. I don't like structure or guidelines. If I'm going to do something I'll do it at my own pace. But my stepdad is very calculated and thinks things have to be done in a precise way. I remember one time, a long time ago, we went to that Crossroads trade show and he was upset with me because I wasn't handing out resumes. Like, "Hey, here you go." I was, like, "Oh no. It doesn't work like that." He got really mad. Like, "Noooo!"
So if you didn't hand out the resumes with Larry, how did things start happening as far as sponsors?
You can read up to 3 premium stories before you subscribe to Magzter GOLD
Log in, if you are already a subscriber
Get unlimited access to thousands of curated premium stories, newspapers and 5,000+ magazines
READ THE ENTIRE ISSUE
May 2017