Give Love, Receive Love
Feast Magazine|February 2020
The Path to Grace-filled relationships
There are two kinds of relationships in the world today: curse-filled and grace-filled.
I bet you know what curse-filled relationships look like: a lot of fighting, factions, and frustrations. You also know what grace-filled relationships look like: a lot of forgiveness, forbearance, and faithfulness.
How do relationships become cursed? Just follow this recipe: Control others, submit to yourself. Follow only yourself—and let others follow you, too!
Everyone wants to control others. In fact, controlling others becomes an addiction. We want it. We crave for it. We salivate for it. Why? For many people, controlling others is the only way to satisfy the deepest longings of their heart. People are wounded. And the only salve they know to heal their wounded heart is controlling other people to give them what they want.
They do it through anger, intimidation, shame, manipulation, or people-pleasing.
But I've realized that control is the language of the weak.
It's the strong who can let go and let God.
But if you want a grace-filled relationship, follow the exact opposite recipe: Control yourself, submit to others.
Only Strong People Can Submit
If the language of the weak is control, the language of the strong is submission.
Submission is the language of love.
First, submit to God. You submit to God and find your complete fulfillment in His love. You don't need others to behave in a particular way for you to be happy. You're already complete.
Second, submit to others. This is very difficult to understand. Again, only strong people can submit to another human being. Because weak people will claw, fight, intimidate, and terrorize others into their control.
Do you know what the favorite Bible verse is of many husbands around the world? "Wives, submit yourselves to your own husbands as you do to the Lord" (Ephesians 5:22).
I can picture millions of men raising their fists in the air and shouting, "Yeeeeah! Hooray for male supremacy! We're in charge!"
Obviously, the husband wants to control his wife.
I remember one woman who told me that her husband—who is very religious—likes quoting Ephesians 5:22 all the time. Whenever she disagrees with him, he'd repeat this Bible verse word for word. Because in his mind, that would be the end of the discussion. But actually, it ended the marriage. The guy was so controlling, the wife lost her identity— and left to recapture it.
But, women, listen up: Don't feel too bad about this command. Especially the single ladies.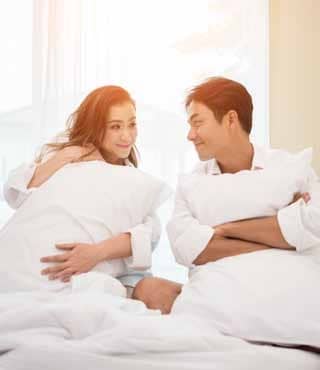 I heard preacher T.D. Jakes say this. He said, first of all, you can choose whom you'll submit to. You can look at your choices and say, "Not you, you don't have a job," and, "Not you, you can't stop gambling," and, "Not you, you don't love your own mother," and, "Not you, you're a playboy." Single women, I urge you to choose well.
Second, you get the easy part of the deal. Compared to what God demands from your husband, submission is a walk in the park.
Many husbands don't know this. They want headship but they don't know what headship requires. Get shocked with what the Bible tells husbands three verses later: "Husbands, love your wives, just as Christ loved the church and gave himself up for her to make her holy. . . ." (Ephesians 5:25). Do you know how scary that is?
Die on the Cross
God says, "Husbands, love your wife."
Hey, I can handle that. I love my wife. I still remember that moment when it clicked in my mind, "I'm going to marry that girl." I still remember that blessed day when I planted a knee on the floor of her living room and asked her, "Will you be my apple pie, my tinapay, my monay for the rest of my life?"
Oh, yes, I love her. What I can't handle is the line after when God said, "Love your wives just as Christ loved the Church." This is a blood-curdling, spine chilling, terrifying thought.
Because Jesus died for the Church!
Hey, that's unfair. Women are commanded to submit. But guys are commanded to die.
You can read up to 3 premium stories before you subscribe to Magzter GOLD
Log in, if you are already a subscriber
Get unlimited access to thousands of curated premium stories and 5,000+ magazines
READ THE ENTIRE ISSUE
February 2020