Outsiders Of The Year
Outside Magazine
|
December 2019
Forty-two athletes, activists, hustlers, makers, movers, and rule breakers who shaped our world in 2019, from the champion soccer team fighting for equality in sports to the teenager inspiring a wave of global climate activism to the humble farming couple reminding us where food really comes from.
U.S. WOMEN'S NATIONAL SOCCER TEAM
ATHLETES DOMINATING THE PITCH AND FIGHTING FOR EQUALITY
U.S. WOMEN'S NATIONAL SOCCER TEAM
ATHLETES DOMINATING THE PITCH AND FIGHTING FOR EQUALITY
They move across the field as one, shifting with the ball, actions precisely calibrated. A beautiful, brutally efficient machine. And an unbeatable one.
The U.S. Women's National Team stormed through the World Cup this summer, never once trailing in a game, ending the monthlong contest with a championship trophy. They became back-to-back World Cup winners. Their opener, a 13–0 rout of Thailand, was the most lopsided victory in World Cup history. At a time when women's soccer has never been more competitive, they scored 26 goals over the course of the tournament, double the amount of the next-highest-scoring team. And they did it while waging an off-the-field battle against gender discrimination.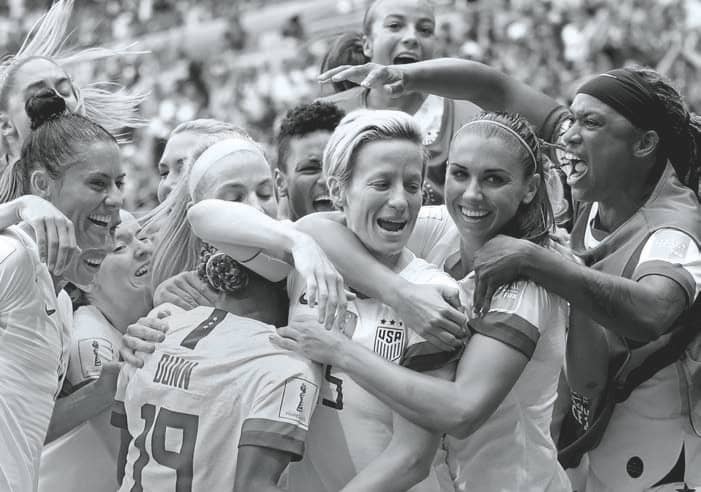 In part, they were able to pull this off because they have some of the best players in the world. Alex Morgan, who tallied five goals in the opener and ruffled feathers when she mimed sipping tea after scoring on the English. Rose Lavelle, whose tricky movement spun defenders in circles. Crystal Dunn, who showed unmatched versatility and made defense look exciting by shutting down opponents as left back. (She's normally a striker or attacking midfielder.) Pink-haired co-captain Megan Rapinoe, who netted ice-in-the-veins penalty kicks. Tobin Heath's magical footwork, Julie Ertz's power, Lindsey Horan's command of the midfield, Christen Press's preternatural scoring ability. Et cetera. Regarding the depth of the squad's bench, defender Ali Krieger quipped to The New York Times, "We have the best team in the world and the second-best team in the world." That swagger was matched with exuberant post-goal celebrations (see: Rapinoe, arms spread wide, chin held high) that garnered the team the full range of media descriptions: "awesomely formidable," "supremely confident," "arrogant, "ruthless, "disgraceful," even "villains."
Call them whatever you want, but they have inspired a massive American fan base to give a crap about women's soccer. Thousands traveled to see them play in France, while millions smashed audience records on TV. A stop on their victory tour in Philadelphia drew the largest audience in U.S. history for an exhibition soccer match: nearly 50,000 attended on a Thursday night in late August to see the U.S. beat Portugal 4–0 in an essentially meaningless game. (Even after the World Cup, the National Women's Soccer League, in which every member of the national team plays, saw sold-out matches for a majority of clubs.) And they did all this with less marketing, lower pay, and fewer resources than their male counterparts, who didn't even qualify for the previous men's World Cup, in 2018.
But the women of the national team knew what they deserved long before they won the World Cup (again). Which is why, in March, instead of focusing exclusively on their preparation for the biggest soccer tournament in the world, 28 members of the team—22 of whom were selected for the 23-woman World Cup roster—sued the U.S. Soccer Federation for gender discrimination. They wanted equal pay, yes, but they also wanted better workplace conditions. "Whether it's youth team programs, marketing, the branding of the team, how they sell tickets, what they spend advertising money on, what they pay each side, what they spend on support staff, what they spend on coaching, what's the travel budget—it's all of that," Rapinoe told The New York Times Magazine in July. "The compensation is sort of the last big part." Besides suing their own federation, the players have also criticized FIFA, the sport's international governing body, for lackluster support of female players.
"We're trying to make it better for the generations after us," Lavelle told Outside in September, noting that their fight is part of a larger global effort. "There are a lot of people in women's soccer pushing for change. It's not just our team. It's a really cool time. It's very unifying for the sport." Over the past few years, the national teams from Spain, Australia, Argentina, Nigeria, Sweden, Afghanistan, Puerto Rico, Jamaica, Chile, and elsewhere have protested for better conditions or pay. (There have been similar movements in cycling, surfing, hockey, basketball, and other sports.)
The women of the national team fight for other social issues, too, even at a time when some fans say that sports should be an apolitical arena. Rapinoe continues to support former NFL quarterback Colin Kaepernick's protest against racial injustice by keeping her hands behind her back and declining to sing during the national anthem. And she, along with other team members and head coach Jill Ellis, often speaks out for LGBTQ representation and rights. In France, after she scored two goals in the team's quarterfinal victory over the home country, Rapinoe told a group of journalists, "Go gays!" adding, "To be gay and fabulous during pride month at the World Cup is nice."
Rapinoe also found herself at the center of a national controversy mid-tournament when the magazine Eight by Eight released a video of her saying, "I'm not going to the fucking White House" if the team won. (The video was shot earlier in the year.) After the clip went viral, President Trump tweeted in response, "Megan should WIN first before she TALKS! Finish the job!"
And so she did. "To be able to couple that with everything off the field," Rapinoe said after the final, "to back up all of those words with performances and to back up all of those performances with words, it's just incredible."
Ultimately, the women of the national team probably hope that one day they no longer have to be activists. They want women's sports to be mainstream. They want equal pay and resources, and for LGBTQ acceptance to be the norm. They want to be able to focus on being soccer players.
But for now, they'll do it all. And you can count on them to finish the job.
—Jessica Luther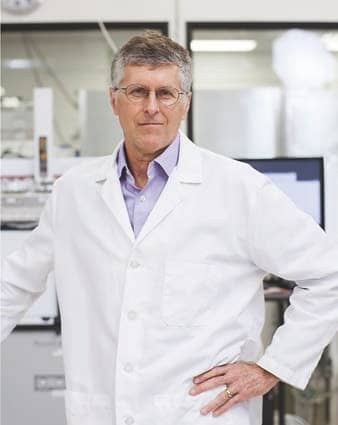 PAT BROWN
SCIENTIST TAKING ON BIG BEEF
For all the recycling and LED-bulb burning we do, few personal choices benefit the earth more than giving up meat. Curb our cravings for post-ride burgers and we'll slash deforestation and greenhouse gases. The problem? "Meat is delicious," says biochemist and former Stanford University professor Pat Brown. "Figure out why in molecular terms and you will have gone a long way toward solving the biggest threat our species has ever faced."
Which is why Brown, 65, founded California-based Impossible Foods in 2011: to convert meat lovers to a plant-based imitation. But it wasn't until 2019 that his plan began to look—and taste—more like reality. In January, the company released the Impossible Burger 2.0, a grill-sizzling, aroma-exploding ground-beef imposter that even chefs like Momofuku's David Chang can't believe didn't once chew its cud. Bill Gates, Serena Williams, and Jay-Z joined investors in a $300 million round of fundraising this year. Burger King is on board, too, with the Impossible Whopper.
The secret to the faux burger's meaty flavor: leghemoglobin, or heme, an iron-containing protein that Brown's scientists synthesized by fermenting genetically engineered yeast. With ersatz chicken, fish, and pork products on the way, Brown hopes that by 2035 he'll have helped remove animals from the food chain. How? "By coming up with a technology that does a better job of delivering what consumers want," he says. "The market will take care of the rest."
—Tim Neville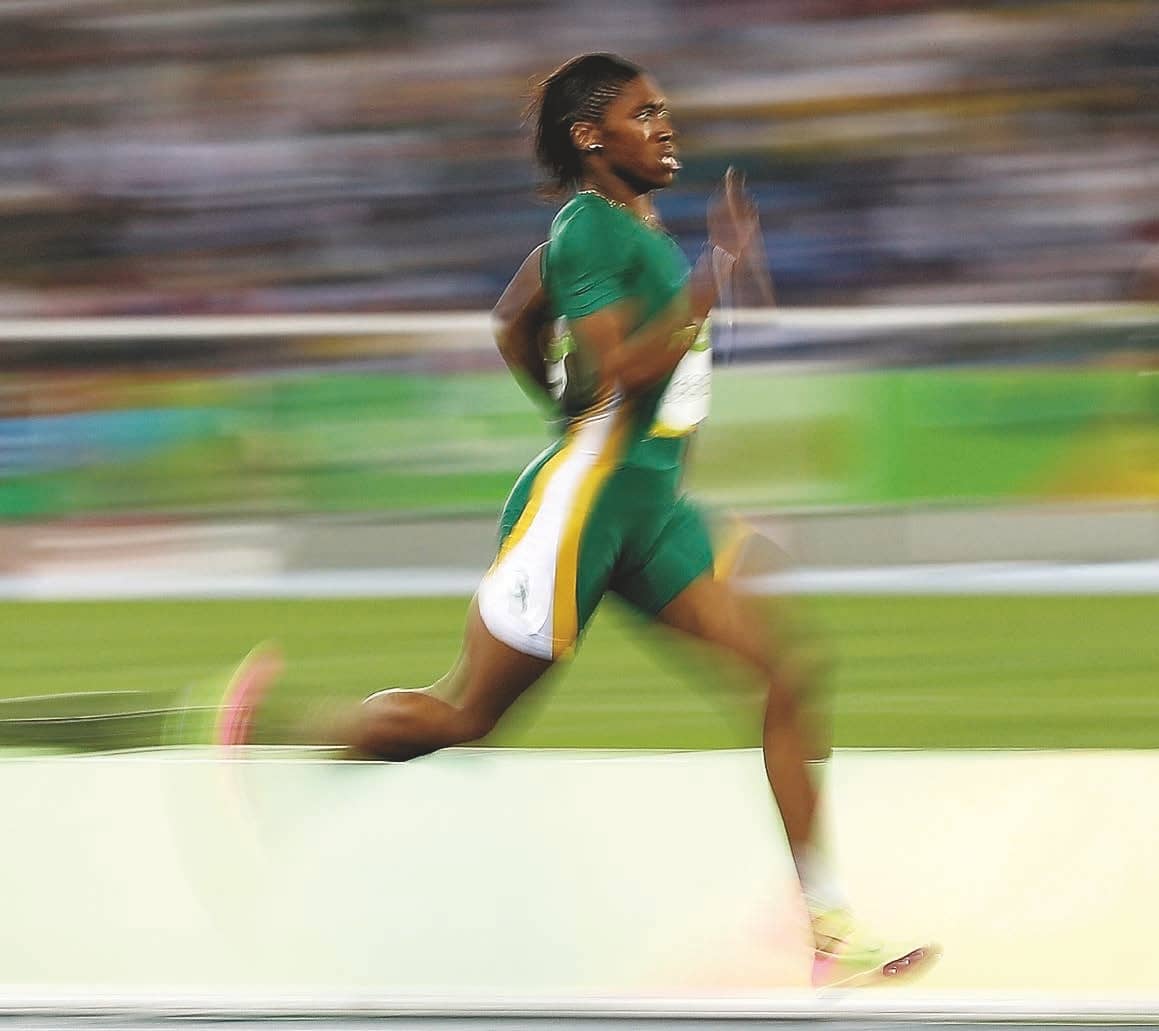 CASTER SEMENYA
RUNNER STANDING HER GROUND ON INCLUSION
For most of her career, Caster Semenya, 28, has had to convince people that she has the right to compete with other female athletes.
In 2009, following her 800-meter world-championship win, the International Association of Athletics Federations, the governing body for track and field, subjected Semenya to a sex-verification test. The IAAF never released the results, but it cleared Semenya to return to competition in 2010. In the following years, she won two Olympic gold medals in the 800, and was undefeated at that distance from 2016 onward.
You can read up to 3 premium stories before you subscribe to Magzter GOLD
Log in, if you are already a subscriber
Get unlimited access to thousands of curated premium stories, newspapers and 5,000+ magazines
READ THE ENTIRE ISSUE
December 2019