Flipping over Zambia
The Good Life|June 2020
Kayaking in a boiling river, just downstream from one of the 7 wonders of the world
Zambia is home to an experience on every whitewater kayaker's dream list: the Zambezi River.
As a natural border between Zambia and Zimbabwe, the Zambezi is one of the largest drainages in Africa and flows at an average of 125,000 cubic feet per second.
To put that volume in perspective, envision a basketball as one cubic foot. Now picture 125,000 basketballs sweeping through a given point on the river every second.
The river is also prized by kayakers for its warm water, beautiful setting, plethora of accommodation options, organized shuttle services and an abundance of extracurricular activities.
Travel Coming from the eastern Cascades of Washington State, getting to Zambia is no simple task.
This is especially true when you're flying with a kayak and two weeks of paddling gear.
In our case, I and my friends Jacob Peterson and Steve Bailey flew with Emirates out of Seattle. We chose Emirates because the airline counted a kayak as one of your two allotted checked bags if it was smaller than 300 cm in volume.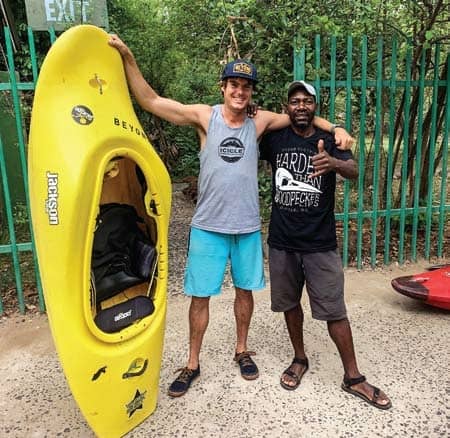 The flight experience was a breeze, even though it took 45 hours to get from Seattle to Livingstone, Zambia.
Our flight path took us directly over the North Pole and then south over Iceland and Europe to Dubai.
After a relatively short layover, we boarded another Emirates Boeing 777 and continued to Johannesburg, South Africa.
We enjoyed our first meal in Africa before eventually boarding our final flight to Livingstone with South African Air.
Upon landing in Livingstone, we got off the plane onto the tarmac, walked into the tiny airport and swept through customs with our temporary visas in 10 minutes.
As we rounded the corner to baggage claim, we were ecstatic to see three whitewater boats sitting in the oversized baggage area. We had made it.
The River
Victoria Falls, one of the seven wonders of the world, is about 100 meters upstream from the Boiling Pot, the popular put-in on the Zambian side of the river.
We could see the mist and hear the roar of the falls as we made our way down to the water.
The river sits about 200 meters down in the canyon, a serious hike with a kayak.
The Pot is actually a large, circular pool, with the first rapid of the canyon directly upstream.
You can read up to 3 premium stories before you subscribe to Magzter GOLD
Log in, if you are already a subscriber
Get unlimited access to thousands of curated premium stories and 5,000+ magazines
READ THE ENTIRE ISSUE
June 2020