12 Climbers, A Dozen Stories
The Good Life|December 2019
From gym rats to hard core, indoor climbing evokes elevated emotions
Once it was my driving outdoor passion. I liked to hike, bike, kayak, and ski, but I lived to climb.
Over time, family, profession and other outdoor interests filled my life to the point that the strong hands and tough mental mindset needed for climbing atrophied.
By the time I was middle-aged what I lived for had changed.
Last fall as a recent retiree I decided to reconnect to climbing. I got a membership at Wenatchee's Riverfront Rock Gym, thinking the ability to practice quickly and frequently might whip my physical and mental abilities back to those glory years now some 30 years distant.
The venture held big surprises — one of the greatest being how much I enjoyed climbing indoors.
While climbing in my youth had been an outdoor experience shared with one partner, the indoor experience proved pleasantly social.
Also, my fear that oldsters might feel the condescension of younger, better climbers was unfounded. The young hotshots willingly shared tips and strategies when I asked for their advice.
Before long, my forays to the artificial walls were as much about interaction as they were about technique.
Another surprise? The range of different reasons that drew others to the rock gym — everyone seemed to have a unique story.
Some were top guns, others just learning; some were married and arrived solo for personal time, others came down with their spouse as a date; some were single and enjoyed pursuing their climbing goals without distraction, others were single and hoping to meet someone with shared passions; some were kids training with the afternoon Youth Team, others were seniors gathering for Geezer Tuesdays.
Talk to a dozen people and you'd hear 12 different stories, like the following ones, explaining what drew them to this new facility.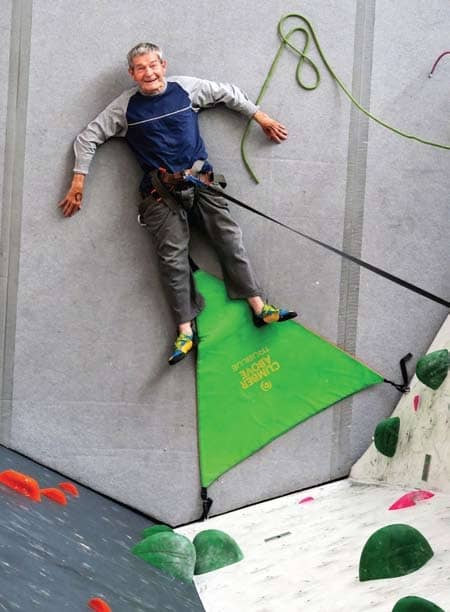 Jack Bevier ~ New challenges keep him growing
One of the more inspirational stories for young and old alike is that of Jack Bevier.
Jack had never climbed until a month before his 85th birthday when a friend brought him down to the Riverfront Rock Gym to try something new. "I don't buy the argument that you're too old to take on new things. New challenges keep you growing and keep you excited about life. Heck, I don't wanna just sit around and die."
A year-and-a-half later at the age of 86 Jack is quite a fixture at the gym.
He swims three mornings a week, but on Tuesdays, Thursdays, and Saturdays he makes the one-mile walk from his apartment to come to climb.
"Once here, I stretch, do several easy climbs to limber up, and then work on climbing problems that push me. This has definitely improved my strength, flexibility and mental toughness.
"And it's so much more fun than doing weights or machines. I don't think I've had this much fun since elementary school."
Richard Dix ~ A head sport
A considerably younger and slightly stockier friend who often climbs with Jack is Richard Dix, a 63-year old contractor/remodeler.
"I came down here with Jack one day to check out the facility after it opened and was impressed. I used to climb at places like the Peshastin Pinnacles in my 20s and doing this regularly makes me feel like a kid again.
"It hasn't taken long to feel stronger and see my technique improving."
Climbing is also such an interesting head sport — it's a mental puzzle working out the moves and an emotional challenge executing those moves without letting fear undermine your confidence. It takes the body and brain to unlock a hard climb."
You can read upto 3 premium stories before you subscribe to Magzter GOLD
Log-in, if you are already a subscriber
Get unlimited access to thousands of curated premium stories and 5,000+ magazines
READ THE ENTIRE ISSUE
December 2019