Battle Blades
Gun World
|
Inside Military Surplus Winter 2016
In the Close Quarters Fighting of World War I, Trench Knives Often Made the Difference.
In close quarters combat, it was often the blade and not the bullet that decided the outcome.
Although they were only exposed to the dangers of trench warfare for a limited time, U.S. troops in World War I quickly adapted to deadly close quarters combat.
Their accuracy and speed with their Springfield M1903 and Enfield M1917 rifles often broke German attacks before they reached the trenches, and their Winchester M97 and Remington Model 10 trench shotguns cut a swath through German attackers who reached the trenches. But American troops sometimes still had to engage in hand-to-hand combat.
A larger proportion of U.S. troops were equipped with the M1911 pistol or M1917 revolver, both manstoppers firing the .45 ACP cartridge. The M1903 rifle bayonet or M1917 rifle bayonet—either mounted on American rifles or in use a short sword—also accounted for its share of Germans. Still, there were times when combat was so close—often at night when surprised by German trench raiders—that the fighting knife became the weapon of necessity and choice. For this reason, U.S. troops were issued with trench knives.
Actually, some used captured German trench/boot knives or improvised blades, as well as a few personally owned ones. But there were two primary types of World War I Doughboy-issued trench knives.
Though some collectors of U.S. military knives may use different terminology, the most commonly used designations for the trench knives are the U.S. M1917/18 Trench Knife and the U.S. Mark I Trench Knife (a.k.a. the 1918 Trench Knife).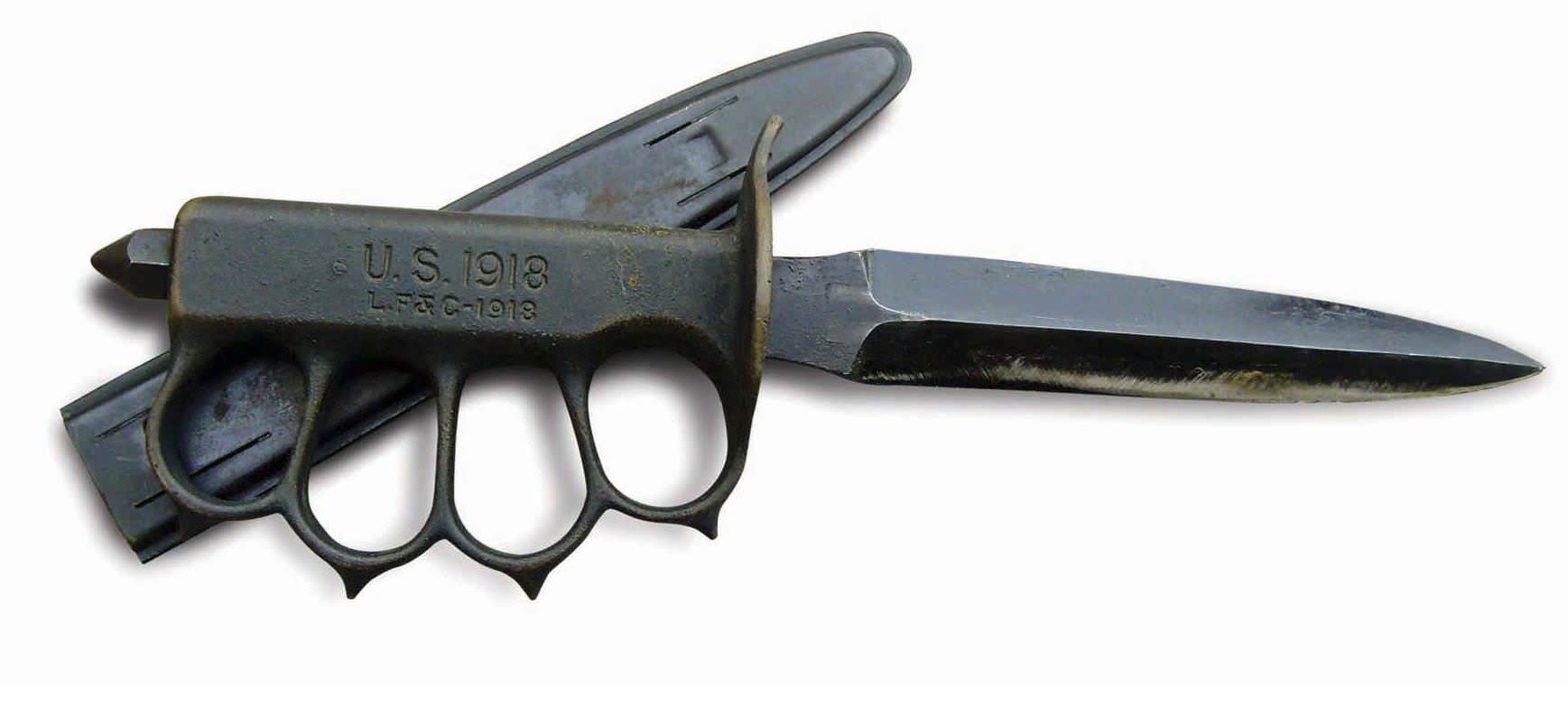 M1917-18 TRENCH KNIFE
The M1917/18 is immediately identifiable by its triangular blade and finger-groove handle with a guard bent around to form a spiked knuckle bow. In anticipation of U.S. troops engaging in hand-to-hand combat in the trenches, in 1917 various designs for a trench knife were submitted to the Ordnance Department.
A design by Disston & Sons of Philadelphia was chosen. Four manufacturers would eventually produce M1917/18 knives: Disston & Sons, Oneida Community Ltd., American Cutlery Company, and Landers, Ferry & Clark.
You can read up to 3 premium stories before you subscribe to Magzter GOLD
Log in, if you are already a subscriber
Get unlimited access to thousands of curated premium stories, newspapers and 5,000+ magazines
READ THE ENTIRE ISSUE
Inside Military Surplus Winter 2016