Get Inspired By These Fearless Women On Women's Day
Delhiites Lifestyle Magazine
|
March 2020
International Women's Day, celebrated worldwide on 8th March, is a celebration of women and their achievements in various domains. Women often have to face more challenges in the workplace and in the world in general. Even though the worldview is now slowly shifting towards a more positive space for women we still have a long way to go. For this edition of Women's Day we spoke to some inspirational women from the capital and decided to spotlight their stories to encourage more women to stand up for their dreams. Read on to get motivated with the journey of these successful female icons some of whom have managed to excel in traditionally male dominated areas. We also wish our female readers a very Happy Women's Day and hope that the day gender equality becomes a reality is not far from us.
DILDEEP KALRA
"Dildeep Kalra has proven her business acumen while working as the director of Massive Restaurants, an enterprise, which has brands like Farzi Café, Masala Library, Pa Pa Ya, Made in Punjab, Bo Tai and many more under it. Regarding her journey so far she says, "In 2006 when I got married my husband had just moved from the US. Back in the day when malls were booming we started some food kiosks. Since I had no friends and I was new to the city I started managing a few kiosks. So this is how I started working in the food business. Later we sold the business and became bigger and that is when I decided that I wanted to take a sabbatical and start my family."
She started working in Massive Restaurants in 2012. "That's when I came in and started working full time. Since my husband is in the food business it was easy for me to migrate. Obviously I had to learn a lot because I did not know how a food business is run but being with him, learning about the business became easier and that is how my food journey started."
Telling us about the biggest challenges that restaurateurs face in Delhi she says, "There are a lot of challenges that we face. But you always try and overcome the challenges whether it is the government policies or the illegal construction that people have done. Even though we get licenses the authorities wake up later. There are issues in Delhi but you have to run a business so you learn to deal with them. I guess there are shortcomings everywhere in every state or city but the idea is to overcome the challenges and not sit and discuss the problems and rather to create solutions."
With a huge portfolio of existing restaurants Massive has huge expansion plans underway. "We are already in seven countries. This year we are planning to open five outlets in different countries. We are also opening restaurants in India but when it comes to overseas expansion we are of course very proud because we are taking Indian food overseas. We are opening a restaurant in Delhi in about one month's time as well. It will be something very big, very different and something Delhi has not seen yet."
Talking about her app Stylehorn, Dildeep tell us, "Sadly I have not put in that much effort and time into it. Most of my time goes working at Massive Restaurants and I have two kids and also have to look after the house. That is just a pet project that has not gone mainstream for me. Basically it was an app that was used to rate people on their looks. You would think how bizarre that is but every time you are going out you will ask your husband, boyfriend or friend how you look and they always say that you are looking fine. But an outsider saying that you look gorgeous or that they love your dress will immediately boost your confidence. So I thought it would be interesting to see how people rate each other's looks."
"On a message she'd like to give to other women on Women's Day, My message would be that we should empower each other. Let's not talk about men empowering us." We have to give confidence to our fellow women and tell each other that we can do it rather than pulling each other down. In 2020 and we should uplift our own kind.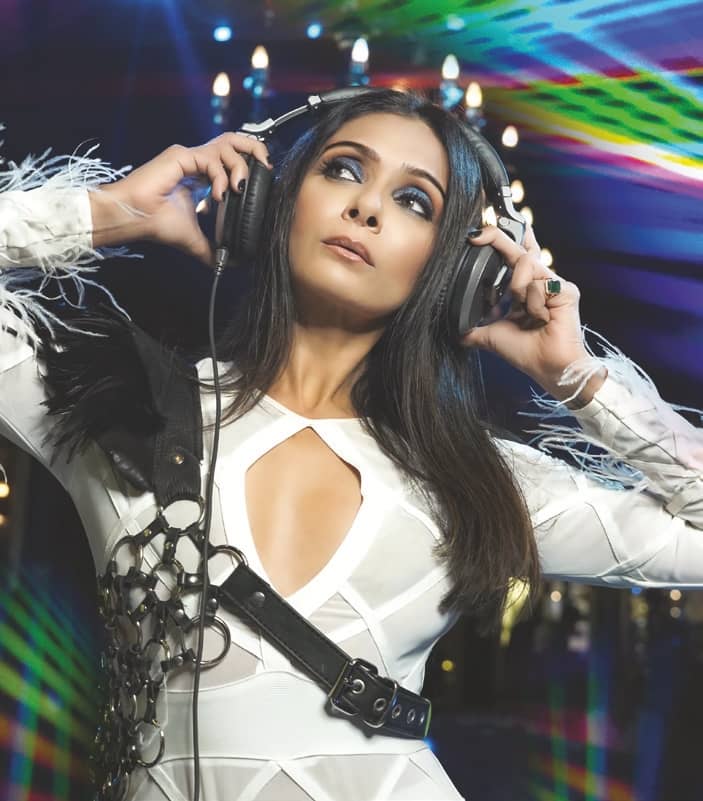 RINA SHAH
Rina graduated from the Fashion Institute of Technology, New York and became a popular figure as a shoe designer. She founded Rinaldi Designs that soon became a favourite among many celebrities and luxury shoe shoppers. But after working as a shoe designer for eighteen years, Rina decided that she wanted to become a Polo player. So at the age of thirty nine she started playing Polo professionally but due to an injury she had to move on. It was then that she decided to pursue her other passion which was music and today after sheer hard work she has managed to fulfill her dream of becoming a DJ.
You can read up to 3 premium stories before you subscribe to Magzter GOLD
Log in, if you are already a subscriber
Get unlimited access to thousands of curated premium stories, newspapers and 5,000+ magazines
READ THE ENTIRE ISSUE
March 2020