Deutsche Bank's Crash Diet
Bloomberg Markets|December 2019 - January 2020
Chief Executive Officer Christian Sewing is slashing businesses in a bid to save the 150-year-old megabank
CHRISTIAN SEWING'S SHOCK WAS plain to see, the color draining from his face. The chief executive officer of Deutsche Bank AG had just unveiled his long-awaited plan to fix the troubled lender. It included a retreat from equities trading, a focus on corporate banking, and the elimination of 18,000 jobs, a fifth of the workforce. To underscore his conviction, he'd even pledged to invest a chunk of his own pay in Deutsche Bank stock every month.
Then he checked his phone. The shares were in free-fall; they lost as much as 7.3% that day, July 8, and tumbled again on July 9. Shareholders had reached the same, grim verdict: Sewing's goals were unrealistic for a bank that had consistently disappointed investors. His plan continued to rely on a global investment bank with shrinking revenue and a low-profit retail bank in a home market plagued by fierce competition and negative interest rates.
It was a sucker punch for the former risk manager. Sewing had spent his entire first year as CEO building up to this moment. He'd purged the management board of dissenters, wooed regulators and investors. He'd rejected an alternative strategy that some key stakeholders favored: merging with Deutsche Bank's German rival, Commerzbank AG. But the market reaction was a reminder that if his strategy was going to work, it wouldn't happen quickly, and there was no room for error.
History contains innumerable examples of corporate giants struggling to adapt to a changing world. What makes Deutsche Bank's story particularly resonant is not just that the risks involve a systemically important bank with a €1.5 trillion ($1.66 trillion) balance sheet. It's also the way the bank's fate follows the trajectory of corporate globalization over the last three decades.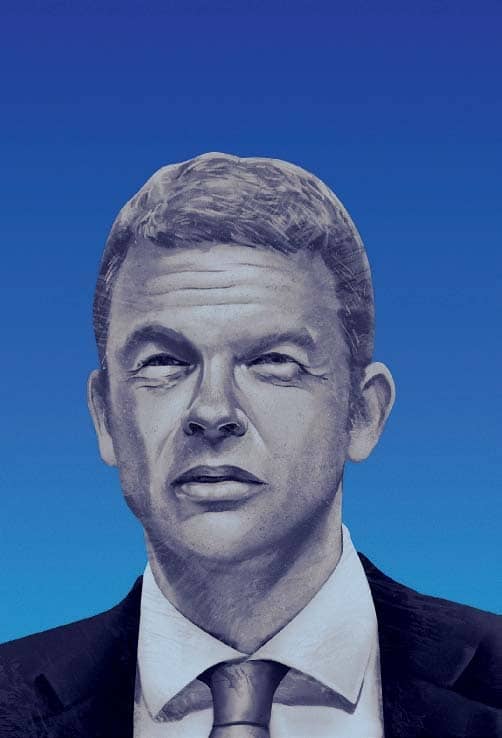 In the 1990s and 2000s, the bank expanded rapidly overseas and took greater risks, at one point becoming the world's largest lender and a top trading firm. Then, in the wake of the 2008 credit crisis, both its business model and its reputation came under attack.
Even the proposed solution—Sewing, the first German citizen to serve as sole CEO in 16 years, with his plan to shrink the bank closer to its domestic roots—echoes the inward-looking political prescriptions that have gained prominence around the world. So now Deutsche Bank's global shareholders, including entities in Qatar and the U.S., are left to wonder how such a strategy can succeed in the 21st century.
The two wretched days in July were followed by more pain. Piecemeal cuts to the business by Sewing's predecessors had triggered a protracted fall in revenue without restoring profitability. Sewing pledged in the July announcement that revenue from businesses the bank is keeping, would grow 2% annually, to about €25 billion by 2022. But within weeks he had to acknowledge that lower interest rates made that goal more difficult. In September the bank softened the 2022 target to €24 billion to €25 billion. In October, when Deutsche Bank reported yet another quarter of declining revenue, the stock plunged again.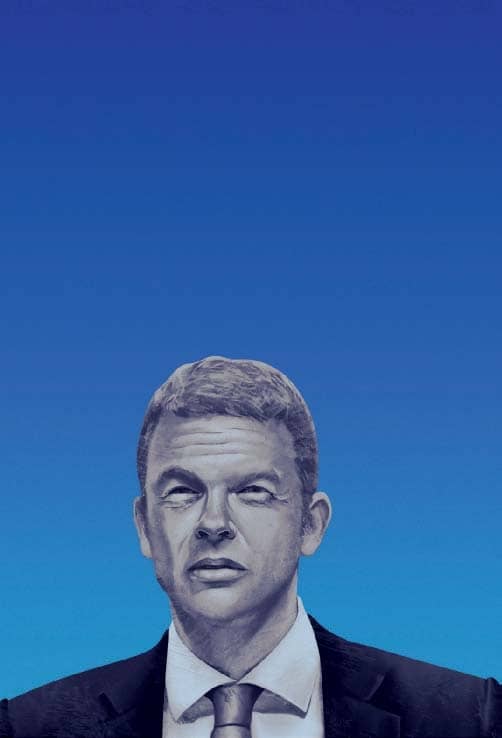 Each sell-off deepens the hole in which Sewing finds himself. The share price, now down about 90% from its peak in 2007, has fallen about 40% since he took over in April 2018. That ruled out any chance of asking shareholders for more money, leaving the CEO to draw down the bank's capital cushion to fund the new plan. With less and less room to maneuver, Sewing, 49, is axing the entire equities trading arm.
The more powerful trading business at Deutsche Bank has always been fixed income. In the years before the financial crisis, that unit expanded massively to become an industry leader and one of the company's biggest sources of revenue. But stricter postcrisis regulations, higher capital requirements, and negative interest rates have all made it harder to make money. Sewing has been cutting jobs in the areas that trade interest rate-related securities. The bank has vowed to turn around the shrinking unit, but the October results—in which fixed income led the revenue decline—once again underscored the challenge.
Sewing's surgery is all part of a last-ditch effort to salvage the limbs that are still functioning. Should he fail, Deutsche Bank, which celebrates its 150th anniversary in March, will have few options: sell more businesses, be acquired, or—given its crucial role in keeping Germany's export economy humming—face the prospect of being nationalized.
A former top executive at the bank who knows the CEO well frames the predicament this way: Sewing is the bank's "last option." There's no alternative. If he can't fix it, Deutsche Bank will fall apart.
You can read upto 3 premium stories before you subscribe to Magzter GOLD
Log-in, if you are already a subscriber
Get unlimited access to thousands of curated premium stories and 5,000+ magazines
READ THE ENTIRE ISSUE
December 2019 - January 2020