This magic moment
Yoga Journal|May - June 2020
Bestselling authors Elizabeth Gilbert and Jennifer Pastiloffhave joined forces to bring enchantment and serious self-care to the women who need it most. Here, they teach us what it means to embrace creativity for embodied living beyond fear.
There's a secret... to making friends in adulthood, says author Elizabeth Gilbert—yes, of Eat Pray Love fame—and it doesn't have to involve cocktails. The trick? Create something together. And bonus points if that something is also good for humanity or the planet. After all, it's how her friendship with author Jennifer Pastil off went from online to IRL.
Gilbert and Pastiloff have plenty of practice in this realm: Gilbert's creativity bible Big Magic (2015) has made her something of an authority in the sphere, spawning speaking engagements and workshops in which the curious hope to find a little magic of their own. Pastiloff, meanwhile, has long been leading retreats and workshops to get people to lighten up and love themselves—a theme that culminated with the release of her memoir, On Being Human, last year.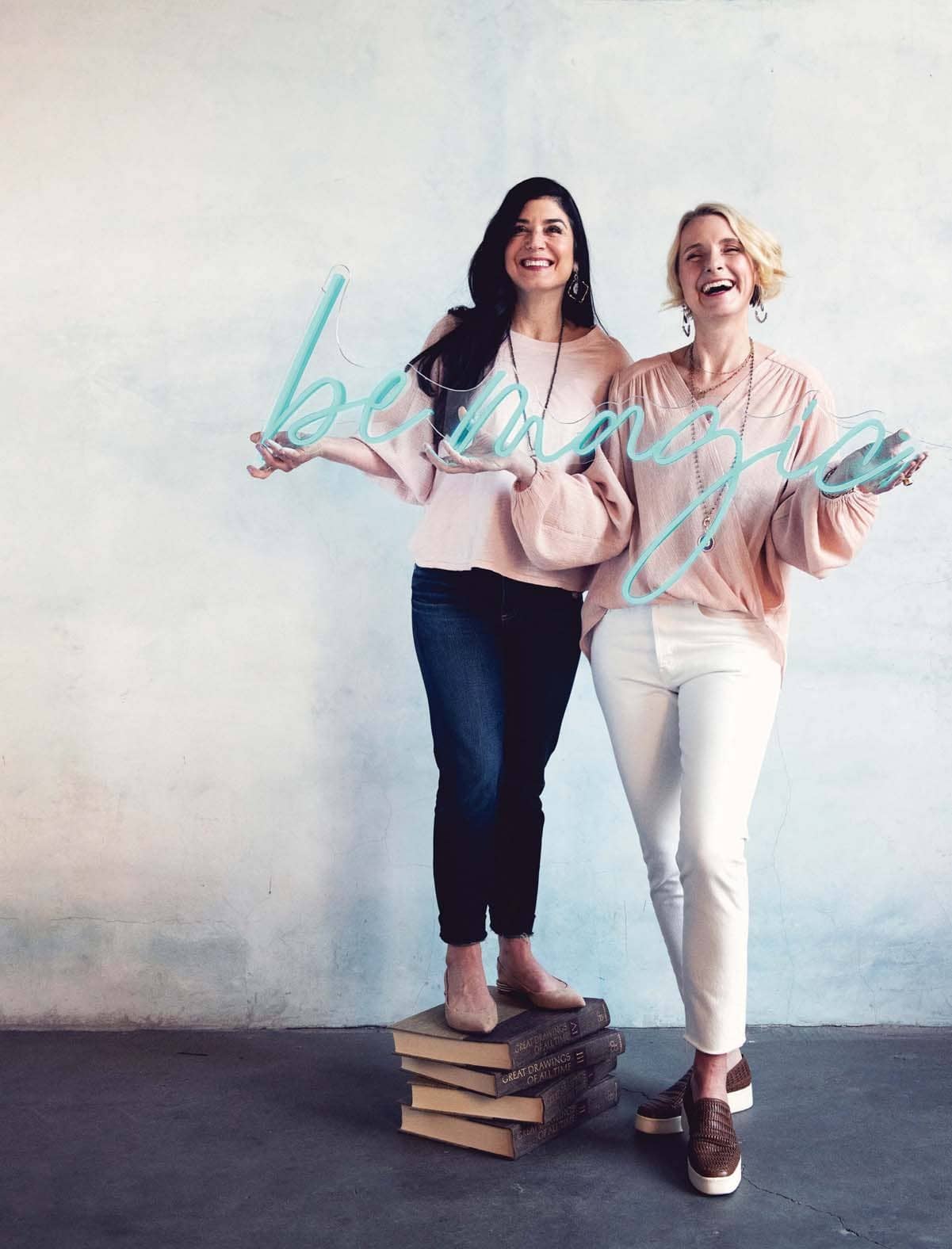 After Gilbert and Pastiloff met online, following each other and messaging over Instagram, the women bonded over their "passion to be of service and being really big dorks," Pastiloff says. Out of those conversations, their workshop series On Being Magic was born. These one-day creativity and personal development sessions for women bring to life the wisdom inside each of their books—and are completely free of charge. With just one On Being Magic workshop under their belt (the second, scheduled for April, was canceled due to COVID-19 at press time), the project is still in its infancy, ever-evolving—and best put into words by the makers in chief themselves.
How did the idea to combine your superpowers come up?
ELIZABETH GILBERT: It came from Jen and I becoming friends and wanting to make something together. When we started having the conversation about it, I said, "I want to do something, but I want it to be free. I want the people who come to this to be the kinds of people who don't typically get to go to yoga or art retreats." We really wanted to take care of women who are struggling or take care of the women who take care of women who are struggling—people at organizations doing work for women's issues. Our goal is to give people a day where they are pampered and loved and seen. We tell them at the beginning, "You don't even have to do anything. If you don't want to do any yoga or introspective work, you can just take one of these yoga mats and lie in the corner and sleep for the entire day. We'll bring your lunch at noon. You're tired. You're tired, and we want to help you, and we want to love you up."
JENNIFER PASTILOFF: Yes. The idea was to get a group of women and non-gender-conforming humans and provide them with a safe space to write and explore and move their bodies and share and listen —what I call "dorking it out." We dance, and we sing, and we laugh, and we cry. It really is magic and vulnerable and intimate, even with 150 people. It inherently breeds creativity. And I think what really helps is that Liz and I are both so honest and open about ourselves that other people feel they can be that way too.
Creativity as a concept is so remarkably vast. How do you even start to define it?
JP: It's hard for me to put it into words, because when you just asked, I wanted to get up and dance. I was like, "Wait, let me do it with my body!" Because to me, it's about being awake and inspired. For a while, I was really getting in my own way. We all do that, right? I thought to myself: "Just make something. Make art. Write something. Make a cup of coffee." This idea helps me feel alive. Because the truth is, it's always within us. I think that's what it means to be connected to Spirit. Now I'll do my creative dance.
EG: There's an openness and a vulnerability to creativity as well. I recently posted on Instagram a picture of my stack of journals from last year. Then there were a million questions. Sometimes the questions people give me on Instagram make me want to weep. They were like, "How do you do it?" "What's your system?" "Which kind of pens do you use?" I was like, "Oh my God, you guys, it's a blank page! You get to do whatever you want with it!" But we cannot stop looking for the rules. We cannot stop wanting a tyrant to come around and tell us what we have to do in order to be OK. So instead of saying that, I opened up my journals and took some pictures of random pages. I put them on social media so that people could see what they look like because it's a mishmash: shopping lists, drawings, prayers, collage, other people's poetry. It's a real creative gumbo on every page.
How do you tap into your own muse?
You can read up to 3 premium stories before you subscribe to Magzter GOLD
Log in, if you are already a subscriber
Get unlimited access to thousands of curated premium stories and 5,000+ magazines
READ THE ENTIRE ISSUE
May - June 2020