First airline job
... won and lost after just eighteen months in the right-hand seat. Reflections on the rewards of the hardest work in a lifetime
When I embarked on the long and expensive mission to gain my CPL I had never really wanted to be an airline pilot. The idea of being a 'button pusher' filled me with a snobbish dread− after all airliners were just big computers, requiring systems operators and not aviators to move around the skies, weren't they? You often hear general aviation pilots scoff about airline jockeys with many thousands of hours, pilots they've been flying with who 'can't land a PA-28 for toffee', as if somehow this makes the professional less worthy than the amateur. I admit now that I may at times have fallen into the trap of believing that perhaps this could be the case, after all the love of my aviation life is a bullish handful of a little Pitts Special, a machine that bears so little resemblance to your typical airliner it's hard to believe they both fundamentally share the same blood.
That shared bloodline became rather more obvious to me after I joined the now sadly defunct flybe and learned to fly the Dash 8. This was an aircraft that I can honestly say now holds a chunk of my heart equal in size to that of my little Pitts, for reasons both remarkably similar and wildly different. My feelings aren't purely about the machine itself; as the truth−as I'm sure every Dash pilot will attest−is that she is a cantankerous handful, requiring a heap of patience and understanding to get the best from−some would say not unlike me, really!
Bearing in mind that the airline life was never my real aspiration, I should make it clear that the further I got through my studies and the more I learned about flying the mass transit machines, the more intrigued I became. The more I learned the more I understood that although perhaps flying an airliner wouldn't provide the 'pure' aviation thrill I had always imagined I was seeking, it would provide a whole new set of challenges and skills equal to or greater than those I'd sought all along. Soon I realised that becoming an airline pilot actually would make an awful lot of sense and thus it was, still unable to quite aspire to fly something as brilliantly integrated and automated as an Airbus, flybe's Dash 8s became the aeroplanes I dreamed of flying.
I'm not sure I've ever worked as hard at anything in my life as I did to get into that first airline role. All the training to get licences and qualifications, whilst hard, was for the most part extremely rewarding and enjoyable. The process of applying for, gaining and then passing an interview and simulator assessment was another thing altogether, even back then when the world still made some kind of sense.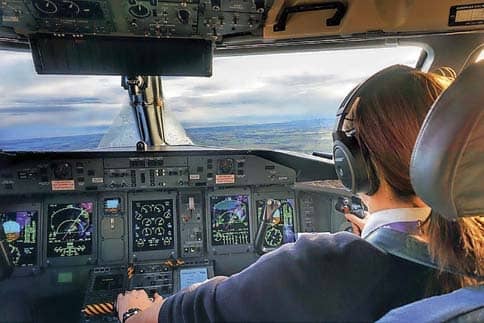 In no way was this process anything other than intensely stressful, and I very much doubt that will ever change.
You can read up to 3 premium stories before you subscribe to Magzter GOLD
Log in, if you are already a subscriber
Get unlimited access to thousands of curated premium stories, newspapers and 5,000+ magazines
READ THE ENTIRE ISSUE
November 2020