Garden Lockdown
Since the Government's recent instructions regarding 'social distancing' in connection with the Coronavirus outbreak, we have all no doubt hugely missed being able to go out detecting as well as socialising with friends (Fig.1).
With club meetings, organised digs, and rallies being postponed at the time of writing we are only allowed to leave home for very limited purposes, i.e. shopping, exercise or helping others. So, having read many of the books in my collection, numerous past copies of Treasure Hunting magazine, and played with all manner of settings for my machines, I decided I really should do some gardening.
Not having a huge garden (70ft rear and 50ft front) with mainly borders and lawn, it is not too hard a task. Plus, I often get the odd clay pipe and 'moo tube' when digging, so its a bit like detecting really. Out I went on a lovely sunny morning with blue skies, sunshine, and birds chirping, only to be constantly interrupted by the overly large (some in size too) numbers of joggers and walkers who have suddenly appeared since we have been advised to exercise.
By lunchtime, I had completed all my tasks and sat down with my wife to have a sandwich on the bench in our front garden. Whilst chatting away and staring longingly at the border next to me wondering what could lie beneath, a voice shouted out, "Afternoon." It was our postman. "You should be looking in there, if you like reading this kind of stuff," he said pointing to the border with my monthly copy of Treasure Hunting magazine in his hand. I laughed with him, while picking up the magazine, to then hear a curt, "Don't even think about it!" from my wife, as she headed off indoors. "Why not?" I replied, thinking now would be the perfect time as the soil was nicely broken up and I know where all the bulbs are.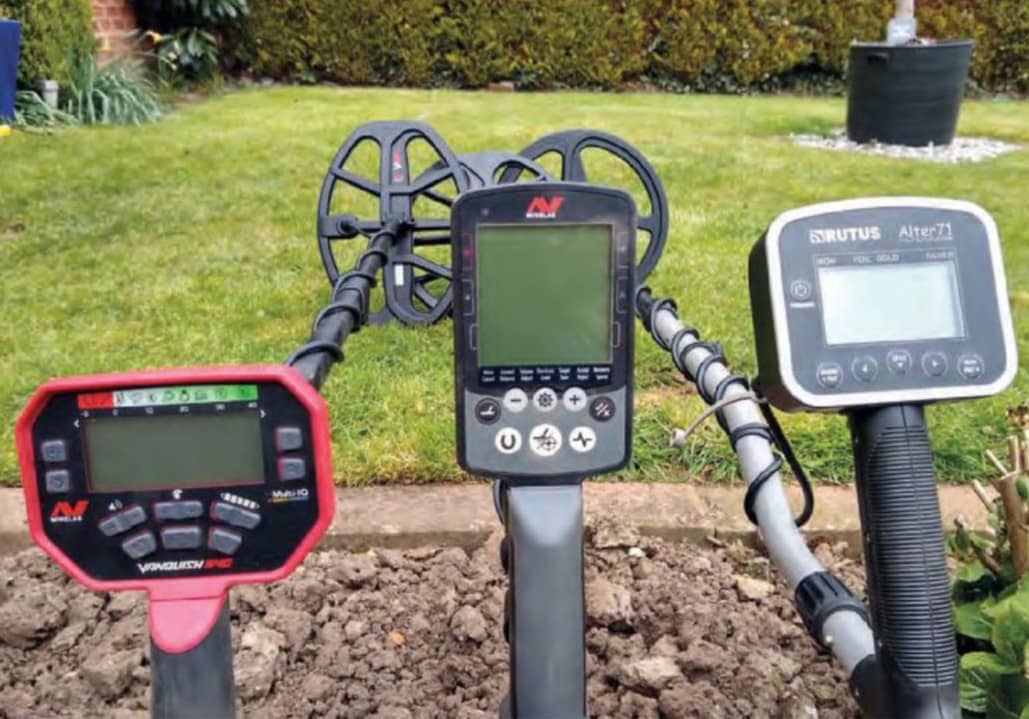 Detecting Again at Last
Off I headed to the shed to get three of my current machines out: the Rutus Alter 71, Minelab Vanquish, and Minelab Equinox 800 (Fig.2). "Nothing to lose," I thought. With my house being built in the 1930s and having nearly 90 years of human traffic in the garden, in theory there must be something to find here. Naturally, whenever I get a new machine, the first thing I do is have a play in the garden, and over the years I have found a few bits, including a sixpence along with lead dross and bits of rubbish. However, I have never tried out a machine in my front garden, mainly due to my kids getting embarrassed and also drawing attention from passers-by thinking I am from the Water Board or similar, looking for leaks or cables (I have actually been asked this before by a neighbour). However, I decided now was the perfect time to give it a try.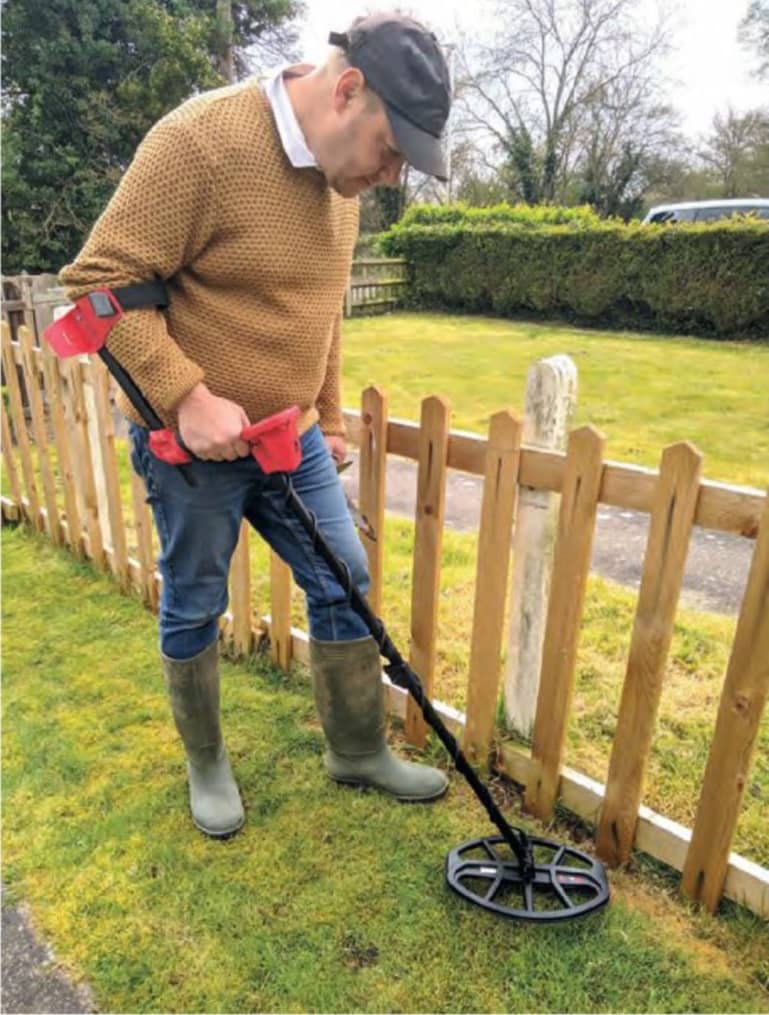 Rutus Alter 71
Creating a virtual grid in my head from looking at my front garden, I divided it into three sections to try out the three machines. Starting nearest to the house, I turned on my Rutus Alter 71 and began detecting very slowly (Fig.3), as I had to make the most of the space around me for the time being. This was a good decision as it turned out, as the Alter 71 has its unique hodograph display that displays the quality of a target alongside a target ID and tone.
The first signal was a nice sharp line from the hodograph display with an ID fluctuating between 49-52 (-90 to +90 setting) just under my dining room window in the newly dug border. Digging down around six inches and putting my pinpointer into the hole I saw what I at first thought was a badly corroded fifty pence coin. Gently lifting out the soil, I began to get a little more intrigued as it became obvious that it was not a fifty pence coin after all. It turned out to be a token from Billingsgate, London (Fig.4). Turning it over I could see it was marked 6d (Fig.5).
You can read upto 3 premium stories before you subscribe to Magzter GOLD
Log-in, if you are already a subscriber
Get unlimited access to thousands of curated premium stories and 5,000+ magazines
READ THE ENTIRE ISSUE
June 2020