The South's Bear Hunter Holt Collier
Bear Hunting Magazine
|
September - October 2020
A former slave, a confederate soldier, a cowboy, a master houndsman & a bear hunter: Holt Collier
A slave was born in 1846. No month was recorded. The day of his birth was not thought significant enough to remember. He was the third generation of his family to live in bondage and servitude to a farmer in Mississippi.
He was born to the Mississippi Delta, a place that, at the time, echoed all of the same mysterious breadth of flora and fauna that the Amazon jungles could provide. Plantations were hacked, by hand, out of canebrakes and swamps so thick that every step forward necessitated a battle with nature. Mosquitos, stinging insects, and venomous snakes were constant adversaries in the primeval forest and the labor merciless in the agricultural fields that were created. Slaves died of malaria, yellow fever, and typhoid. They died of exhaustion, they were beaten to death, and they were hanged. The brutality of the space and the era was both mercurial and omnipresent. It was persistent in its danger, its wildness and its horror.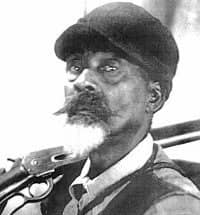 Landscape shapes our existence and it informs our understanding of self. This was the space that helped to form one of the superlative hunters of America and arguably the greatest bear hunter in the country's history, Holt Collier.
Over the course of a long and storied life, Holt Collier served many roles and lived adventure enough for many men. He hunted and battled, dueled and had associations with powerful and famous names of the time. He, curiously, played an inadvertent role in the creation of a popular children's toy, the teddy bear, after guiding president Theodore Roosevelt on a hunt of much renown. He became financially secure in an era when many blacks lived in desperate poverty and worked within the constraints of a subjugating power structure; he repeatedly asserted his sovereignty and his innate humanity.
His life began as a young slave boy made to shoot black birds, pigeons and robins with a 12-gauge shotgun until he could no longer tolerate the impact on his small shoulder. He was expected to then shoulder the shotgun on his opposite side and shoot bothersome birds until he could no longer hold a gun or the game was exhausted. This was a means of preventing damage to the plantations stores, but also used as a way to fill the larder with food. The more desirable animals went to the big house kitchen while the lesser went to the pots of the enslaved workforce. Collier quickly grew to be a talented purveyor of small game and soon graduated to larger quarry when he killed his first black bear at the age of 10. Bear meat was a coveted and highly sought after source of protein and fat, and Holt was good at getting bear. While enslaved, Collier's primary responsibility was to provide meat for the plantation; that meant caring for and raising a large pack of hounds as well. His facility as a hunter and as a marksman was lucrative for his owner in more than one way. Not only did it cost less to feed his slaves because of Collier's work, but he also gambled on the results of hunting contests that he would place Holt in. One such occasion in the mid-1850's yielded Howell Hinds a pot that was said to be 1,000 dollars.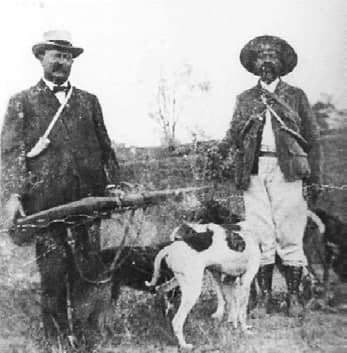 You can read up to 3 premium stories before you subscribe to Magzter GOLD
Log in, if you are already a subscriber
Get unlimited access to thousands of curated premium stories, newspapers and 5,000+ magazines
READ THE ENTIRE ISSUE
September - October 2020