River's BEAR
Bear Hunting Magazine
|
September - October 2020
A Mule Wreck, A Giant Bear Missed & A Redemption Story
Since I was a little girl, I've been hunting the mountains of Arkansas with my family. I was four-years-old the first time I saw a bear in the woods while we were putting out bait. I remember watching that bear and my initial response was fear. I grabbed onto my dad's leg and said, "Let's go." We watched the bear throw his nose in the air, wind us and run off. I remember looking to my dad to see him grinning ear to ear. "Did you see that?" he asked. And his excitement immediately transferred to me. The drive home he had me recount what I had seen and made sure that I understood how special it was that I got to be so close to a wild bear. That was a privilege that not many four-year old kids have.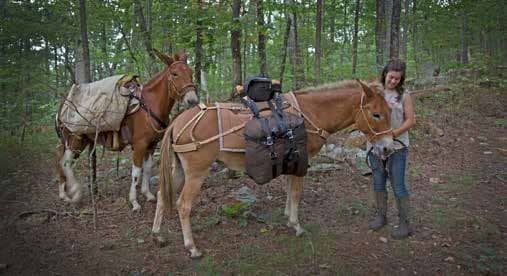 That same year, the season started and the bears left my dad's bait. He was planning on giving up, but I had a dream. I woke up early in the morning and told him, "Daddy, I had a dream that the bear came back." As a four-year-old, he acknowledged the dream and agreed to keep it out one more week.
The next time he went to check the bait, sure enough, a bear was back at the bait. I've always loved bears. It was always important to my dad that we valued and respected the wildlife we hunted. We spent our summers catching lizards, snakes, crawdads, and whatever else we could find. Then when fall would come around, we would pack our school bags with hunting clothes so we could leave straight from there to the farm. Just about every night of the week we would help some one track a deer, and then we would sit at the truck and listen to some of the best story telling you've ever heard.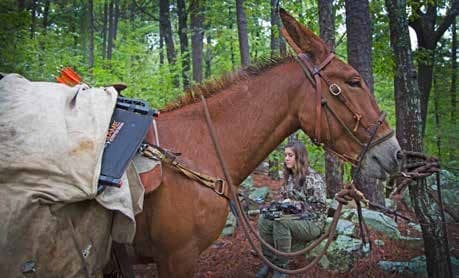 I killed my first deer with a bow behind our house when I was nine-years old. I remember calling my mom on the phone and telling her to send my brothers and cousins up to see it. When they got there, I was so proud of what I'd done. Hunting was a part of our culture and it was something done with the utmost respect to nature. We were trained to view wildlife through the lens of a conservationist and to never take it for granted. Deer hunting was something we all got to do, but bear hunting in our family was a privilege, not a right. Dad wouldn't just take anyone bear hunting, because a bear is "the majestic beast of the Ozarks." The summer of 2016, I was twelve years old, got a bow and worked to be able to pull back legal weight. The following fall I killed a color phase black bear. That was an incredible experience, but that's not the story I want to tell you.
The next years I baited and hunted, but didn't kill one. The fall of 2018, just before the season started, we gained access to a remote piece of private land that we accessed by mules. On September 14, I had finished all my schoolwork so that we could bait the new property. We used our two mules to pack in about 400 pounds of corn, dog food, bread, sardines, pastries and fryer grease – and of course, our Northwoods Gold Rush. I didn't really know what I was getting into. I was just helping my dad set out a bait and I didn't know who would hunt it. We finally made it to the top, unpacked the mules, set out a camera, and we were ready to go back down. I was tired and decided I wanted to ride out on our young mule, Izzie. As I was riding, I ducked to get under a limb about the size of your wrist. As I leaned over to avoid getting raked off, I grabbed the saddle horn and squeezed my legs into Izzie, unintentionally queuing her to run. She took off down that mountain at full speed! I lost the reigns and control as she jumped logs and ditches, and then, the saddle started to slide right off her back. My feet were out of the stirrups and I was hanging on only the saddle horn. It felt like she ran forever before finally something happened - I came off in a tumble and hit the ground hard.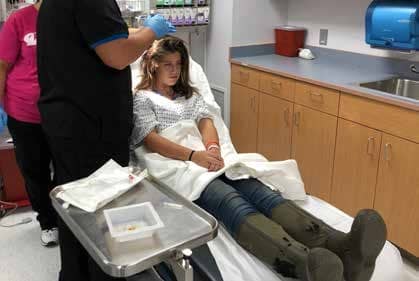 You can read up to 3 premium stories before you subscribe to Magzter GOLD
Log in, if you are already a subscriber
Get unlimited access to thousands of curated premium stories, newspapers and 5,000+ magazines
READ THE ENTIRE ISSUE
September - October 2020