Backcountry Baited Bears
Bear Hunting Magazine
|
November - December 2020
LEARN WHAT IT TAKES: A DO-IT-YOURSELF, PUBLIC LAND, BAITED BLACK BEAR HUNT IN WYOMING
In 2019, Cheri and I celebrated our 40th wedding anniversary. In the past we've taken vacations in honor of milestone anniversaries, usually ones that involved a warm beach
. Because I don't look that good in a swimming suit anymore, I suggested something different for the 40th. "How about we buy a trailer and take a tour of several national parks across the western US?" She readily accepted my offer, particularly after the vision of me in a swimming suit was brought up. This story really is about bear hunting, so bear with me as I set the stage.
We had an amazing vacation, seeing lots of amazing sights, but the short time we spent in Yellowstone Park was very disappointing. I've been to Yellowstone two dozen times, but I've never seen it like this. In fact it was such a chaotic zoo, we left two days early. We drove south through the Tetons and ended up in a remote valley along the western border of Wyoming. The Greys River runs through this valley and the history of the mountain man trappers in the area has a lot of appeal to me.
We parked the camper along the river and set about spending a couple days leisurely driving backcountry roads, exploring the creeks and valleys and their stunning alpine views. At one point, I took a long look around me and made the statement, "Man this looks like great bear country!" She turned to me with the look that only 40 years of marriage can define. She knew.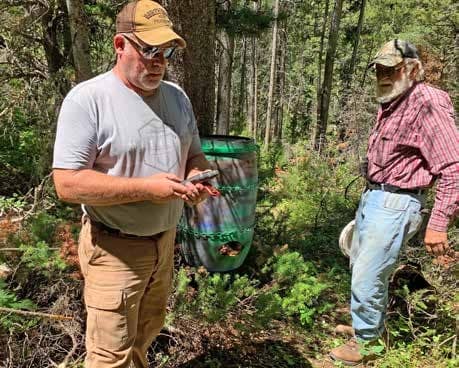 Fast forward to early August of 2020, and I was back in the Greys River Valley loaded for bear. I'd brought along two friends, first my buddy Virgil from South Dakota who has been on several bear hunting adventures with me over the years. And second, a friend from my church Dave, who had just recently gotten into bear hunting. He got hooked when he drew a tag and shot a bear on my property in Minnesota.
Dave lost his wife of 47 years to cancer just before Christmas last year. I knew he would need something to look forward to, which is one of the reasons I invited him on this trip. Then just a couple months before the trip, he was diagnosed with cancer and had several surgeries, removing his lymph nodes among other things. I was concerned that he wouldn't be able to go, but he was determined. He was feeling pretty good, but just a week prior to the trip, they found another lump in his upper chest. He called me up and asked if I would be willing to remove the stitches while in bear camp; it's the only way he could still go along. I agreed.
The plan was simple. Arrive a week before the season, get some baits going, then hunt for a week. We mostly would use our ATVs for transportation into the backcountry, then set up baits 200-400 yards back into the mountain valleys. The most difficult part of this was navigating the confusing and convoluted bear hunting regulations of the Cowboy state. See my description in a separate text on that.
I brought pastries and trail mix because they are easy to keep fresh without refrigeration. We had no cell service and no electricity other than a small generator that I would run a few hours a day to keep our two week's worth of food cold in a small chest freezer I'd brought with me. Hopefully we would need the freezer to take bears home in. We camped in Virgil's spacious wall tent and had a very comfortable camp.
Once we jumped through the hoops of registering the bait sites, we waited. Finally, one bait was hit, then a couple more. Three of the baits out of four were getting some use. Finally after a week, the fourth one took on a bear, then a second one which was a real giant. I knew the area was home to many color phase bears, but I was surprised when all seven of the bears we eventually had on camera were brown in color. One was a light brown and I promptly named him Brown Sugar because he was so sweet. Incredibly, every single photo of bears we had on trail camera was in the daylight.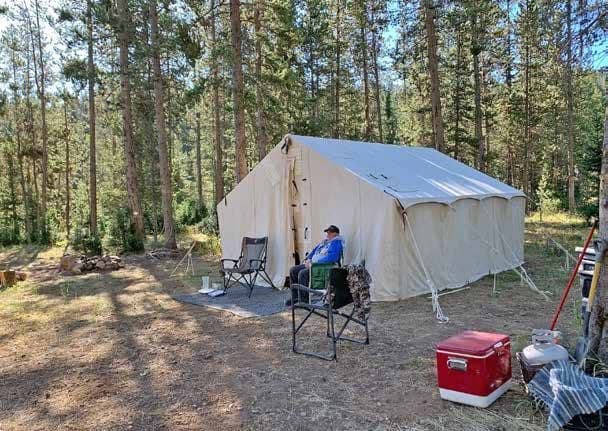 You can read up to 3 premium stories before you subscribe to Magzter GOLD
Log in, if you are already a subscriber
Get unlimited access to thousands of curated premium stories, newspapers and 5,000+ magazines
READ THE ENTIRE ISSUE
November - December 2020