Upon A Star
GLAMOUR South Africa
|
November 2019
The Black Panther and Us actor has spun a dynamic career on her own terms – and in rapid fashion. Good thing the sky's the limit.
LUPITA NYONG'O glides into the restaurant at our appointed time, the picture of cool in a blue charmeuse jumpsuit with a camel-toned rain jacket draped over her arm. If diners are aware a star is among us, they don't betray it. After briefly casting about for a different table, then deciding the one we've got will do, she jumps directly, wholeheartedly, into the interview, clothes first.
"The gesture of my style is definitely my mom. I always thought she was very elegant, and she was always present with the way she put herself together without being pressured," says Lupita, citing her mother's ritual home manicure every Sunday night while the family watched TV together. But she also looked up to her aunt, Amondi, her mother's sister, whose style tacked in the opposite direction: black leather jackets, a Mohawk at one point, even the motorcycle to complete the look. "I kind of oscillated between the two. I find I love the elegant, the classic, the simple, but I also like the outrageous and the quirky and the almost accidental." Lupita could almost be describing her career, except for the accidental part. The year started with the premiere of Little Monsters, a comedic zombie flick, went right into the smash success of Jordan Peele's horror Us, in which she plays heroine Adelaide Wilson and her demonic doppelgänger Red, and will close out after she reprises her role as CGI alien Maz Kanata in Star Wars: The Rise of Skywalker.
In between, the Oscar winner published a children's book, Sulwe, in October, and she's this close to starting shoots on a TV series based on Chimamanda Ngozi Adichie's Americanah, which she is producing, with her Black Panther co-star Danai Gurira writing the script. So, Lupita radiates the energy of a girl next door, especially as she recalls how she role-modelled early fashion choices, but she also happens to be one of the most powerful black women in film. Though her family is from Kenya's Luo tribe, Lupita Amondi Nyong'o was born in Mexico City in 1983. Her first name is derived from the name Guadalupe – the Virgin Mary. Her father, Peter Anyang' Nyong'o, now a prominent Kenyan politician, and mother, Dorothy Ogada Nyong'o, had immigrated to Mexico shortly after Charles Nyong'o, her father's brother, disappeared in 1980. Charles was never found; he was likely a target because of his opposition to the Moi presidency. The childhoods of Lupita and her five siblings would be marked by political pressures. They had to share their father with the rest of the community for the good of the fight, and lived in fear for his safety, particularly after the family returned to Kenya in 1984. Migration would become the norm for the family, and home was a fraught concept for Lupita, who would only spend the first few months of her life in Mexico City before the family moved to New York City. When she was 16, her parents sent her to Taxco, Mexico, to learn Spanish at the Universidad Nacional Autónoma de México's Learning Centre for Foreigners. In 2003, she enrolled in Hampshire University, in Massachusetts, as an international student, immersing herself in African studies.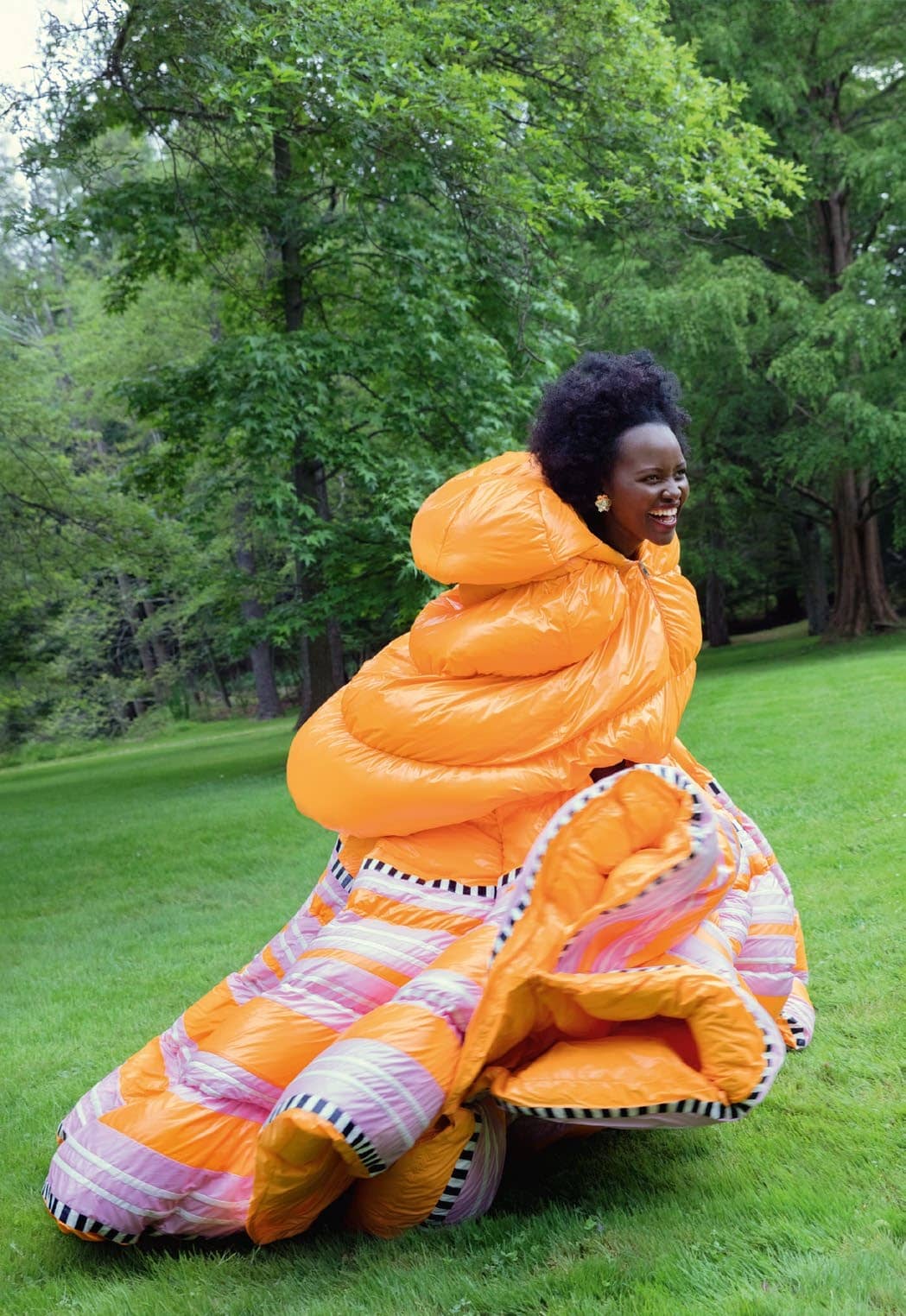 "We were really deeply investigating and exploring and analysing a lot of socio-political dynamics," she says. "My enlightenment was my education, to really recognise that these things play out in cultural and social setups. They don't play out theoretically." After graduating, she entered the Yale School of Drama. Her introduction to Hollywood came in the form of her stint as a production assistant on The Constant Gardener. Then, in her last year at Yale, Lupita landed an audition with Steve McQueen for a role in 12 Years a Slave, based on Solomon Northup's real-life account of his kidnapping and enslavement on Edwin Epps' plantation. In the film, Lupita plays Patsey, a woman who was known to pick more than 230kg of cotton a day – twice the quota. Patsey was repeatedly raped by Edwin and tortured by his jealous wife. The film's most devastating scene depicts Edwin (Michael Fassbender) brutalising Patsey, after forcing Solomon (Chiwetel Ejiofor) to whip her as well. It's reminiscent of Denzel Washington's turn as Private Silas Trip in the 1989 film Glory. Like Denzel, Lupita won an Oscar for her performance, thrusting her into the public eye and kick-starting a rapid ascent. In her acceptance speech, Lupita, in a baby-blue Prada gown whose colour she felt evoked Kenya, thanked Patsey, saying, "It doesn't escape me for one moment that so much joy in my life is thanks to so much pain in someone else's."
You can read up to 3 premium stories before you subscribe to Magzter GOLD
Log in, if you are already a subscriber
Get unlimited access to thousands of curated premium stories, newspapers and 5,000+ magazines
READ THE ENTIRE ISSUE
November 2019