Obesity, Fat Boy and the Lost Brotherhood
Forbes India
|
October 23, 2020
The untold story of how iconic American bike maker Harley-Davidson lost its H-d vision in India
On June 29, Sajeev Rajasekharan, the managing director (Asia emerging markets and India) of Harley-Davidson sounded euphoric, and with good reason.
In a first for India, the iconic American bike maker live-streamed a virtual Eastern HOG (Harley Owners Group) rally on Facebook, Instagram, Twitter and YouTube. The show grabbed eyeballs: Over 5.7 lakh organic viewers from the HOG community, a riding club of Harley users started in India in 2010.
"With these changing times," underlined a beaming Rajasekharan in his virtual welcome message, "Harley-Davidson India is adapting to new ways to provide experiences to its riders and deliver upon the promise of a Harley lifestyle."
The HOG community also witnessed the first virtual launch of H-D's new Low Rider S model, a cruiser priced at ₹14.69 lakh. "This virtual rally," the top honcho of H-D said with pride, "is a testament of our commitment towards celebrating the HOG community."
Three months later, on September 24, Rajeev Kumar, one of the H-D riders in Mumbai, felt betrayed. The businessman, who had bought a Low Rider last year for ₹18.5 lakh, was unaware of H-D's exit from India. In a media release, the company said it is closing its manufacturing facility in Bawal in Haryana, and significantly reducing the size of its sales office in Gurugram, the Indian headquarters for the Wisconsin-based makers of cruiser Fat Boy.
"The company is communicating with its customers in India," the release added, saying that riders would be kept updated on future support. "The company is changing its business model in India, and is part of the Rewire, a new strategic plan for the global US bike maker.
Kumar, though, is not amused. "It's shocking. Nobody informed me," he says. The brotherhood, a term for close-knit Harley riders, was caught unawares too. "Now what [resale value] will I get for my Low Rider?" he asks, looking dejected over a Zoom call. "I feel cheated. What brotherhood do they talk about? It's all hogwash," he fumes.
Meanwhile, in Gurugram, Bhaskar Basu is 'utterly disappointed'. In January, the director (strategic partnerships) at Microsoft India had bought his second H-D bike: A Softail Low Rider for under ₹15 lakh. Basu's tryst with H-D began in 2017 with an Iron 883. "What happens to all H-D bikes in India now? How would they get serviced? Where would I get spare parts from?" he questions. "The future is uncertain."
Cut to Lucknow, where H-D opened a store in 2015. Keeping partners in the dark is a breach of trust," says a dealer, requesting anonymity. "What happens to all the money that I put into the venture? Nobody has contacted me so far," he says.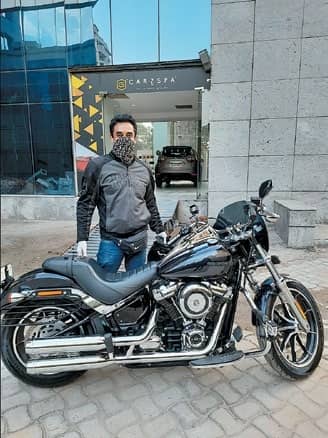 You can read up to 3 premium stories before you subscribe to Magzter GOLD
Log in, if you are already a subscriber
Get unlimited access to thousands of curated premium stories, newspapers and 5,000+ magazines
READ THE ENTIRE ISSUE
October 23, 2020