Agent Of Change, Continuity
Businessworld|November 09, 2019
The role of a B-school director has completely transformed in today's age and time where being independent yet relevant is more important
WHAT DOES the director of a B-school do? Most people would think of him simply as the head of the institution, much like a CEO who leads an organization. Well, that maybe only half true. The fact is that the scope and role of a B-school director has fundamentally transformed over the last decade or so. Today, a B-school director is tasked with securing financial independence, and ensuring that the school is sustainable without compromising on the quality of education.
"Earlier this was not an important factor as B-schools were either dependent on the state or other agency for their finances whilst they focused on the academics," says Errol D'Souza, Director, IIM Ahmedabad.
But with independence comes even greater responsibility. "The search for grants, donations, and other funding from grant agencies in India and abroad has made it even more imperative that the director shields the school from conditionality and that it remains true to its academic purpose," adds D'Souza.
Agrees Debashis Chatterjee, Director, IIM-Kozhikode. "The role of a director has become more entrepreneurial and less of an administrative function. The competitive landscape has become fiercer. Internationalization and revenue generation have become critical components of the role," says Chatterjee who has returned to IIMKozhikode for a second term after a gap of four years.
Today, in order to stay competitive and relevant, a director of any leading B-school has to ensure that the best and the most relevant education is imparted because it has a direct impact on the placement season. As a former professor of a leading B-school in Delhi-NCR confides, today the directors and administrators are also struggling to give adequate recognition to teaching skills and a curriculum that serves students as well as to the research interests and performance of the faculty.
Comparing the role of a director of B-school in India and abroad, Madhu Veeraraghavan, Director and TA Pai Chair Professor of Finance, TA Pai Management Institute says: "I did my MBA in Australia and MBA programs in Australia are run by the MBA Program Director. Most B-schools in countries like Australia, the US, and the UK are part of a university, unlike India where we have the concept of autonomous B-schools which are typically run by a director. I actually think there is very little difference between the dean/director of a B-school and the CEO of a large firm."
According to Veeraraghavan, directors of leading B-schools are expected to work closely with the industry — we all know that the product of education does not stay in education! "In sum, the role of a B-school director has become extremely challenging and exciting."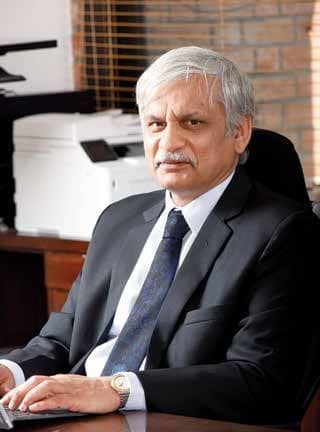 Pressure from Abroad
You can read up to 3 premium stories before you subscribe to Magzter GOLD
Log in, if you are already a subscriber
Get unlimited access to thousands of curated premium stories and 5,000+ magazines
READ THE ENTIRE ISSUE
November 09, 2019