Reaching starts
Sailing Today
|
November 2020
Unusual racing calls for unusual formats. Here, Mark Rushall talks through the tactics, rules and boat handling skills needed to master a reaching start
Lockdown trends of self-organised races, small fleets, and unusual starts look set to continue a while longer. As I have found from sailing at my own club this summer, one of the most common adaptations is a reaching start line. Let's see how last month's self-coaching principles can be applied here...
The reaching start
The problem: How do I start at the windward end of the line, without being pinned out by right of way boats to leeward?
The knowledge: Two key pieces of understanding needed here are transits and rules: everything else can be learned on the water.
The transit (if there is one) helps in two ways. Firstly, if you are not near an end, the transit is a guide to how close to the line you are, and how quickly you are closing on it.
Secondly, it can give you a guide to the 'safe' close hauled layline to the end of the line: above this line you are vulnerable to being 'pinned out' by a leeward overlapped right of way boat.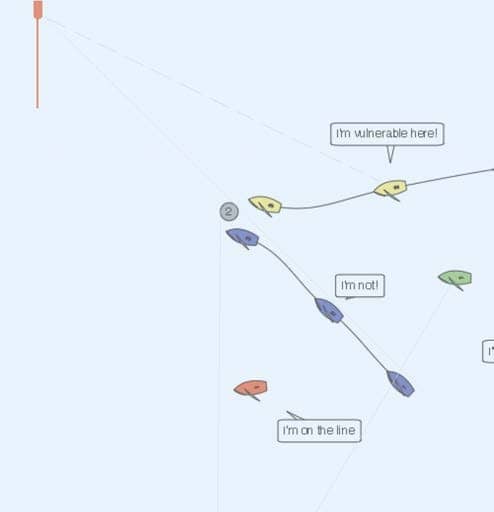 As diagram one shows, when the pin is in line with the tower, you (Red) are on the line. If the tower is to the left of the pin, you (Green) are behind the line. If it is to the right, you are over - but by the time you see that, it is too late!
To give prior indication, I'd use the tree as a 'safe' transit. If the tree is in line with the transit, I know that I'm six boat lengths behind the line at the starboard end, and proportionally closer further down the line.
Now, work out your approach transit. The red post gives an approximate close-hauled line to the starboard end of the line. If I'm above this (Yellow), I'm vulnerable to being pushed the wrong side of the mark. In that case, I need to beware of boats coming close to leeward. If I'm below the transit (Blue), I'm unlikely to get squeezed out, but I may struggle to get right up to the starboard end of the line, if that's where I want to be.
You can read up to 3 premium stories before you subscribe to Magzter GOLD
Log in, if you are already a subscriber
Get unlimited access to thousands of curated premium stories, newspapers and 5,000+ magazines
READ THE ENTIRE ISSUE
November 2020