Grinding to a halt
Sailing Today|June 2020
Sent home from warm-weather training in Sardinia amid Covid-19 restrictions, grinder Freddie Carr updates us on what is now for INEOS TEAM UK and the America's Cup
Foiling at 40 knots in the beautiful, flat waters off Cagliari, Sardinia, Freddie Carr allowed himself a smile. The British attempt to win the America's Cup was going well. Carr and his crewmates on board Britannia, skippered by Sir Ben Ainslie, were getting to grips with their new 75ft charge and with the first pre-Cup regatta looming, the atmosphere in INEOS TEAM UK was upbeat.
Just a few days later, however, Carr and his colleagues were back in Britain, isolated at home amid Covid-19 restrictions, while a skeleton shore team hurriedly packed up the base and dismantled the boat, ready for delivery back to Portsmouth.
What now for INEOS TEAM UK and what now for the Cup? Carr is training several hours a day on a grinder set up in his back garden. The entire INEOS crew is homebound, as are all the rival crews in New Zealand, Italy and USA. All the trial boats are ashore and the build programmes of all the second boats, which will be used in the Cup itself, are inevitably affected. Both warm-up events, the America's Cup World Series regattas, due to take place in Sardinia and in Portsmouth, have been cancelled. It's only natural that questions are now being asked about the America's Cup regatta itself, due to run on the Hauraki Gulf in Auckland early next year. Lockdown restrictions will by then surely be long gone, but the foiling monohulls designed for this Cup are powerful machines. They need taming and meanwhile the clock is ticking. As Carr says, in any America's Cup "you are chasing hours on the water".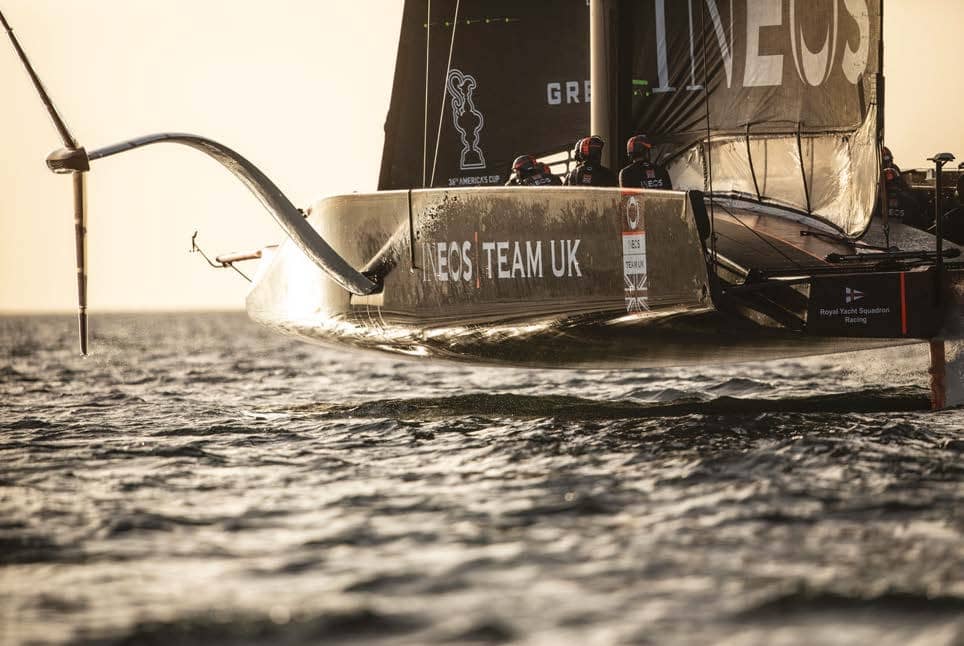 Conditioning
Carr is one of eight grinders carried by Britannia. While that role in America's Cups of old would often be given to a non-sailing powerhouse, the grinder of today is a more nautical animal. Carr may be busting a gut on the winches, but he is also responsible for foot buttons to control various hydraulic pumps, oil management, mast set up and myriad other key functions that keep the boat running smoothly at optimum power. "There is plenty to do," he says.
Carr has the requisite sailing skills, having competed at a high level in dinghies and match-racing, won the Extreme Sailing Series and he can count five Cup campaigns since his early twenties.
His fitness is just as impressive, proven in 2015 when he was ninth overall in the British Rowing Indoor Championships, only beaten by the GB Rowing Team. Since then his physical conditioning has been honed further and his resting heart rate is in the mid 30s, a level not seen outside the Tour de France or top Olympic endurance athletes. Yet Carr, at 38, is not the fittest in the INEOS pack. "The wattage that some of the younger grinders are putting out with their arms, a fit man would not be able to match it with their legs. It's quite fun seeing how they develop," he says.
You can read up to 3 premium stories before you subscribe to Magzter GOLD
Log in, if you are already a subscriber
Get unlimited access to thousands of curated premium stories and 5,000+ magazines
READ THE ENTIRE ISSUE
June 2020