This Is Stupid
Motor Trend|November 2019
The world's fastest and silliest SUVs square off for a ticket to best driver's car
My face hurts from smiling. My ears are ringing. My shoulders ache. Behind me, four Skittle colored SUVs tick-tick-tick in the mountain air.
Go ahead, hurl insults. Grocery getter. Mall crawler. Chelsea tractor. Family hauler. Too big. Too heavy. Too clumsy.
Yet these stupidly powerful brutes— the 2020 Bentley Bentayga Speed, 2019 Jaguar F-Pace SVR, 2019 Lamborghini Urus, and 2019 Porsche Cayenne Turbo, boasting 2,358 horses and 2,360 lb-ft of torque combined—are the best-driving SUVs on the road. Heck, they are among the most fun vehicles I've driven this year, period. And one of them is going to earn its way into the crucible that is Best Driver's Car.
Each of these SUVs puts its power down through an eight-speed automatic and a grippy all-wheel-drive system. All offer levels of performance that would have easily put them in the running for the top spot at Best Driver's Car as recently as 2011, when the Ferrari 458 Italia won. The performance capability of these four is simply silly.
But one has to be the silliest, stupidest, most fun super SUV on the road.
With our annual Best Driver's Car competition fast approaching and a hard cap on the number of performance cars we could bring, we decided to reprise our play-in game to determine which SUV earns a ticket to one of the most grueling performance car tests in the world.
Last year the Alfa Romeo Stelvio Quadrifoglio won entry, and the stunning $93,190 Italian finished an impressive eighth place in a field of record-setting supercars—beating heavy hitters like the Chevrolet Corvette ZR1 and the Ford Mustang GT PP2. This year, the Bentayga, F-Pace, Urus, or Cayenne would get its shot at disrupting the field.
Last year the Alfa Romeo Stelvio earned entry in Best Driver's Car in similar fashion.
Because the stupidest SUV earns an invite to BDC, these four contenders will play by the same BDC rules. Over a week of testing on Los Angeles' best roads, we'll focus on how rewarding each is to drive: Does it drop right into a corner or fight you? How well balanced is it? Does it pin you in your seat when you stomp on the gas? Do you want to keep driving it? Considerations like price and cabin comfort and space will be ignored. Objective test numbers will be a factor, but weighted less than usual.
How it all shook out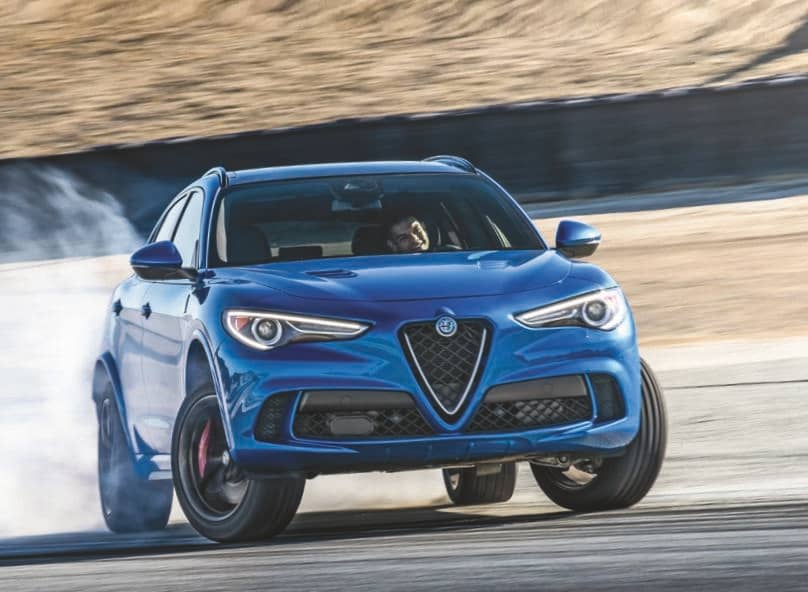 FOURTH PLACE:
2019 Jaguar F-Pace SVR
Sprinting in Boots
Damn, am I going to miss supercharged V-8s. I'm ready to embrace electrified performance with open arms (the last holy trinity of hypercars all had electrified powertrains). Still, the F-Pace SVR's 550-horse 5.0-liter V-8 will make me sad to see internal combustion go.
No engine in this comparison can match the Jag V-8's character. With the sole supercharged engine of the group, the F-Pace delivers its 502 lb-ft of torque at just 2,500 rpm and a delightfully juvenile roar as the Jag attempts to punch a hole in the space-time continuum. It has the best power delivery of the bunch, associate road test editor Erick Ayapana said. "It's strong from the start and continues to pull hard to redline, and it sounds amazing doing it." You'll hear no complaints from us regarding the Jag's eight-speed automatic, either (assuming one could be heard complaining over the SVR's exhaust note). When left to its own devices, it fires off shifts quickly and decisively.
We wouldn't change a thing under the F-Pace's hood, but we would change a thing or two at the wheels, starting with the brakes. Given the amount of power on tap and the SVR badge on the Jaguar's rump, we were expecting some serious stopping power. Instead,​ ​we have simple 15.5-inch front and 15.6-inch rear two-piece vented discs, each smaller than the Cayenne's rear brakes. The result is you'll get plenty of butt-puckering moments when pushing the Jag hard. "Not kidding, there was a moment or three when I was not convinced the SVR was going to stop," senior features editor Jonny Lieberman said. "The pedal went to the floor, and I could feel the rapid click-click-clicking of the ABS. These binders just cannot cope with the engine."
And then there's the issue of Jaguar's tire choice. Europeans get to select between all-season and summer rubber on the F-Pace SVR, but Jag's New Jersey–based product planners have determined that all U.S.-spec SVRs will exclusively ride on all-season tires. I have no doubt that the all-season tire choice will make the SVR a better year-round performer—especially in the Northeast, Jaguar Land Rover's largest market—but it seriously hurts this F-Pace's performance. The choice of rubber doesn't do any favors to the SVR's hyperactive Xbox steering feel, and it leaves the Jag constantly fighting for grip every time you dive into a corner or power out of one.
You can read up to 3 premium stories before you subscribe to Magzter GOLD
Log in, if you are already a subscriber
Get unlimited access to thousands of curated premium stories and 5,000+ magazines
READ THE ENTIRE ISSUE
November 2019