GAS VS ELECTRIC
WE DRIVE TWO HYUNDAI KONAS, IDENTICAL EXCEPT FOR WHAT'S DRAMATICALLY DIFFERENT UNDER THE HOOD. WHICH IS THE BETTER EXPERIENCE?
To the average American, electric cars aren't an option. They don't work as the main household transportation, and too many folks can't plug in at home. Forget about long trips; the charging network sucks, and it takes forever to recharge. And aren't they prohibitively expensive for a car that has so many limitations?
Those arguments, however, are falling apart fast. Even ignoring Tesla's (expensive) cars and (expansive) Supercharger network, EVs increasingly offer longer ranges and fast charger compatibility.
Have we reached the point that an electric car can work as a family's only vehicle? And more important, which offers a better driving experience?
Until now, there was no way to perform a direct comparison. Thanks to the Hyundai Kona, though, we can finally make this evaluation happen. For now, it's the only vehicle in the U.S. to include both traditional gas engines and a long-range electric option, which allows us to control for sheet-metal variations, size and weight differences, and equipment variables.
(Volvo is scheduled to release an electric XC40 late this year, and the Kia Niro is offered as a hybrid and an EV.)
Using a Kona Electric and a Kona 1.6T, we devised a series of tests to see if average Americans could rely on an electric car as their sole mode of transit—and with all things equal, determine which powertrain is more rewarding to drive.
Living Local
For most of us, how a car handles the ins and outs of the weekday commute and weekend errands is the most relevant factor in a new car purchase, so testing director Kim Reynolds and I decided we'd start there. Each of us would spend a week living with each of the Konas, with the aim of figuring out which model (and thus which powertrain) best handles the doldrums of daily driving.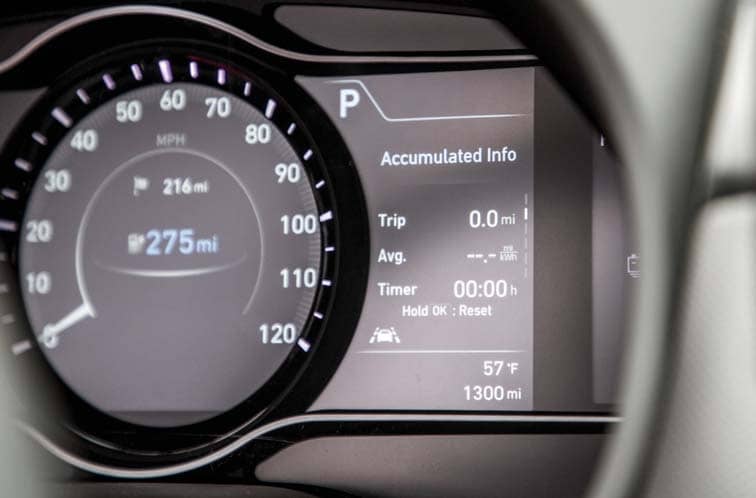 In a lot of ways, the Hyundai Kona is the perfect medium for this test. For starters, we happen to really like both the gas- and electric-powered Konas; we named the entire lineup an SUV of the Year finalist in 2019. Its subcompact tall-hatchback body style is also increasingly relevant as more buyers ditch cars for crossovers. Most essential for our purposes, though, is that Hyundai effectively treats the electric version like either of the Kona's two gas four-cylinder powertrains, so we could spec two Konas as identically as possible.
Although the Kona Electric SEL's base prices start at $38,285 before the $7,500 federal (and any applicable state) tax credit(s), our Kona Electric included the top-level Ultimate trim, ringing in at $46,630, which would allow us to best mimic the equipment level of a gas-powered Kona. The front-drive Kona Electric (the EV's only driveline) fits an electric motor making 201 hp and 291 lb-ft of torque mated to a one-speed automatic, with a 64-kW-hr battery pancaked underneath the floor and rear seat. The EPA rates the 2020 Kona Electric's range at an impressive 258 miles per charge, and its 132/108/120 city/highway/combined mpg-e score also ranks it among the most efficient vehicles on the road today.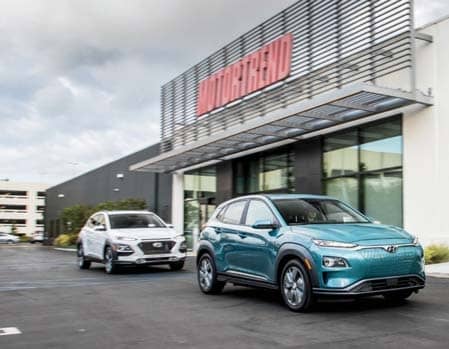 The gas-powered Kona is impressive in its own right, especially when you spring for the optional 1.6-liter turbocharged I-4 instead of the standard 147-hp 2.0-liter I-4. Our tester makes a healthy 175 hp and 195 lb-ft of torque, and it drives either the front (as in our Kona tester) or all four wheels through a seven-speed twin-clutch automatic. Our loaded 1.6T stickers for $28,980. (That puts the price premium for a hypothetical base Electric SEL, minus incentives, and this Kona gas model at a mere $2,495.)
The gas model scores 28/32/30 mpg city/highway/combined in EPA tests, and a 13.2-gallon fuel tank helps give it a 396-mile range on regular fuel.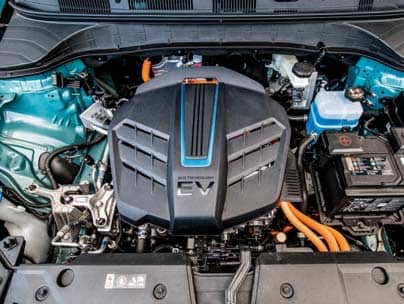 Despite its modest power output, the gas-powered Kona drives much like a high-riding hot hatch. Its four-pot is pretty laggy off the line, and impatience with the throttle will only result in torque steer and tire squeal. Once the Kona hooks up, though, it can be pretty entertaining, has plenty of character, and offers a good amount of power up high in its powerband.
When pushed, the Kona's seven-speed dual-clutch bangs off quick upshifts, doing its best to help the hard-working 1.6-liter engine stay in its powerband. "It's spritely to drive, with no significant flaws, and has a happy demeanor," Reynolds said. "It's weird how some cars similar to this feel like penalty boxes, whereas the Kona gas feels like a treat."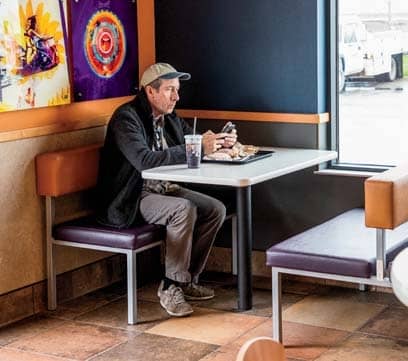 You can read up to 3 premium stories before you subscribe to Magzter GOLD
Log in, if you are already a subscriber
Get unlimited access to thousands of curated premium stories, newspapers and 5,000+ magazines
READ THE ENTIRE ISSUE
April 2020