2021 Lucid Air
Motor Trend
|
November 2020
BYE BYE, TESLA ... LUCID'S NEW ELECTRIC SEDAN HAS YOUR NUMBER
It's 8:09 a.m., and we're doing 66 mph on I-580 in the Bay Area, heading east from Hayward, California, when the odometer of the Lucid Air we're riding in shows we've gone 100 miles since leaving the company's headquarters at daybreak. The PR guy driving calls out, "We're at 83 percent of the battery now," and I jot this all down while in the back seat of a beta prototype of the aerowheeled Air.
Tapping out numbers on my phone's calculator app predicts a wild 588 miles of range, so I'd better calculate it again—but it really says 588 miles.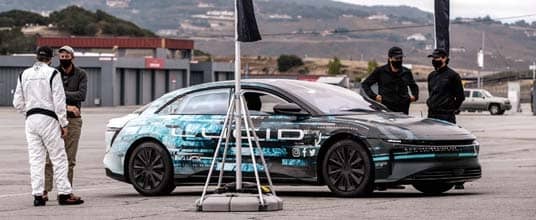 It's unwise to project an EV's range using the imprecise numbers from early in a trip, something Tesla's engineers have stressed to us. So the plan is to keep going all day, threading along with real-world traffic, usually at 65 mph and with the car ballasted to a normal load as the range prediction slowly comes into focus. Specifically, we want to know whether we'll see anything like the 517 miles the Ann Arbor, Michigan, arm of German engineering services company FEV (Forschungsgesellschaft für Energietechnik und Verbrennungsmotoren— with a name like that, who's going to argue with them?) recently measured for the Air during an unofficial but EPA-identical two-cycle range test.
If it holds up, the 517-mile figure from this big-battery version of the Air will catapult the model into the stratosphere of electric car ranges. And for the first time in Tesla's 12 years of selling cars— kicked off by the original Roadster's 220-mile rating—Musk & Co. won't be out in front on the central metric for electric cars: how far they can travel.
You can read up to 3 premium stories before you subscribe to Magzter GOLD
Log in, if you are already a subscriber
Get unlimited access to thousands of curated premium stories, newspapers and 5,000+ magazines
READ THE ENTIRE ISSUE
November 2020