Workshop Kawasaki Z1000 valve clearances Take a seat…
Classic Motorcycle Mechanics
|
September 2020
A valve seat, to be precise! And hope that it's not an incontinent one, as Ralph recently found with a Kawasaki Z1000A1.
I have had a 1977 KawasakiZ1000A1 owned from young by a chap called Andrew that has suffered at the hands of, well, cowboys!
When they last returned the still not running bike to him, they explained that it wasn't charging and should that be sorted all in the garden would be lovely. The bike had gone in with leaking float bowls, which is a common malaise of the Mikuni VM series carbs; a good clean and maybe a set of float needles and it should have been job done. They interfered with all manner of stuff, including the ignition timing and carb jetting for no good reason, given it was running when they got it.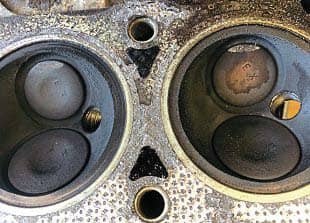 Andrew discovered me through a friend in the Z1 Owners Club and asked me to sort the charging issue – a short job, or so I thought. The battery was new and the bike easily (too easily) turned over on the starter. The synopsis that the poor running was down to a defunct charging system was quickly discounted. After a disappointing compression test, I did a leak-down test and discovered all the exhaust valves were leaking. I assumed that the shims must be tight as Andrew couldn't remember when the valve clearances were last measured.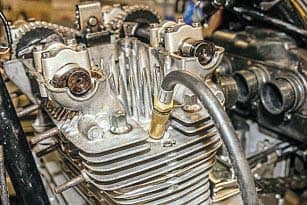 Once the cam-cover was removed and the engine set at TDC on 1 and 4, the position of the cams told me all I needed to know: the timing of the exhaust cam was three teeth out. What the actual flip? The cam-chain was not loose so it's beyond me how the timing could jump three teeth without outside influence. Each exhaust valve had hit its requisite piston and consequently was bent, which explained the lack of compression. I'm not going into the full engine rebuild that followed, but believe me this bike was an absolute mare and even after fitting four new exhaust valves the engine still wasn't running right.
You can read up to 3 premium stories before you subscribe to Magzter GOLD
Log in, if you are already a subscriber
Get unlimited access to thousands of curated premium stories, newspapers and 5,000+ magazines
READ THE ENTIRE ISSUE
September 2020