Project Kawasaki Z550F part 4: Carb conundrum!
Classic Motorcycle Mechanics
|
August 2020
How on earth is John going to lever that bank of carbs back into his Kawasaki Z550F? Well, let's ask him…
Hello again readers. Hope you're enjoying my attempt at re-commissioning my big, bad Z1000 (well, ok, my 550!).
I don't have the expertise of this magazine's Ralph Ferrand, but luckily I do have friends who are happy to help. Bet you thought I'd call Ralph a guru? No, because I hate it when people say that and it's over-used anyway. Do people know the true definition? It's a Hindu word meaning spiritual teacher. Ralph doesn't look like a Hindu to me.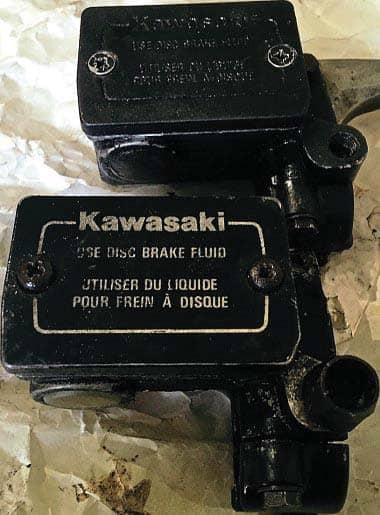 Now, let's see where we are. I think I've told you I've ordered a secondhand master cylinder for the front brakes. The original had a seized piston, which I gave up on. The replacement came from eBay and was £23 posted. It looks identical apart from the Kawasaki lettering looks sprayed on, rather than engraved like the original.
Would you believe the cap screws came undone straight away? Not the usual two-man battle I've had before. The piston moves freely, so I'll leave it alone. One thing I did notice was that one of the connections on the switch had broken: something to fix then.
As you can imagine, the screw holding this on is small and hard to grip and thus, harder to remove. Screwdrivers were no use as none of mine would grip: time for the cordless drill then. The only other way I could think of was pilot drilling, then stepping up in sizes the screw head finally broke off, detaching the switch. Caution was essential here, making sure I didn't destroy the switch itself. I'm getting better! Luckily the switch on the original cylinder came off easier, so now I was able to swap them over, I was really pleased with that.
You can read up to 3 premium stories before you subscribe to Magzter GOLD
Log in, if you are already a subscriber
Get unlimited access to thousands of curated premium stories, newspapers and 5,000+ magazines
READ THE ENTIRE ISSUE
August 2020