WRITER-DIRECTOR Anvita Dutt's film Bulbbul, Bollywood's latest Netflix Original, is a horror movie set between 1881 and 1901 in rural Bengal. Bulbbul is stylishly shot and crisply edited, with an array of Gothic-adjacent shots of crumbling havelis and eye-catching tableaus lit up in the red-crimson-pink spectrum. It is also a supremely confident revisionist narrative—its protagonist, the titular Bulbbul (Tripti Dimri), is a former child bride turned chudail (witch) who exacts bloody revenge upon the incorrigibly monstrous men of her village, including her abusive paedophile husband Indranil and his developmentally disabled identical twin Mahendra (Rahul Bose in a double role), scions of a rich and powerful zamindar family.
Bulbbul, notably, has been produced by the 32-year-old actor Anushka Sharma and her brother Karnesh Ssharma. The siblings' Clean Slate Films has now produced a trilogy of sorts—Anshai Lal's Phillauri (2017), Prosit Roy's Pari (2018) and now Bulbbul—where debutant directors have engaged with supernatural narratives in increasingly effective ways (each successive film has been better than the last one). In all three, we see a feminist 'rewriting' of folktales, fairytales and other assorted mythologies, wherein ghosts, witches and demons act as agents of female vengeance, correcting historical injustices. The ghost in Phillauri seeks recognition as the poet behind her dead lover's songs (which is to say, she seeks creative agency); Pari is an allegory for reproductive rights; and Bulbbul's titular witch is a vigilante, targeting local paedophiles, rapists and incorrigible wife-beaters.
The Clean Slate trilogy is by no means alone in this project—across the 2010s, we have seen several other examples of the subgenre, including Amar Kaushik's 2018 horror comedy Stree, Kannan Iyer's 2013 thriller Ek Thi Daayan and the 2015 romantic comedy Shaandaar. To varying degrees, all of these films engage with the conventions of 'canonical' mythologies. As the decade has progressed, the dominant narrative mode has shifted gradually from allusion (referencing tropes like chudail or Prince Charming or Cinderella) to revision (adding feminist plot twists that are essentially wish-fulfilment fantasies). At the same time, the dominant genre has shifted from different strands of comedy (ranging from social satire to slapstick) to flat-out horror.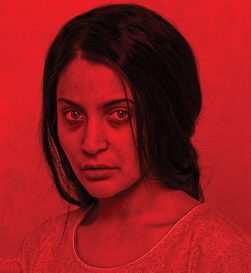 Until not too long ago, the idea of a vengeful female spirit demanding accountability from Bollywood's leading men was the realm of either comedy or over-the-top pathos. In Great Grand Masti (2016), a typically crass, innuendo-laden Indra Kumar comedy, the villain of the piece is a horny female ghost named Ragini (Urvashi Rautela) who preys on young men. As our heroes discover, she was killed by a snake and died a virgin. Because of this, Ragini is now perpetually on the lookout for virile young men with whom she can engage in 'masti', the film's euphemism for sex.
In the world of Great Grand Masti, female sexuality exists either as a series of progressively embarrassing objectifications (the 'village belle', the 'milkmaid' and so on) or as an event that's equal parts scary and hilarious, like every single appearance the oversexed Ragini aspires to be. She's even named to evoke the heroine of Ekta Kapoor's contemporaneous 'horrex' (horror plus sex) film and TV franchise, Ragini MMS. During the movie's climax, the film's three male protagonists save the day by pairing Ragini up with an equally horny male ghost, Babu Rangeela (Shreyas Talpade), who 'tames' her (the 'taming' bit is reinforced with Rangeela's signature cowboy hat) via sex.
In the past, when not going the comedic route, Bollywood embraced over-the-top jump scares and hackneyed genre conventions in films like Raaz (2002) Bhoot (2003) and, to a much lesser extent, Talaash (2012), all of which featured the spirits of female murder victims, hell-bent on exacting revenge. Veteran director Priyadarshan used this idea as a red herring in his 2007 horror comedy Bhool Bhulaiyaa. Vidya Balan's character Avni's dissociative identity disorder makes her believe that she's Manjulika, a medieval courtesan whose lover was beheaded by a sadistic king who happens to be Avni's husband's ancestor. In-character as Manjulika, Avni keeps trying to kill her husband in retaliation—but the audience only finds out that Avni is the 'ghost' after the interventions of an eccentric psychiatrist, Aditya (Akshay Kumar). Science, therefore, acts as the mediator between mystical and modern knowledge systems in this case.
The forest is where Bulbbul the witch brings justice, by killing wife-murderers, abusers and other assorted male predators
Stree (2018) was an altogether different beast, an accomplished comedy that incorporated supernatural elements in service of its larger satirical goals. Here, the setting is Chanderi, a small town in Madhya Pradesh haunted by the titular Stree, the vengeful spirit who whisks away young men during the four days of an annual festival (ironically, devoted to the Mother Goddess). During the course of the film, the origin story ascribed to its antagonist is rewritten along feminist lines—we learn that Stree was a famous courtesan in her lifetime, before she was murdered along with her lover on the eve of their marriage. The town's jealous failed suitors were the culprits and since then, Stree has hunted down Chanderi's young men as punishment.
But even here, in this act of rewriting, there were concessions to the canon and therefore to the societal status quo—during the climax, the film's female lead, an unnamed woman (Shraddha Kapoor) who has been tracking Stree's whereabouts for years, is revealed to be a witch. She was helping the protagonist just so she could access Stree's braid, the source of her supernatural abilities (this is an old, old witch trope). The last scene sees the unnamed woman magically adding the braid to her own and then vanishing into thin air. The trope of the manipulative, selfish woman duping 'innocent young men' (of which the film has quite a few) is subtly reinforced, as though the director wanted to suggest that #NotAllWitches have feminist concerns.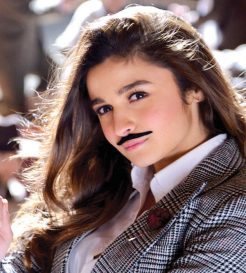 The first film in the Clean Slate trilogy, Phillauri (2017), was the first concrete example of this tonal shift from humour to rage—female rage representative of the larger churns in Indian gender politics. Up until now, the humour in films like Bhool Bhulaiyaa or Stree was akin to the 'negotiation tactics' employed by compilers of folktales/fairytales (like the Grimm brothers): topics considered unfit for 'polite society' were indirectly referenced via humorous or fantastical elements—anything that ensured that the authors couldn't be accused of 'realism'.
In Phillauri, on the whole a comedy about a female ghost, Shashi (Anushka Sharma), haunting a soon-to-be-married young man, reveals its grim origins in the second half. We learn that Shashi was a popular poet in her village circa 1919—but since the sociopolitical realities of her Punjabi village (Phillaur) would not allow for a female poet, she uses the pen name 'Phillauri' and publishes in local weeklies. Because of this, everybody thinks her poems have been written by Roop Lal (Diljit Dosanjh), a handsome, well-loved male singer who also lives in Phillaur. Soon, the two fall in love, decide to get married and also reveal to the world that Shashi is really Phillauri. But before that can happen, Roop Lal is killed in Amritsar on April 13th, 1919—right after recording some of Phillauri's songs at a studio—in the Jallianwala Bagh massacre.
Pari and now Bulbbul have escalated this game to hitherto unseen levels in Bollywood. In Pari, man and Satan fight over who gets to control female bodies. Anushka Sharma's character Rukhsana is a demonoid, born after a demon named Ifrit (the son of Satan) raped hundreds of women to further his bloodline —her mother being one of them. Around the time of her birth, a brutal Bangladeshi professor named Qasim Ali spearheads the Qayamat Andolan, determined to imprison these pregnant women and kill their demonic offspring upon birth; this last bit is depicted in horrific, exceptionally shot sequences featuring some decidedly medieval-looking instruments of torture. Significantly, during the climax of the film, the protagonist's betrothed Piyali (Ritabhari Chakraborty) cannot bring herself to kill the pregnant Rukhsana who goes into labour shortly after attacking her—the memories of Piyali's own (supposedly traumatic) abortion are too raw.
Despite being technically sound and well-written, style and substance never quite come together for either Phillauri or Pari. Bulbbul, however, succeeds on both these fronts, as Dutt uses metaphor after metaphor perfectly. Through a rhyming pair of scenes in the first and second halves, the idea of the bichhua or scorpion toering becoming a marker of patriarchal control via matrimony is established. The story's ecofeminist elements are even stronger. Right from the beginning, the forest adjoining the protagonist's village is the site where Bulbbul the witch brings justice, by killing wife-murderers, abusers and other assorted male predators. Bulbbul, then, is also a kind of forest deity (like Willow in Buffy the Vampire Slayer; the climax even resembles some Willow shots visually), balancing the tyranny of man with the unpredictability of nature. Take the moment when the corpse of the still-human Bulbbul is reanimated by and as the witch—we see a statue of the Goddess Kali that seems to whisper into the air and the whisper-breeze floats across the forest and into Bulbbul. Divinity, while bestowed by Kali, is thus midwifed by the forest.
Stree was a different beast, an accomplished comedy that incorporated supernatural elements in service of its larger satirical goals
Crucially, the Clean Slate trilogy also has a complex relationship with realism. The fantastical elements aside, these stories are peppered with carefully chosen real-world references that anchor the audience to a place and a time. Pari alludes to the Bangladeshi refugee crisis post-1971, while Phillauri uses the Jallianwala Bagh massacre as a deus ex machina ending. Here, too, Bulbbul comfortably outshines its predecessors—in a bravura moment, Bulbbul tells her confidante, the warm-hearted Dr Sudip (Parambrata Chattopadhyay), that her London-educated brother-in-law Satya (Avinash Tiwary) is 'playing Sherlock these days' — which is to say, he's out hunting for the witch every night, convinced that there's a scientific explanation for the murders. This part of the film, after all, is set in the late 1890s or early 1900s; Sherlock Holmes first became a mainstream success in 1891, when 'A Scandal in Bohemia' was published by the Strand magazine.
Whether Bulbbul ushers in a new, unchained era of Indian feminist 'rewriting' remains to be seen—this is a genre teeming with possibilities, as the works of writers like Angela Carter and Margaret Atwood, as well as filmmakers like Ana Lily Amirpour have shown us. But for now, Clean Slate should be applauded for giving us one of the best Indian horror movies of the decade.
The post The Lady with a Knife appeared first on Open The Magazine.