From the Frontline of Grief
THE HOUSE IN Dehradun was everything Subedar Ajay Vardhan and his wife Laxmi had wanted. It was July 2014. A Junior Commissioned Officer with 14 Garhwal Rifles, Vardhan, posted in Kupwara in the Kashmir Valley, was on leave for the housewarming ceremony. He could not stop talking about what he wanted to do with the place—from a kitchen garden to a bedroom for his ageing parents, his wife Laxmi recalls. It was his only visit to the house.
That same year, on December 1st, when Laxmi dialled his number at 9.30 PM—a daily ritual between them—there was no answer. She thought he was asleep. Vardhan, 43, was in fact engaged in a gun battle with terrorists in Kupwara. He would go on to kill two terrorists and save his men in the course of the encounter before succumbing to his own injuries. Six years later, Laxmi, in her mid-thirties, still expects him to walk through the front door of the house. His parents refused to move in with Laxmi after his death and she never set up the kitchen garden. Keeping Laxmi, their son Akshit, 14, and daughter Bhumika, 16, company, and a constant reminder of his absence, are Vardhan's uniform and the Kirti Chakra he was awarded in recognition of his bravery.
On June 16th, news started trickling in of a deadly clash between Indian troops and soldiers of the Chinese People's Liberation Army. India lost 20 men, including a colonel, along the Line of Actual Control (LAC) in Ladakh. Tral, Handwara, Nagrota, Uri, and now, Galwan. Every few months, Indians familiarise themselves with yet another troubled district where there has been an encounter and lives lost. Every incident opens a fresh wound in the hearts of thousands of families that have lost loved ones, some decades ago, on the frontline. Some of them have been memorialised in the public eye, their raw grief captured for headlines, while others have quietly mourned. When a fresh incident on the borders flashes on TV, they all relive the horror of a single day that changed their lives forever—the mother who still cooks her son's favourite dishes on his birthday although he will forever be 22; the child who, after four years, believes her father will return with biscuits; a father whose hands shake when he recounts, 15 years later, the moment a senior officer rang his doorbell one ill-fated morning.
"I was 18 when I went to work in an ordnance factory and first met an army officer. Since then, I had dreamt that my son would wear olive green. I just didn't realise though that it would be for such a short while," says Mushtaq Ahmed Khan, father of Major Salman Khan, who was killed in action in 2005, in Kupwara, Jammu and Kashmir. Major Khan, who was 26, was rewarded with the Shaurya Chakra for his bravery. Fifteen years is but a blink in the passage of time when you have lost a child, says Mushtaq Ahmed Khan. "Upon seeing him in uniform one day, his General Officer Commanding (GOC) called up the Commanding Officer (CO) and suggested that he be recommended as an aide-de-camp for the President of India. Salman requested his CO not to do so. He said that he wanted to serve on the frontline. He got his wish," Khan says.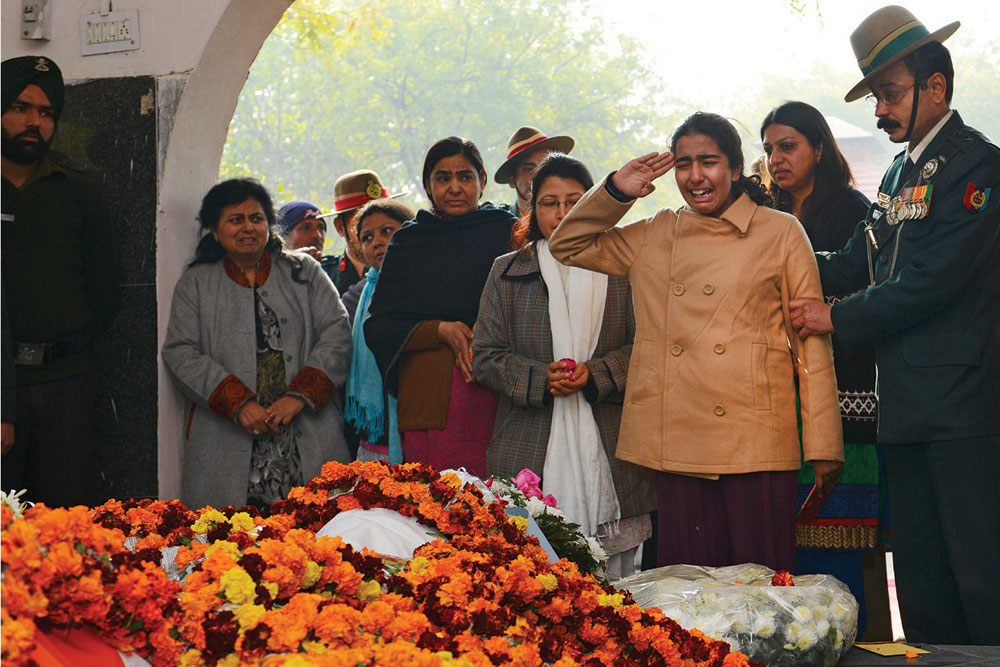 According to the home ministry's annual reports, there has been a steady increase in the number of security forces personnel killed in Jammu and Kashmir since 2015. Ninety-one lives were lost in 2018, according to the home ministry's 2018 annual report, and 78 in 2019 according to unofficial sources (the ministry's 2019 report is awaited). Among the 19 soldiers killed in action in Uri in 2016 was Barun Dalui's elder brother Sepoy Gangadhar Dalui. Dalui had been commissioned only two years before the incident. Barun remembers him as a gifted runner who had always wanted to join the armed forces but dreamt of a white-collar job for his brother. Watching the Bollywood blockbuster Uri was a bittersweet experience for the family that battled both pride and sadness. "Like most men who join the army, he had developed a certain fearlessness," he says. A bust of Dalui near his house at Jamuna Balia village in West Bengal's Howrah district, is garlanded every September 18th, the anniversary of his death.
"He turned vegetarian after joining the army, saying he had taken an oath to protect life and thus could not justify eating meat. Some days, I find my mother sitting next to his photograph weeping quietly," says Barun, 17. He is now in his second year of BA at Sovarani Memorial College in Howrah. "Dada always said army training and life is too rigorous. I will not be able to take the hardships. He used to tease me about being plump," Barun shares with a smile in his voice.
For a vast majority of Indians, it was Kargil that brought home the emotional cost of war. It was the first conflict to be beamed into our living rooms, with its images of Tricolour-draped coffins and grieving family members. But in the ensuing debate on nationalism and the role of the soldier, the families that made the ultimate sacrifice appeared to fall by the wayside. Grief, they would soon find, was isolating unless sublimated into collective pride. "You are put on a pedestal you never asked for. There is a strange expectation that your principal emotion should be one of pride rather than sorrow. It is a death for a larger purpose. We respect and acknowledge the sacrifice, but the sorrow will outweigh the pride, any day," says Subhashini Vasanth, widow of Colonel Vasanth Venugopal who was killed in action in Uri in 2007 while leading from the front.
Grief, courage and determination often get passed on to the next generation. Alka Rai's mother, Priyanka, says her daughter will wear the olive green one day and give a 'proper salute'
When TV channels were confirming the death of 20 soldiers in the Galwan Valley clash last month, the Rai family was sitting down for a meal at home in Lucknow. It felt like 2015 all over again, when Colonel MN Rai was killed in action in Tral, Jammu and Kashmir. No one ate that day. "Each loss throws our life out of gear," says Priyanka Rai, who is in her mid-thirties and is the widow of Colonel Rai. "I don't have patience for people who glorify the loss of our men. May they never face what we have faced. This is a grief that doesn't fade. It only intensifies." The family has a photograph of Colonel Rai on every wall of the house, and even today, on every birthday, the first piece of cake is offered to him.
The biggest concern for the Indian army when it loses a man is the financial future of his family—parents, wife and children. At present, the compensation structure for those killed in action includes an ex gratia amount from the Centre, Army Group Insurance (AGI) benefits, pension, leave encashment and other components. In case of death in Jammu and Kashmir, the state grants an additional ex gratia amount. The AGI amount, which ranges from Rs 40 lakh to Rs 75 lakh, is paid out within a week of death. Compensation, however, is a state subject and the Centre's role ends with pension and ex-gratia payments. Some states like Punjab recently hiked the compensation for families from Rs 10 lakh to Rs 50 lakh. In Telangana, Chief Minister KC Rao announced an ex-gratia of Rs 5 crore for the family of Colonel Subhash Babu, killed in Galwan. West Bengal, which also lost two men, announced a sum of just Rs 5 lakh, sparking a debate about the value of a life lost on the frontlines. A death on the line of duty usually comes with promises of jobs and allotment of land to the grieving family, announced at photo-ops with local politicians. But what happens once the cameras depart?
Mahadevi Koppad, 30, widow of Lance Naik Hanumanthappa Koppad, of 19 Madras, who died at the Army Research and Referral Hospital in Delhi in February 2016 after miraculously surviving an avalanche in Siachen, has been through this. The job offers that had been publicly extended to her by the state have not materialised. The media, which had pestered her for interviews as her husband fought for his life, upon his rescue six days after being buried under deep snow, no longer seeks her out. She is not on the politician's radar either and her own husband's family—his three elder brothers and mother—does not support her, citing losses in agriculture. 'Jayashri' to her husband's family, and simply 'Jaya' to her late husband, Mahadevi gave up not just an acre of land that belonged to Hanumanthappa, allowing his brothers to cultivate cotton, sweet corn and groundnut, but also his favourite dog Shiny. She settled in Belagavi, Karnataka, to give her six-year-old daughter Netra a good education. "We haven't visited Betadur [Koppad's village] since December 2019," she says. "Despite all the attention around the time of death, we are left alone to fend for ourselves." All her four letters to the state government for employment have gone unanswered. Union Minister Smriti Irani, too, had offered her a job with the Central Silk Board but when officials approached her, they made it clear it was a temporary posting for a year.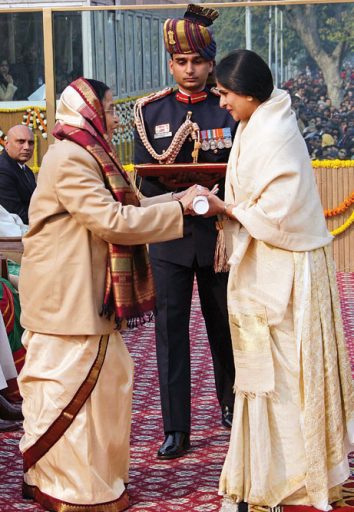 Mahadevi's story is not the exception but the norm. Subhashini Vasanth has been waging a lonely battle for the possession of a piece of land she is entitled to as part of Colonel Vasanth's compensation. Major Khan's father, too, never got the piece of land he was promised. What families do seem to get is endless bureaucratic hassle, red tape and humiliation. "I have come back home from government offices and cried in desperation and disgust. People don't want to honour the promises made to men who have laid down their lives for the country," says Subhashini, who is in her mid-forties. Khan's family eventually gave up the fight but Subhashini keeps at it as a matter of principle. "You promised this to my husband. Either fulfil it or remove this provision."
FOR WIDOWS WHO aren't well educated or financially stable, the future seems to hold no promise. Mahadevi's mother died when she was a child, and she was forced to grow up to take care of the house and her two brothers. She lost her father to heart failure 15 days before her husband's death. "My brothers work in construction. They are painters. They take up jobs across the state and are away a lot. When I married Hanumanthappa in 2012, he promised to take care of me—and he did." The couple spent a magical year together in Bathinda, but their joy was shortlived. Subsequent postings would not be as easy. "When he came home for the holidays in 2015 and told us about Siachen, I sent him off with a smile. When he was gone, I was on my own again."
The West Bengal government had given the Dalui family Rs 2 lakh as compensation, an amount criticised even then. And when it finally came to the family, it was Rs 1.5 lakh. Gangadhar's father, Onkarnath, still works as a farm hand earning a daily wage. The family relies largely on Gangadhar's pension of Rs 33,000 for subsistence.
For the widows of soldiers killed in action, it is a lonely struggle. What is still missing is a pan-India network that connects the families of those killed in action, officers and jawans alike
The silver lining is that men in uniform tend to look out for the families of their colleagues. There are phone calls, invitations to events and help extended where possible. Ajay Vardhan's daughter Bhumika was diagnosed with a stomach tumour within a year of his passing. His Commanding Officer from when Vardhan had been commissioned in the unit, then a serving major general, made it a point to keep in touch with the family. Laxmi was getting her daughter treated in a private hospital because she wasn't sure what her entitlements were: "He arranged for us to be brought to Delhi for treatment at the army hospital; he even assigned two soldiers to be with me. At a time when our own families withdrew citing commitments, hinting that I had got enough money from the government, it was the army that stood by me."
What is still missing is a pan-India network that connects the families of those killed in action, officers and jawans alike. Subhashini started the Vasanthratna Foundation for Arts (VRFA) in 2007 to serve as a liaison between agencies, government and the next of kin of men killed in action, but it has now evolved into a "more holistic system of caring for the families". With archaic notions of widowhood—and in cases like that of Vardhan's, estrangement from extended families—there is also loneliness that widows must deal with. "It has been so long since someone asked me how I am. After Vardhan's passing, it was my daughter's illness that really pushed us over the edge as a family," says Laxmi. Subhashini is now looking at taking VRFA pan-India. There are other efforts in this direction. Barun Dalui's family has become part of a network called Desh, run by two civilians, Adrija Sen and Anusuya Mitra, which aims to connect families of those killed in action.
Grief, courage, determination—the strands that connect the families of men who have over the years laid down their lives for the nation—often get passed on to the next generation. Subedar Ajay Vardhan wanted his son to become an officer and his widow really hopes her son Akshit will fulfil that dream. Mahadevi wants her daughter to serve in the army when she grows up. Alka Rai was only 11 when she was photographed saluting her father's pyre and chanting the Gorkha war cry. It is an image that still gets shared on social media all these years later. "Is this the salute they want to remember a man as brave as my husband by? No. She will wear the olive green one day and give a proper salute. And that is the photograph with which I want to remember my husband," says Priyanka Rai.
The post From the Frontline of Grief appeared first on Open The Magazine.