From A Staid Consumer Co-operative To A Modern And Eco-Friendly Grocery Chain
Sahakari Bhandar is Mumbai's most visited and preferred grocery store for more than 50 years. With 24 branches strategically located from Colaba to Virar, it offers convenience, good quality, safety and consistent availability of products to its customers. The legacy of trust continues since 1966, servicing more than millions of happy families. Sahakari Bhandar, although a co-operative, is an exciting blend of modern retailing with deep understanding of daily needs of its customers. Progressive Grocer spoke to Sanjay Shete, Chairman – Sahakari Bhandar, about the metamorphosis of a once sleepy stateowned cooperative retail chain into a bustling, bright and swanky neighborhood store chain today, which sells everything from groceries and frozen foods to household care and with a pleasant ambience and hygiene that have the stamp of professionalism everywhere.
What is the customer proposition and market positioning of Sahakari Bhandar store chain today?
Sahakari Bhandar is primarily a neighborhood grocery store fulfilling the monthly baskets of consumers in and around the store's neighborhood. We sell all the day-to-day necessities – fruits and vegetables, frozen foods, bakery, food grains, FMCG products, household care, general-purpose items, among others. The product range also includes hand-made diya batti to an eco-friendly Ganesha idol, home-made (not branded) fresh dosa atta, chutneys, biscuits, etc. Basically, the stores have all the day-to-day necessities expected of an ideal convenience store.
With its positioning of 'Sahi Quality, Sahi Price!, people from the middle-income group and local residents looking for a fair price deal form a major part of the target group of Sahakari Bhandar stores. Women initially formed the main target group; however, over the past decade or so, with all the infrastructural changes made at the stores, thanks to the JV with Reliance, consumers come to Sahakari Bhandar with their families and children to enjoy the overall shopping experience.
We have a loyal base of customers who have been shopping at our stores for over 10, 15, 20 years and more, thanks to the quality of the products and their very competitive price. Also, due to the cooperative legacy of 40 years, the strategic locations of the stores, and their fair price image, Sahakari Bhandar enjoys a strong customer connect, which we are determined to build on and improve further.
Besides our neighborhood convenience stores, we have four new Smart SB stores, which are positioned as destination stores.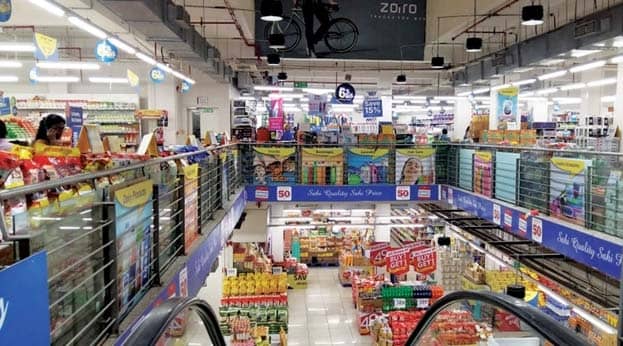 Tell us about the location strategy of your stores.
Sahakari Bhandar outlets are located at 24 locations in Mumbai – Colaba to Virar and in primary trading areas having high density of customers to the population. These locations mainly have (unplanned) kirana stores selling maximum of two category products. This where Sahakari Bhandar comes into play with almost all everyday use items sold under one roof! All the locations of or branches as well as their phone numbers are listed at the back of the bags available at the store.
Which are your top-selling PLs in food and what are your plans to augment and expand your PLs?
Continue Reading with Magzter GOLD
Log-in, if you are already a subscriber
Get unlimited access to thousands of curated premium stories and 5,000+ magazines
READ THE ENTIRE ISSUE
OCTOBER 2019
'From 54 Stores Currently, We Plan To Grow To 100 Stores By 2022'
Progressive Grocer
Next-Generation Considerations
Progressive Grocer
Breakfast Beverages Well-Placed With Time-Pressed Indian Consumers
Progressive Grocer
Life Of The Party
Progressive Grocer
Flushing Friction
Progressive Grocer
How To Create Extraordinary — Or Wow — Retail Experience For Shoppers
Progressive Grocer
Planning For Healthier Holidays
Progressive Grocer
From A Staid Consumer Co-operative To A Modern And Eco-Friendly Grocery Chain
Progressive Grocer
Creating Safe Eating Environments With Smart Technology
Progressive Grocer
Ready or Not
Progressive Grocer
Discover The Remnants Of Empires And The Seeds Of Independence In Mumbai
Business Traveler
Building A Sporting Nation
FHM India
An Expat Learns the Key to Authentic Indian Cooking
Saveur
The 12 Best Rooftop Bars Around The World
Business Traveler
TEAM BUILDING
Architect and Interiors India
Time for a staycation at Hotel Marine Plaza
FHM India
THE TAXI QUEEN OF INDIA
Exhibit
BEAUTY & THE BEAST
Exhibit
Alstom Begins Manufacturing Of Rolling Stock For Mumbai Metro Rail
The Hindu Business Line
Data Protection Bill Gives Centre Unlimited Powers
The Hindu Business Line