Let's Move To... Steyning
This beautiful West Sussex market town is home to more than 5,500 people and an array of sports, clubs and events that make it a delightful place to live
GETTING THERE
A highly desirable rural market town, Steyning is surrounded by the South Downs National Park yet has good connections to the rest of Sussex and beyond. The nearest railway station is Shoreham-by-Sea, about six miles away on the A283, which has a good service to London, Brighton and Portsmouth. Horsham is a half-hour's drive on the A24. Brighton & Hove Buses' number 2 service takes around 50 minutes. Compass Travel's 100 Burgess Hill-Horsham line stops in Steyning too.
HISTORY
The settlement is believed to date from early Saxon times and became a popular pilgrimage site for followers of St Cuthman. Legend has it that St Cuthman, a shepherd, was pulling his ailing mother around the countryside in a cart when the rope broke, much to the mirth of some passing peasants. In response, St Cuthman summoned a great storm which spoilt the hay that the peasants were harvesting. He subsequently built a church at the site, now the Parish Church of St Andrew and St Cuthman in Steyning (it was rebuilt in stone in the 12th century), where his remains are buried.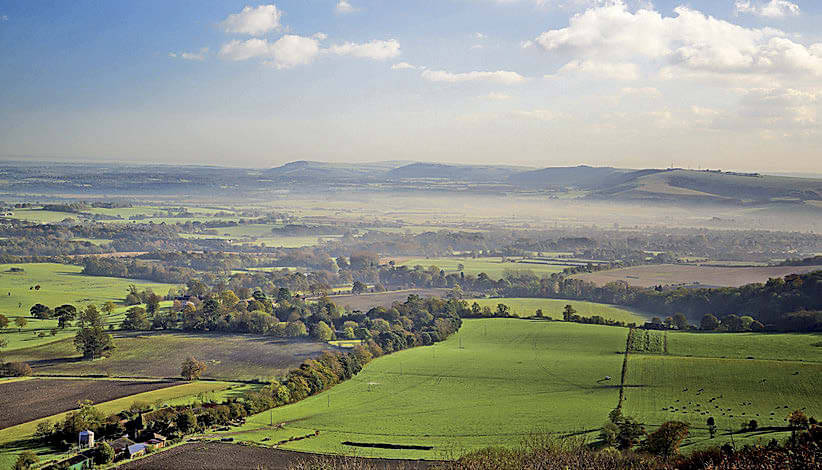 There was a port at Steyning in the 11th century, when the river Adur was much higher than it is now. Apparently located on an inlet near the church, it was abandoned due to silting and reclamation of the estuary.
The protestant martyr John Launder was executed in 1555, burnt on Chantry Green as part of the Marian persecutions. A memorial to him stands near the spot of his execution, between Steyning Museum and Library.
There are many interesting buildings on Steyning High Street, including timber-framed medieval houses and those of the Tudor or Georgian periods. Others are flint-walled or tile-hung, indicating the Sussex building vernacular. The town has more than 125 listed buildings.
Near the town are the remains of the Norman Bramber Castle – perched on a hill overlooking the River Adur, defending a gap in the South Downs. Built soon after the Norman Conquest to help protect William I's newly won territories, the castle was the Sussex seat of the de Braose family.
Continue Reading with Magzter GOLD
Log-in, if you are already a subscriber
Get unlimited access to thousands of curated premium stories and 5,000+ magazines
READ THE ENTIRE ISSUE
September 2019
Reaching Through History
Sussex Life
The Beautiful Game
Sussex Life
Let's Move To... Rottingdean
Sussex Life
Ladies Who Lift
Sussex Life
Sunshine State
Sussex Life
Land Of Hope And Glory
Sussex Life
Curiouser And Curiouser
Sussex Life
What Cate Did Next
Sussex Life
Power: Gabriel Debenedetti
New York magazine
Life With Françoise Gilot
New York magazine
It's Complicated: Josh Gondelman
New York magazine
Kaia & Pete GETTING HOTTER!
Star
From The Cut: Talk The Talk
New York magazine
KANYE'S ULTIMATUM IT'S ME OR THE SHOW
Star
Everybody's Fine
New York magazine
JUSTIN BETRAYS JESSICA!
Star
Donald Trump's Other Lawyer
New York magazine
Holiday Lights, Ice and Action
Where Boston