Resistance, Existence, Time, Space & Blackness
BRANDAN "BMIKE" ODUMS' TRUTH-TELLING ACTIVISM.
"NEW ORLEANS IS A PLACE WHERE YOU CAN JUST fall into art," says Brandan "Bmike" Odums. "You can find it anywhere, without a cost of admission." We're sitting in his office at Studio BE, the 35,000 square-foot Bywater warehouse space he's turned into a center for his activism-through-art. In addition to housing his sprawling "Ephemeral. Eternal" exhibit, the building is the central nervous system of a globally recognized movement including educational programs, panel discussions, film, merchandise and more. A massive yellow exterior wall adorned with a young, haloed Black girl with hands outstretched greets visitors.
Anyone who lives in New Orleans has seen—or "fallen into"—work by Bmike, though perhaps unknowingly. Odums refers to himself as a "public artist" who prefers painting faces on a building rather than on framed canvases. Whether it's his mural of Buddy Bolden on S. Rampart Street, the bygone New Orleans East "Wall of Peace" inspired by Michelangelo's "The Creation of Adam," or the Treme mural honoring the late musician Trumpet Black, his work punctuates our daily lives without requiring much effort from us. Known primarily for his use of vibrant spray paint-based portraiture, his art encourages conversations about resistance, existence, time, space and Blackness.
The NAACP Image Award-winning creator (who will showcase his first solo "museum" show, "Not Supposed to BE Here," at Tulane University in January 2020) produced more than a dozen murals and room-sized installations for "Ephemeral. Eternal," his debut solo exhibit. That's right. His first solo exhibit is housed in a 35,000 square-foot building. It serves as an example of the audacious, purposeful, largescale approach that makes a Bmike piece instantly recognizable.
Murals by Odums have appeared in places as disparate as Times Square and Palestine. His work has been celebrated by Academy Award-winning filmmaker Ava DuVernay, Emmy-winning comedian Chris Rock, Academy-Award winning rapper Common, civil-rights icon and athlete Colin Kaepernick, Emmy-winning journalist Katie Couric and other titans of various industries. The subjects of his work range from contemporary victims of police killings like Mike Brown and Eric Garner to historical figures including Fred Hampton and Fannie Lou Hamer. Some of his subjects are well-known, some are nameless—but all of them beckon us to seek truth about who they are and why they matter, while following the guiding principle of "paint it where it ain't."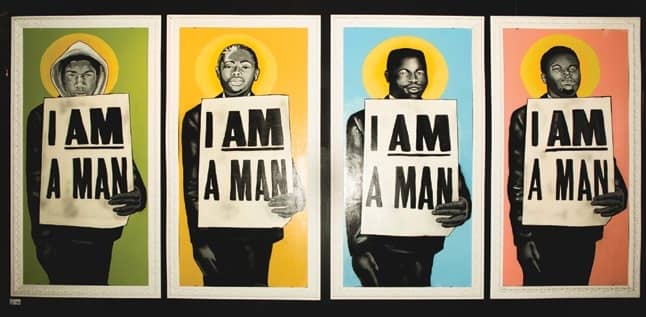 Odums' work invites us to think about reality, without abstraction. Sure, his subjects are literally larger-than-life, with skin tone that might be a shade of blue, but ultimately what he's sharing is an overall truth.
"Artists are here to disturb the peace," he says, quoting author James Baldwin. For Odums, there must be intention behind work. More often than not, that intent is directed towards challenging, or at least analyzing, the status quo.
"In order for there to be order, there has to be a perception of peace," he tells me. "That's how order reaffirms itself—if everything is okay at all times, we don't need to dismantle anything. It's the artist's job to investigate the idea of order and peace. We saw that in post-Katrina New Orleans. You heard mixtapes from rappers and musicians talking about things happening here, while others said the city was bouncing back. I remember there was a PSA, some tourism piece, where John Goodman was saying everything was okay. But the artists were talking about something completely different. As an artist, I'm going to walk you into this space that's a little more than reality—it's truth-telling. That's part of the responsibility."
Odums' work is unambiguous. One of his installments is a makeshift basketball court, with a handcuffed Black arm in an orange jumpsuit and the words "1/3 Black males will go to prison in their lifetime. 3/10,000 will go to the NBA" spray-painted on a wall.
"I can always articulate what my intentions are, and at its best I can create something where it's impossible to separate the intention from it. That's why I choose to be as direct as possible," he says.
Studio BE—which celebrates its fifth anniversary on November 15—is the third installment in a trilogy, and the following is an abridged version of how it all began. Our full conversation can be found in the online version of this story.
Years ago, Odums was more focused on videography than painting, directing videos for well-known hip-hop artists including Curren$y, Juvenile and Yasiin Bey (formerly known as Mos Def). He was spending a lot of time in abandoned locations, where the neglected and overgrown settings whispered stories of bygone inhabitants. One day, he stumbled upon a huge painting of a bird on the archway of a building.
"It really messed up my head. I was like, 'Who did this, how did they do it, and why?' It was beautiful. I got really interested in street art in these abandoned spaces, because it really broke all the rules of art—they can't sell it, no one knows who they are," he tells me.
Continue Reading with Magzter GOLD
Log-in, if you are already a subscriber
Get unlimited access to thousands of curated premium stories and 5,000+ magazines
READ THE ENTIRE ISSUE
November 2019
Jimmy 'Duck' Holmes Talks Back
OffBeat Magazine
Heartbreak And Cocaine
OffBeat Magazine
The Elysian Bar
OffBeat Magazine
Food And Lagniappe
OffBeat Magazine
Ready, Willing And Able
OffBeat Magazine
Dual Consciousness
OffBeat Magazine
Christmas Gumbo
OffBeat Magazine
Moo! A Very Loose Cattle Christmas
OffBeat Magazine
Ghost Stories: Paul Sanchez Tells His Tale.
OffBeat Magazine
Terence Blanchard [Talks Back]
OffBeat Magazine