Jagadguru Sri Bharati Tirtha Mahaswamiji Of Sringeri Sharada Peetham
Jagadguru Sri Bharati Tirtha Mahaswamiji Of Sringeri Sharada Peetham
Sri Bharati Tirtha, the present Jagadguru of Sringeri Sharada Peetham, a sanyasin of the highest paramahamsa order, is the foremost scholar today of Vedanta and Sastras. His 68th Vardhanti (birthday) was celebrated on 23rd March 2018 at the sacred town Sringeri. His Holiness was born on 11th April 1951 to Smt. Ananthalakshmamma and Sri Venkateshwara Avadhani.
In 1966, a young lad (brahmachari) of 15 years approached Sri Abhinava Vidyatirtha Mahaswamiji, the then Jagadguru of Sringeri, seeking His blessings and instruction in the Sastras. Sitarama Anjaneyaulu (Sri Bharati Tirtha's poorvashrama name) prostrated before the Jagadguru and sought his tutelage, which was granted immediately. The Jagadguru started the sacred teaching the next day itself and Anjaneyalu soon became a gem of a scholar and a dear disciple of Jagadguru. The meeting happened at Ujjain where Sri Abhinava Vidyathirtha Mahaswamiji was observing Chaturmasya. The young boy accompanied Jagadguru in all His tours. In eight years Anjaneyalu finished the study of Krishna Yajur Veda, Purva and Uttara Mimamsa, Nyaya Sastra and many other treatises and commentaries.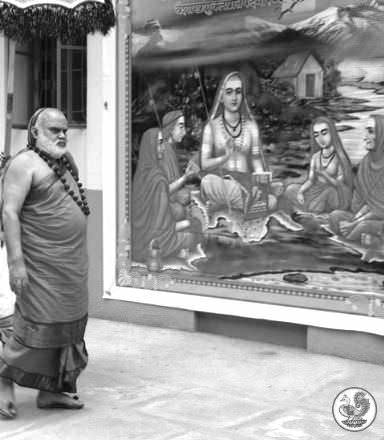 Command over Languages
Continue Reading with Magzter GOLD
Log-in, if you are already a subscriber
Get unlimited access to thousands of curated premium stories and 5,000+ magazines
READ THE ENTIRE ISSUE
April 2018
Rajinikanth A Superstar Or Powerful Politician?
The Astrological eMagazine
How To Use Vastu Purusha Mandala For Good Home Designs
The Astrological eMagazine
Sri Hanuman Devotee, Diplomat And General
The Astrological eMagazine
Jagadguru Sri Bharati Tirtha Mahaswamiji Of Sringeri Sharada Peetham
The Astrological eMagazine
MAKE YOUR NEW YEAR'S Resolution Stick
Pilates Style
On Neutral Ground
Pilates Style
UNLOCKING THE MAGIC OF THE MATWORK
Pilates Style
days of our lives
Soap Opera Digest
La Dolce Pilates
Pilates Style
thumbs up! and down!
Soap Opera Digest
REALLY FUN RUNS
Pilates Style
TAKE FIVE
Soap Opera Digest
HAVE SLIDERS, WILL TRAVEL
Pilates Style
SOUND OFF
Soap Opera Digest