A heady dose of nostalgia permeates D. S. & Durga's intricately layered universe. Kavi Ahuja Moltz and David Moltz, the couple behind the decade-old brand, give Rymn Massand a glimpse into how they have carved a unique niche in the perfume industry.
Walking down the leafy streets of Bedford-Stuyvesant in Brooklyn, en route to meet the founders and creative heads of the fragrance brand D. S. & Durga (DSD), I am struck anew by how this city thrives on its contrasts. Not so long ago, Bed-Stuy was a rather far-flung neighbourhood with a slightly menacing edge and now, with its beautiful brownstones and planted front porches, it is the typical scene of gentrification. This is what NYC is about, the gritty with the pretty, the rough with the smooth, and this contradiction is exactly what has allowed the drive, ambitions and big ideas to blossom for couple Kavi Ahuja Moltz and David Moltz. They have created one of the biggest fragrance brands in New York (actually, the USA) and describe their work in purely poetic terms…as aromatic landscapes evoking stories, fragments of music, literature, art and moments past while painting a picture through scent.
For creatives, so much of what we do is reflected in our daily lives; the details that fill a home or a studio, or our notebooks… and entering the home of Kavi and David feels very much like entering the world of DSD. Light and space, their children's drawings over the fireplace, crystals and books piled on tables, candles and attar in cut-glass bottles, sculptures and tapestries and the soothing sounds of Billie Holiday set the tone. All the various details make up the whole, but each one is its own story.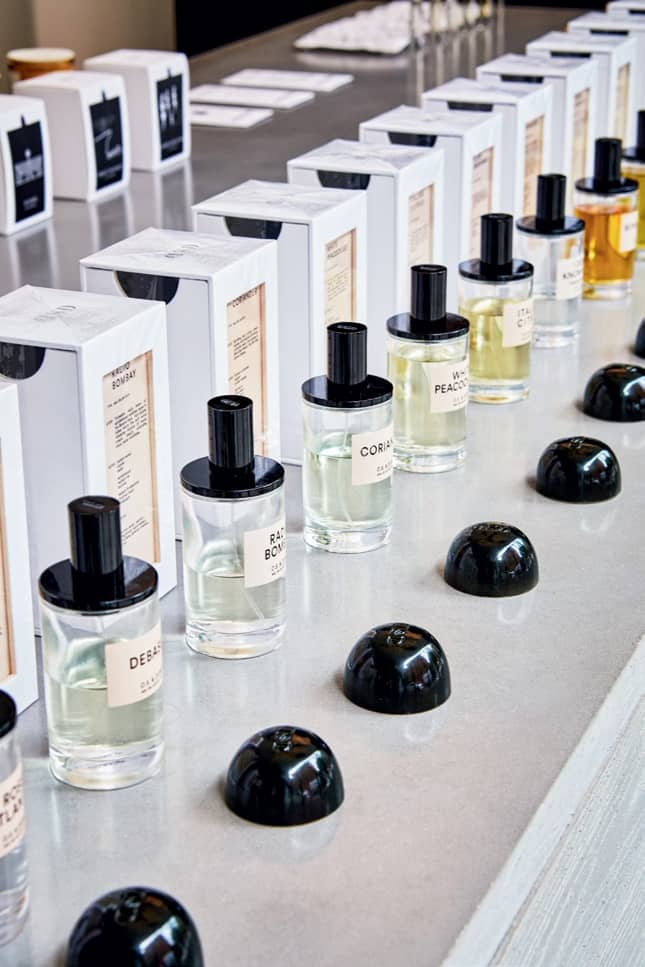 First, the technicalities. Kavi, who is Indian, was born and brought up in New Jersey by two doctors who met at medical school in Pune, fell in love and moved to New York to set up a clinic in the Bronx, where they practise to this day. She trained as an architect, and much of that training and cross-disciplinary ease is evident in the packaging and branding that she designs for DSD. David is from Swampscott, a small town north-east of Boston. He went to film school, became a musician and then translated his talent for storytelling and mood weaving into the successful launch of the fragrances.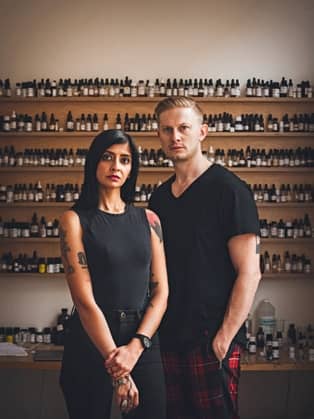 They met on the street outside a bar in the East Village in 2007 and fell in love (all good stories are love stories). They bonded over their mutual love for herbal manuals in used bookstores, tattoos, mythology, music, Russian literature and poetry. It was a moment in time when it seemed like everyone in NYC was building something new, creating their own worlds. This rampant feeling of possibility manifested itself in the origin story of DSD that same winter, when David's much-loved homemade concoctions for his friends led Kavi to realise the power of stories told through scent. (The 'DS' stands for David Seth, Seth being his middle name, and 'Durga' is David's nickname for Kavi — it is not a direct reference to the goddess, but a name taken from Pather Panchali (1955) by Satyajit Ray. She is the sister of the film's main character, Apu). Since DSD is a reflection of the couple, the influence of Indian culture comes through loud and clear. For Kavi, India is the motherland, and she has been going there each year since she was a baby (her parents' determination to make sure their US-born children were solidly connected to their home country). David, who has been an avid follower of Paramahansa Yogananda since before they met, is also deeply affected by Indian culture.
You can call it serendipity — the odds of these two people, who share similar interests, aesthetics and passions, meeting randomly — but it would be more fitting to call it the magic of New York, where something like that could spark and bloom, transforming into a partnership and a business that does not follow convention.
Our conversation turns to their brand, inspirations, design ethos and tattoos….
Did you have a moment of revelation? Or was it the recognition of a gap in the market or, perhaps, a conversation with friends that made it all come together?
Continue Reading with Magzter GOLD
Log-in, if you are already a subscriber
Get unlimited access to thousands of curated premium stories and 5,000+ magazines
READ THE ENTIRE ISSUE
June - July 2019
The Lens Of Marriage
Verve
5 Contemporary Titles That Lead With The Heart
Verve
When It Comes To Age, There's No Deadline…
Verve
Asha Parekh Speaks About The Rule-Breaking Life Choices She Has Made In Her 77 Years
Verve
"We Are Mirror Images Of Each Other, And We Are All Trying To Figure It Out."
Verve
Like Father-Unlike Daughter
Verve
Modern-Day Metallics That Draw Inspiration From Festive Elements
Verve
Best Buy Cruises Into The Holidays
Techlife News
The King Of Knitwear
Essential Homme
Now Trending: Sustainability
Essential Homme
Hot Jewelry Trends For The Holiday Season
Fashion Couture Magazine
Exploring the Peloponnese with Fido
FIDO Friendly
Doggy Gets a Day Out
FIDO Friendly
When Is The Right Time To Cut Loose And Sail Away?
Yachting World
Pooja Hegde Discovers AlUla, The Best-Kept Secret Of Arabia
Travel+Leisure India
Central Florida Lifestyle's Top 24 Ways To Make Your Holidays Glisten
Central Florida Lifestyle
Encore Buenos Aires!
Business Traveler