Gaytri Bhatia - One Seed At A Time
Gaytri Bhatia left a corporate job in America to take over Vrindavan Farm on the outskirts of Mumbai, transforming it into a fully-sustainable, organic venture…. See how the former city dweller has adapted her daily routine for this life-changing transition.
Gaytri Bhatia, environmental analyst/grower, as she titles herself, picks mulberries and heirloom tomatoes with her bare hands and pops a couple of them directly into her mouth. Thirty-eight varieties of heirloom tomatoes (under the larger umbrella of cherry and beefsteak varieties) seem to have overrun Vrindavan Farm, a maze of trees, plants and crops, and today she is tasting some of them — cherry-lemon, cherry currant, and cherry rose pink — even as she continues with her work. These little red, white, orange and pink beauties are scrumptious enough to eat as fruit, which tomatoes in fact are.
Making a conscious and drastic lifestyle change, Bhatia left her corporate job in America to run her family farm in Wada, Maharashtra. "In 2009 I returned to India and found that what we were eating no longer nourished us. It was a lab-spawned, unnaturally modified (for face value at that), chemically-fed, hormone-pumped, early-harvested, chemically-ripened, coloured and-sometimes-sweetened, fast-forwarded 'something'. My love for the earth and my own health, I guess, turned into the growing of food. Farmers are naturally stewards of the environment. Our practices directly feed into the health of humanity and the earth," she says.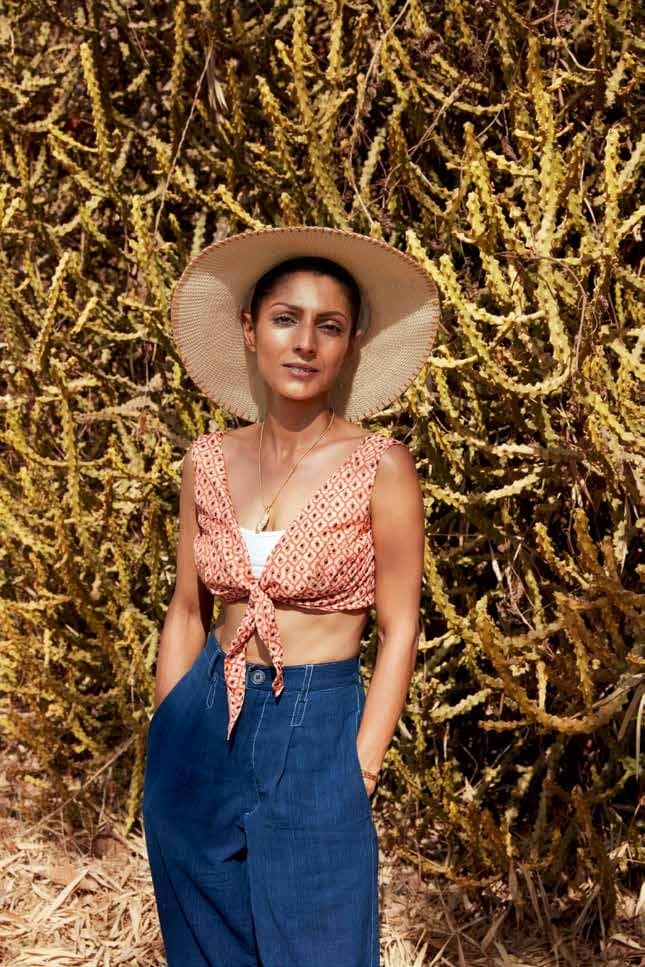 "I noticed that we were on track to becoming a toxic wasteland, fed by misinformed foreign farming practices that included using leftover chemicals from World War II, such as DDT. But our nation was once 77 per cent agricultural; we knew how to grow food sustainably while nurturing the earth. Around me, I'd seen our native evergreens, that didn't require tending to or more than the water from the Monsoons, reduce in number. They were being replaced with plants that required maintenance — care and water across the year," she recounts, about her initial years at the farm. "From the fruit of one such native shrub, we crafted a jam, and taught the recipe to the women of the village, and today, we bring the jam to the city to sell. Now, they're less likely to pull out the plants. And their kids, they wipe out kilos of it, in days."
Another issue that initially bothered her was the easy availability of the Monsanto seed in remote villages, including her own. "Not only is the government allowing the sale of this GM seed, but it also gives with it accessories like Roundup (a weed killer). The Western world has caught onto the ill effects, but due to the lack of education and information, Indian farmers are falling prey to this. I had to raise awareness and the best way to do it was by exemplifying a simplistic model that worked." She is happy with even the small differences that she sees around her, adding, "I didn't choose to be a farmer; it chose me."
Continue Reading with Magzter GOLD
Log-in, if you are already a subscriber
Get unlimited access to thousands of curated premium stories and 5,000+ magazines
READ THE ENTIRE ISSUE
April - May 2019
The Lens Of Marriage
Verve
5 Contemporary Titles That Lead With The Heart
Verve
When It Comes To Age, There's No Deadline…
Verve
Asha Parekh Speaks About The Rule-Breaking Life Choices She Has Made In Her 77 Years
Verve
"We Are Mirror Images Of Each Other, And We Are All Trying To Figure It Out."
Verve
Like Father-Unlike Daughter
Verve
Modern-Day Metallics That Draw Inspiration From Festive Elements
Verve