As redevelopment and construction projects cast a dusty haze over an already unrecognisable Mumbai, Simin Patel, founder of walking tours company Bombaywalla, and photographer Hashim Badani are determined not to lose sight of the sometimes-overlooked spaces that gave Mumbai its original, distinct character. Sadaf Shaikh joins them on a customised expedition and is reminded why she shouldn't take the uniqueness of her hometown for granted.
I've been a resident of Mumbai for all of my 27 years and, yet, I must shamefully admit that much of this 'maximum city' remains a mystery to me. I continue to depend on Google Maps to get me to familiar places, I lose my way more often than I'd care to reveal, and I almost always miss discovering a hidden route or quaint nook because I'm preoccupied with my phone. Simin Patel is flummoxed by my admission and attempts to fix this inanity on a Wednesday morning, as she checks a mental list of places we will be visiting during a specially curated walking tour. The 34-year-old historian is the founder of Bombaywalla, a company that is in the business of guiding visitors and locals in the direction of the lesser-known sites within crowded neighbourhoods that may well be invisible to the inhabitants of this bustling city. And on tour-free days, you will find her bent over a laptop screen at Ministry of New, a co-working space in Fort, where she often spends long days doing research. Fact-checking, she says, is perhaps the most important part of her job.

It's 8.30 in the morning, and while Patel is readying for the shoot, I notice a tall figure skulking around the Verve office. I gingerly call out, "Hashim?" and he turns immediately, a shy smile on his face. Clad in jeans and a simple T-shirt, travel and fashion photographer Hashim Badani is clearly more accustomed to being behind the camera than in front of it, evident from his deer-in-the-headlights expression. Today, however, perhaps thanks in part to us having been neighbours in the past — we both grew up in Byculla and he happened to study at the school opposite mine — he is quite accommodating about switching positions.

Patel and Badani collaborate on selective Bombaywalla projects that involve documenting small business enterprises like music classes and laundries, and they are also putting together a coffee table book on Mumbai's Irani cafes. It's like they are on autopilot; Patel, who holds a PhD in the history of the Parsi community of colonial Bombay, interviews the owners of the places they pick, then Badani swoops in and breathes life into her words through his moodily lit photographs that freeze time yet capture the transient nature of life in this metropolis.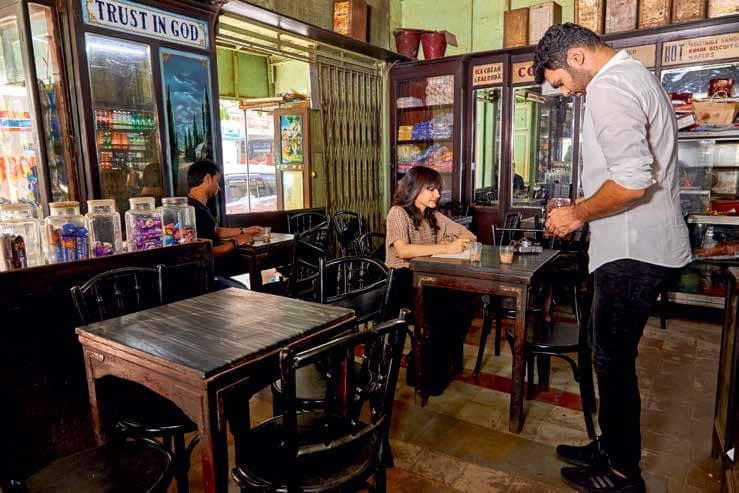 The 33-year-old photographer mainly works on documentaries and editorial shoots and talks animatedly about a project on animal consciousness. "We visited different parts of India to determine whether animal sentience originated in the East or the West. It was strange and interesting to work with this premise; we are so taken with ourselves that we do not stop to consider whether animals harbour the same feelings as we do. A fascinating fact I discovered is that if fruit flies don't find a compatible mate, they feast on rotten fruits before intercourse so that they are intoxicated during the act and can just get it over with."
It's been a while since Patel and Badani talked; he spent the last couple of weeks travelling around Armenia for the second time; the first was when he was commissioned a story there three years ago. "I don't like to simply visit a country for a few days, come back and write about it," he says. "I try to return at least one more time so I'm more acquainted with its history." Patel smiles as she indulges him. "Hashim is so elusive. He's not in the city for the most part, so getting a hold of him is a real struggle. Bombaywalla wouldn't have come such a long way if his photography skills weren't so phenomenal; I absolutely love his Bombay photo series". They say three's a crowd, but, when it's a crowd that enjoys banter and storytelling, creative sparks are bound to fly. After Badani, Patel and I engage in in a quick walk down memory lane, discussing how much the city has changed, the three of us head out to our first destination of the day — Café Dela Paix in Girgaum.
Continue Reading with Magzter GOLD
Log-in, if you are already a subscriber
Get unlimited access to thousands of curated premium stories and 5,000+ magazines
READ THE ENTIRE ISSUE
April - May 2019
The Lens Of Marriage
Verve
5 Contemporary Titles That Lead With The Heart
Verve
When It Comes To Age, There's No Deadline…
Verve
Asha Parekh Speaks About The Rule-Breaking Life Choices She Has Made In Her 77 Years
Verve
"We Are Mirror Images Of Each Other, And We Are All Trying To Figure It Out."
Verve
Like Father-Unlike Daughter
Verve
Modern-Day Metallics That Draw Inspiration From Festive Elements
Verve
SAN FRANCISCO AIMS TO REIN IN TESTS OF TECH IDEAS ON STREETS
AppleMagazine
NETFLIX SAYS MORE THAN 26M WATCHED 'THE IRISHMAN' IN 7 DAYS
AppleMagazine
OVER $500K IN ROBOTICS GRANTS GOING TO 101 SCHOOLS
AppleMagazine
NEW AMAZON LEASE FOR NY SPACE RENEWS DEBATE OVER FAILED DEAL
AppleMagazine
NATO RESEARCHERS: SOCIAL MEDIA FAILING TO STOP MANIPULATION
AppleMagazine
HOW SCREEN TECH IS POWERING UP APPLE PRODUCTS
AppleMagazine
FACEBOOK REBUFFS US AG OVER ACCESS TO ENCRYPTED MESSAGES
AppleMagazine
Workout Of The Month - Core Values
Men's Journal
BROADCAST TV SHUT OUT OF GLOBE NODS, NETFLIX EDGES HBO
AppleMagazine
The Ultimate Christmas Gift Guide
Mac Life