A.R. Rahman - The Man Behind The Music
His creative genius has conjured up a host of rhythmic offerings — from soul-stirring notes and romantic ditties to pulsating rhythms and foot-stomping beats. Over the years, A. R. Rahman has captured the imagination of countless fans, not just in India but worldwide as well. Interacting with the Oscar award winner in his Chennai home, Shraddha Jahagirdar-Saxena delves into the mind of the maestro.
Shraddha Jahagirdar-Saxena
His home in Chennai is a quiet hub — undisturbed behind its gates even though cars regularly drive past it in a narrow lane. The bungalow that houses both his residence and his workspace, in different wings, bears ample evidence of the personality of its owner, A. R. Rahman. On a glass door I spot a translucent design of music notes. In the rooms inside, a piano occupies pride of place — as do a variety of other musical equipments.
When I walk into his living room on the ground floor, my eye immediately takes in the innumerable awards lined up in a showcase on one wall, too many to count in that split second before we begin our conversation. We start with the recent 10-year anniversary celebration of Slumdog Millionaire's release in India (2009). Danny Boyle's cinematic offering had got Rahman his two Oscars, a feat that made him the first Asian to bag this twin honour in one year! Rewinding to that historic moment, the 52-year-old musician says, "When Slumdog Millionaire won, Andrew Lloyd Webber told me that we had deserved it much earlier. He had believed in me since the musical Bombay Dreams (2002). However, I feel that for everything there is a time! Even now, I do not think that the Oscars were my success. The achievement was the aspirations of all of India — the culmination of all our attempts to win an Oscar. I was lucky that there was a director doing a movie on India and the music could trigger applause in an international audience."
Since he grabbed the spotlight with Roja (1992) his versatility across diverse forms and languages was quickly established, and film critics soon learned that it is well-nigh impossible to box the man's genius, though initially he was referred to as Mr Synthesiser. This was largely due to the fact that he was talked about primarily for his use of 'computer music'. His melodic rhythms soon wooed not just India but the world as well; as the man from Madras (now Chennai) reinvented the art of creating tunes, merging melody with technology. But, while embracing the new, he also absorbed age-old traditions and creatively used a variety of sounds — the voices of old ladies, folk artistes and children, different choruses, jungle rhythms, orchestral arrangements and waltz scores — in his songs with equal impact.
So, when I ask him how he would define the 'Rahman sound' that film-makers come to him for, he smiles. "I don't know. I think it's the vibe that comes through the music. And if there is a direct connection between your thought process and the way it is implemented, then the resulting work is magic."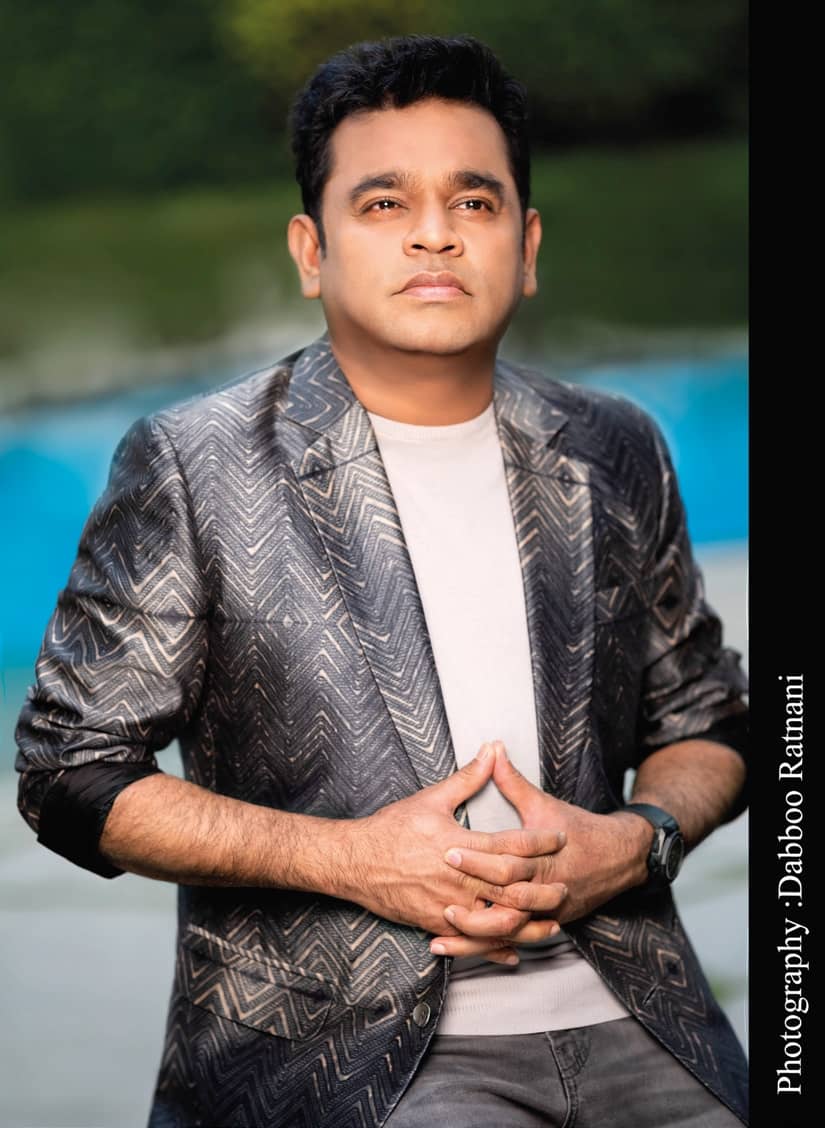 It would not be untrue to call Rahman a living legend — but the man feels the tag is undeserved. Pausing for a minute as his staffmember comes in with cups of hot coffee, he states, "I feel that you are just as good as what you are doing. The past is fine and I respect the love people have for my past achievements, but you have to keep moving on. Otherwise, you are done — and that is my nightmare."
Music has fuelled his life to greater heights. And Rahman remains grateful for the opportunities that he has had. He says, "Music is a blessing that I received. I had my mother's blessings — my family and my mother protected me. She let me do my work, without letting me worry about its social impact or where I would be in the future. I didn't have to think about all that."
Continue Reading with Magzter GOLD
Log-in, if you are already a subscriber
Get unlimited access to thousands of curated premium stories and 5,000+ magazines
READ THE ENTIRE ISSUE
Verve Man 2019
The Lens Of Marriage
Verve
5 Contemporary Titles That Lead With The Heart
Verve
When It Comes To Age, There's No Deadline…
Verve
Asha Parekh Speaks About The Rule-Breaking Life Choices She Has Made In Her 77 Years
Verve
"We Are Mirror Images Of Each Other, And We Are All Trying To Figure It Out."
Verve
Like Father-Unlike Daughter
Verve
Modern-Day Metallics That Draw Inspiration From Festive Elements
Verve