Lines, scribbles and lots of humour are the tools of trade that fuel the creations of Sailesh Gopalan of Brown Paperbag Comics and Harshveer Jain of Storyseller Comics. The two Instagram artists talk to Tina Dastur about their love for their art, their favourite webcomics and making a meaningful impact through their stories.
A BAG FULL OF FUN
Even as a child, Sailesh Gopalan, the founder of the Instagram strip Brown Paperbag Comics, loved reading comics, watching animated shows and replicating the characters on paper. Outlining where his interest in doodling stemmed from, the 22-year-old says, "My parents tell me I've been drawing since I was a toddler. They've still kept some of my early drawings, so I'll take their word for it. I grew up reading Indian comic books like Tinkle and Amar Chitra Katha and international ones like Tintin, Asterix and Archie Comics, among others. My interests kept evolving, and so did my artistic style. I had a long phase of referencing anime and manga characters as well, from shows like Pokémon and Dragon Ball Z. I later got into comic strips like Calvin and Hobbes and Pearls Before Swine, both of which helped me shape my aesthetic and comedic style."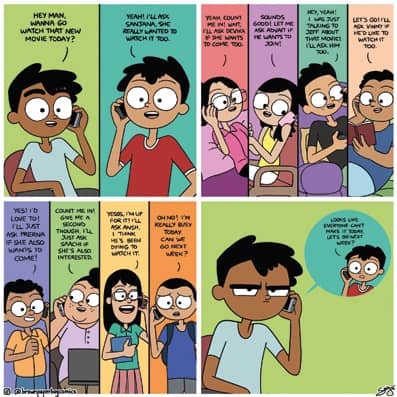 On the choice of the name for his handle, he states, "Do you remember those old cartoons where characters would put a brown paper bag on their heads to hide their faces out of utter embarrassment? That was the idea I started out with, but 'brown' also resonated with the colour associated with us Indians. Most importantly, though, the name just had a nice ring to it, so I went ahead with it."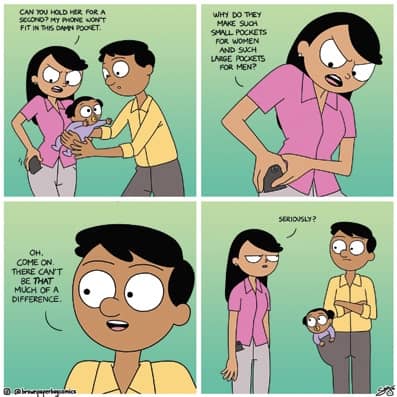 Swipe through any of Brown Paperbag's strips, and what will instantly strike you more than the quintessentially Indian characters are the extremely relevant themes, which spotlight the many eccentricities of Indian families as well as the hypocrisies and idiosyncrasies of our society, but all in a light-hearted manner. For Bengaluru-based Sailesh, choosing to highlight these issues was a deliberate option. Most of the comic strips he'd seen in newspapers and on social media were all too political, and the Srishti Institute of Design graduate wanted to look at something altogether different. Evidently, his reasoning paid off, and Brown Paperbag Comics currently has a staggering following of 2,41,000 people.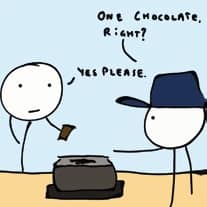 Sailesh's creative process is pretty straightforward. He underlines, "It starts with a topic, which I convert into a working narrative in my mind. I then try to represent it in a series of panels. Once I've got clarity on the idea, I start by making a rough sketch, which I generally end up editing a lot to make the narrative more cohesive. The entire process takes roughly two to three hours, depending on the amount of detail I put in. I've always enjoyed the liberty that comes with running a webcomic instead of a published one because I get to decide when I want to post an update," he states.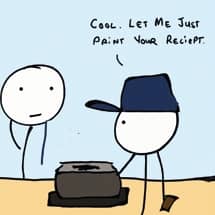 Continue Reading with Magzter GOLD
Log-in, if you are already a subscriber
Get unlimited access to thousands of curated premium stories and 5,000+ magazines
READ THE ENTIRE ISSUE
Verve Man 2019
The Lens Of Marriage
Verve
5 Contemporary Titles That Lead With The Heart
Verve
When It Comes To Age, There's No Deadline…
Verve
Asha Parekh Speaks About The Rule-Breaking Life Choices She Has Made In Her 77 Years
Verve
"We Are Mirror Images Of Each Other, And We Are All Trying To Figure It Out."
Verve
Like Father-Unlike Daughter
Verve
Modern-Day Metallics That Draw Inspiration From Festive Elements
Verve
Weight Room Promotes Fitness At DISHS
Island Ad-Vantages
Stonington student is a 'STAR'
Island Ad-Vantages
Mariners carry over success from last season
Island Ad-Vantages
GSA Girls Show Promise In Early Losses
Island Ad-Vantages
Deer Isle Garbage Man Retires After Half A Century Of Work
Island Ad-Vantages
SAN FRANCISCO AIMS TO REIN IN TESTS OF TECH IDEAS ON STREETS
AppleMagazine
NETFLIX SAYS MORE THAN 26M WATCHED 'THE IRISHMAN' IN 7 DAYS
AppleMagazine
OVER $500K IN ROBOTICS GRANTS GOING TO 101 SCHOOLS
AppleMagazine
NEW AMAZON LEASE FOR NY SPACE RENEWS DEBATE OVER FAILED DEAL
AppleMagazine
NATO RESEARCHERS: SOCIAL MEDIA FAILING TO STOP MANIPULATION
AppleMagazine