The UAE knows how to throw a party. Yes, you can have the traditional clubbing experience at Meydan or Yas Island, but there's also great party brunches in Abu Dhabi, incredible ladies' nights in Dubai Marina, and everything in between. But it's inadvisable to jump straight in with no method to your madness. Before heading out the door, have a nosey through the next few pages – your ultimate guide to partying in the UAE. We hope you'll find it useful...
Best CLUBS
ABU DHABI
Annex
Over at the swanky Abu Dhabi EDITION this new nightlife addition is located next to the main hotel. Annex occupies an entire building, which juts out into the water of Al Bateen Marina, and is split into three spaces. The rooftop bar is an intimate space where the DJ spins house music with Arabic intervals; the mid-level is for a cosier vibe, and the real party plays out on the ground floor. For a three-in-one experience head on down.
Annex, The Abu Dhabi Edition, Al Bateen Marina, Abu Dhabi, Thur and Fri 8pm to 3am. Tel (02) 2080000. annexabudhabi.com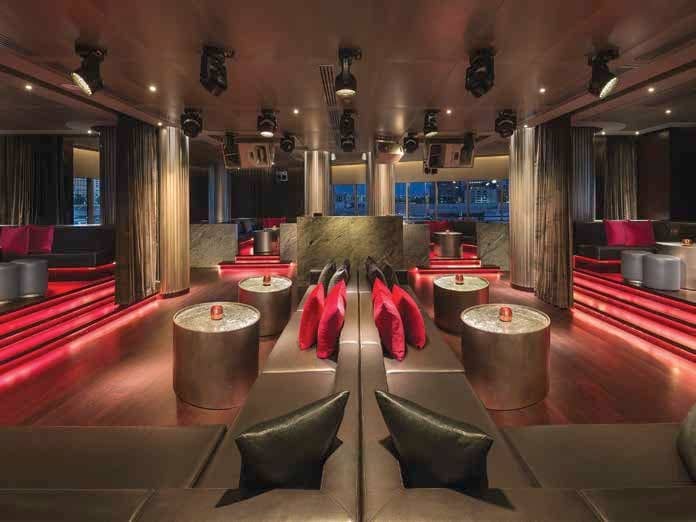 Mad on Yas Island
Dubbed 'the largest nightclub in the UAE', the graffiti covered club on Yas Island brings in big names (Tinie Tempah, Eve and Kid Ink), has friendly staff and thankfully doesn't take itself too seriously. The opulent nightclub features 360 degree projection mapping, huge animated LED screens, an exceptional sound system, beautiful light shows and a luxurious VIP area.
Mad on Yas Island, Yas Island, Abu Dhabi. Tel: (055) 8346262. facebook.com/MadYasIsland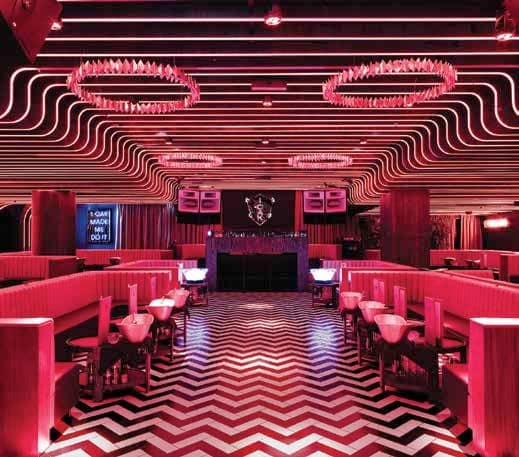 DUBAI
1OAK
Originating from the Meat Packing District of New York, 'one of a kind' 1Oak is a regular haunt for many of the biggest urban musicians and celebrities. In Dubai, it's a place for residents to come and feel like a celebrity. The futuristic interiors and cushy booths create a highclass atmosphere. While international artists have been known to grace the stage, the focus is on resident DJs creating a consistently cool vibe.
1Oak, JW Marriott Marquis Dubai, Tue and Thur 11pm to 3am, Fri and Sun 11pm to 4am. Tel: (052) 8818888. 1oak-dubai.com
Analog Room
If your idea of the perfect nightclub is a much more intimate affair, then you should probably check out Analog Room. With a vibe reminiscent of the days when someone would get on the decks at a house party, Analog Room invites the very best underground DJs to come and help the crowd let loose. With a focus on electronic dance music, Analog Room hosts weekly events with a variety of local and international artists.
Analog Room, behind Ibis Al Barsha, Wed 7pm to 2am, Thur & Fri 9pm to 3am. Tel: (050) 8833172. analogroom.com
BASE
BASE stormed onto the clubbing scene in 2017 and has continued to draw crowds with its huge artist performances, creative live entertainment and futuristic lights and visuals. Over the past two years, the super club has brought the likes of French Montana, Black Coffee, Rick Ross, David Guetta, Jason Derulo and many more. Currently BASE is open two nights per week; Thursdays are R&B and urban tunes, while Fridays are house and techno. Throughout the upcoming season, guests can expect live performances from world-renowned artists.
BASE Dubai, Dubai Design District, Thur and Fri, 11pm to 4am. Tel: (055) 3134999. basedubai.com
Billionaire Mansion
The most exciting thing about Billionaire Mansion isn't actually the nightclub, but the adjoining restaurant. Throw yourself into an immersive dining experience, complete with unique and extravagant entertainment, and enjoy the very special dinner and show combo. Once you're suitably fed and entertained, get ready to party as Billionaire Mansion is known for throwing some equally extravagant nights out.
Billionaire Mansion, Taj Hotel, Business Bay, Tue and Wed 7pm to 3am, Thur to Sun 7pm to 4am, Mon closed. Tel: (04) 510 3100. billionairemansiondubai.com
BOA
Located on the 32nd floor of V Hotel in Al Habtoor City, BOA club is a super-sized venue complete with lavish interiors and a line-up of superstar performers regularly on the bill. The club is open five times a week, with free drinks offered for ladies on most nights. The music switches between urban and R&B to commercial and pop throughout the week. Past performers include Drake, Kid Ink, Ramz and Jeremih.
BOA, V Hotel, Al Habtoor City, Sheikh Zayed Road, Sun and Wed to Sat, 11pm to 4am. Tel: (056) 501 2039. boadubai.com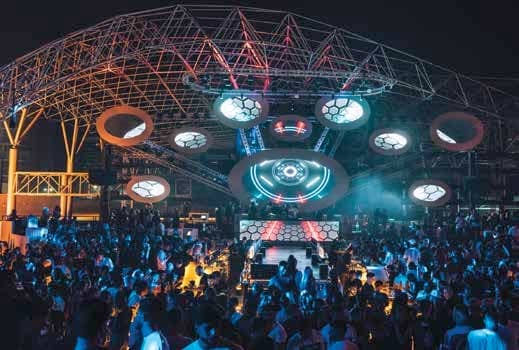 Cavalli Club
Flashy, loud, and ostentatious, Cavalli is one of Dubai's longest standing nightlife venues, having opened in 2009. The huge club, restaurant and lounge has an extravagant interior design – that you'll either love or loathe – and the calibre of artists who perform here is impressive.
Cavalli Club, Fairmont Dubai, Sheikh Zayed Road, daily 8.30pm to 4am. Tel: (04) 3329260. cavalliclubdubai.com
Code
A new addition, Code offers a different take on nightclubs that European visitors might be more familiar with. Rather than an open-air venue surrounding a large central bar, Code is much more of a warehouse-style. Only open once a week, the Friday night line-up has a house and techno focus, with artists from Elrow, Ministry of Sound and Defected regularly on the bill. If you're a fan of festivals, particularly the rave tents, then you'll definitely enjoy the Code experience.
Code, Soho Garden, Meydan, Fri 11pm to 4am. Tel: (052) 388 8849. sohogardendxb.com
Drai's
Hailing from America's number one party destination, Las Vegas, Drai's DXB offers a taste of the US' lavish partying lifestyle in the Middle East. From Wiz Khalifa to French Montana, Nelly and Ne-Yo, the superclub has had many of the biggest names in hiphop and R&B on its stage. There's a popular ladies' night every Tuesday, which offers complimentary entry and drinks for girls, alongside tunes from its resident urban DJ.
Drai's DXB, Meydan, Tue, Thur and Fri, 11pm to 4am. Tel: (052) 388 8857. draisdxb.com
The Hatch
When you think about an underground nightclub, you might imagine it to be tucked away in a backstreet, or in the basement of a hotel, but The Hatch is unique. Located on Dubai's prestigious floating hotel, QE2, The Hatch is found in the engine room, seven metres underwater, deep inside the ship. Due to limited capacity, you have to pre-book your ticket to party here.
The Hatch, QE2, Port Mina Rashid, various Thur and Fri 9pm to 3am. Tel: (050) 375 9715. thehatchdubai.com
Industrial Avenue
Make your way through the grafitti'd urinals (yes, seriously) and you'll find yourself inside Industrial Avenue, a converted event space, with newspaper-lined walls and concrete flooring – a far cry from the plush velvet booths and ornate furnishings you might find in other Dubai clubs. Attached to the club is The Shoreditch, otherwise known as the 'hangout bar', where the pre-party begins over a game of table football. Once you've made the most of the daily drinks deals in The Shoreditch, head into Industrial Avenue for an upclose and personal music experience where you're as likely to find yourself in a dance off with a stranger as you are to see the DJ crowd-diving from the stage.
Industrial Avenue, Westin Mina Seyahi, Dubai Marina, Mon and Tue 10pm to 3am, Thur 9pm to 3am, Fri 9pm to 4am. Tel: (052) 293 5907. industrialavenuedubai.com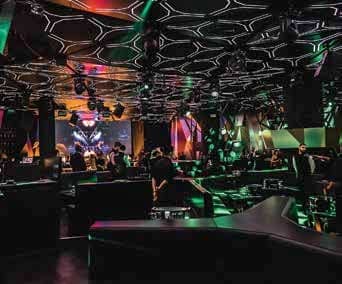 Mantis
DIFC hotspot Mantis, opened early this year in Emirates Financial Towers. The futuristic-style venue is home to a state-of-the-art light and sound system and combines a chic lounge with a laid-back 'immersive room' to relax in. The bar also offers an extensive food menu, including 'sophisticated Asian and South American-inspired dishes and classic European favourites'. Mantis is open three nights a week. On Wednesdays, there's an urban and hip-hop vibe; Thursdays are a mix of commercial pop and R&B, while Fridays offer non-stop hip-hop, commercial, old school and afrobeats.
Mantis, Emirates Financial Towers, DIFC, Wed to Sat 10.30pm to 4am. Tel: (058) 892 2488. mantis-club.com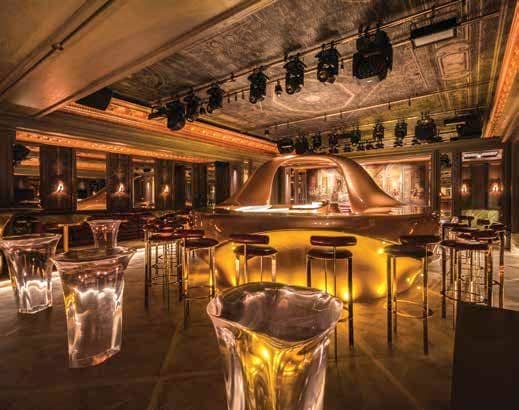 Secret Room
Tucked away in FIVE Palm Jumeirah is the ultra-lavish and golden Secret Room. In contrast, the club is accessed via a grungy graffiti'd corridor, or for super VIP guests, in the comfort of their own car, driven straight into the club. Open on Sundays, Tuesdays, Thursdays and Fridays, Secret Room offers a mix of hip-hop, R&B and latino music at its weekly events.
Secret Room, FIVE Palm Jumeirah, Palm Jumeirah, Sun, Tue, Thur and Fri 11pm to 5am. Tel: (058) 8698996. secretroomdubai.com
Skorpeus
Located inside the very regal Emerald Palace Kempinski, Skorpeus is part lounge, bar and nightclub. With a variety of events on rotation, you can never be too sure what you'll find at Skorpeus, whether it's masked dancers performing a perfectly unified routine, an immersive theatre dinner experience or vibrant Latin night hosted by professional salsa teachers.
Skorpeus, Emerald Palace Kempinski, Palm Jumeirah, Wed to Sun 6pm to 2am. Tel: (04) 2488840. facebook.com/Skorpeus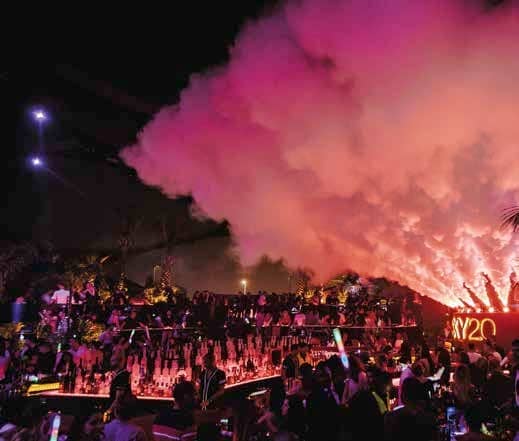 Sky 2.0
The sister-property of Beirut's famous Skybar, Sky 2.0 opened in March 2019 and has just reopened for its second season in Dubai. Offering an alternative to the clubbing norm, Sky2.0 puts a heavy focus on design and details, with its UFO-style shell instantly recognisable when you reach d3. The club is open three nights per week, with 'Dstrkt' Wednesdays tailored to Dubai's urban music fans. Thursdays are their 'Signature' night, offering a mix of house music and R&B. On Fridays, 'Boom Box' will take you back throughout the decades, playing the best in dance, hiphop and R&B music.
Sky2.0, Dubai Design District, Wed to Fri 10pm to 4am. Tel: (04) 5876333. skydubai.com
Toy Room
What was once a cosy miniclub in Al Murooj Rotana, Toy Room has since moved to a bigger space at Meydan and evolved into the lively hotspot we know today, regularly hosting popular singers and rappers of the moment.
Toy Room, Soho Garden, Meydan, Mondays and Wednesday to Saturday, 11pm to 4am. Tuesdays and Sundays closed. Tel: (052) 4633338. toyroomdxb.com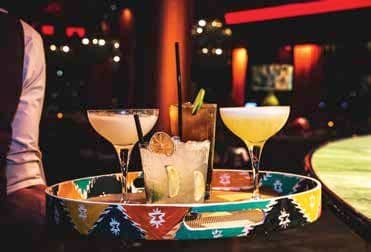 LADIES NIGHT
ABU DHABI
SUN
c.mondo Bar
The hotel's cosy bar offers a cool ladies' night every Sunday and Wednesday where ladies get free flowing bubbly, and house beverages from 6pm to midnight.
c.mondo bar, Centro Capital Centre, Al Khaleej Al Arabi Street, Abu Dhabi, Sun and Wed 6pm to midnight. Tel: (02) 4096666. rotana.com
District By Amalfi
It's not all about the drinks at Amalfi at Le Royal Meridien Abu Dhabi. While you enjoy an evening of unlimited drinks, you will also get antipasti, cheese, pizzas and lots of vegan fare for just Dhs99.
Le Royal Meridien Abu Dhabi, Sun 7pm to 10pm, Dhs99. Tel: (800) 101101. districtbyamalfi.com
Impressions Rooftop Bar
Impressions Rooftop Bar at the gorgeous Anantara Eastern Mangroves Abu Dhabi Hotel has a brilliant daily offer every day for ladies. For just Dhs85, ladies receive three drinks off a selected menu and you can even have your pick of a food platter from a choice of Yo Sushi, Walk and Roll and Dancing Shrimps.
Anantara Eastern Mangroves Abu Dhabi Hotel, Al Kheeran Abu Dhabi, daily, 7pm to 10pm. Tel: (02) 656 1000. anantara.com
MON
Catch
This What's On Award winner offers two ladies' nights: Monday and Saturday. Ladies get four free drinks every Monday from 9pm to 1am, and on Saturdays, ladies need only pay Dhs99 for four drinks.
St Regis Corniche, Abu Dhabi, Mon and Sat 9pm to 1am. Tel: (02) 6110909. catch.ae
Market Kitchen
Head to Market Kitchen's Attic Bar at Le Royal Meridien Abu Dhabi on a Monday, and enjoy a selection of free-flowing mocktails and cocktails. Ladies, if you're feeling peckish, order off the food menu and you will receive a 50 per cent discount, too.
Le Royal Meridien Abu Dhabi, , Mon 7pm to 11pm. Tel: (800) 101 101. marketkitchenabudhabi.com
Porters English Pub
It's three free drinks from 9pm to 11pm on Mondays and Tuesdays at this classic British pub.
Grand Millennium Al Wahda, Mon and Tue 9pm to 11pm. Tel: (02) 495 3936. millenniumhotels.com
The Warehouse Wine & Tapas Bar
Ladies, head here on a Monday from 6pm when you can enjoy three free Frosé (frozen rosé slushi) cocktails.
Pearl Rotana Capital Centre, Abu Dhabi, Mon 6pm to closing. Tel: (02) 3075555. rotana.com
TUE
Glo Bar Glo is the jaw-dropping openair bar at Rosewood Abu Dhabi and it gets its name from the venue's striking signature lighting that illuminates the evening sky in the capital. On Tuesdays, ladies can listen to deep house music from DJ Keith while sipping on four free drinks.
Rosewood Abu Dhabi, Abu Dhabi, Tue 6pm to 9pm. Tel: (02) 8135550. rosewoodhotels.com
Hamilton's Gastropub
Two free drinks plus an additional 50 per cent discount off the bites menu every Tuesdays. Saadiyat Rotana Resort & Villas, Abu Dhabi, Tue 6pm to 10pm. Tel: (02) 6970000. rotana.com
McGettigans's
From 6pm to 10pm, ladies receive four free drinks and 50 per cent off the main menu at this popular Irish bar. Al Raha Beach Abu Dhabi, Tue 6pm to 10pm, free and 50 per cent off the main menu. Tel: (02) 6524333. mcgettigans.com
Stratos Abu Dhabi
Stratos is one of the first revolving restaurants in Abu Dhabi and offers a 360 degree view of the city. It's ladies' night on Tuesdays, where from 8pm to 11pm, ladies can enjoy unlimited red and white grape and one house cocktail. The house cocktail changes on a weekly basis though, so you'll never get the same concoction twice. With your friends in tow, an amazing view and great drinks, all that's left is a meal – which you can get 50 per cent off. Perfect.
Continue Reading with Magzter GOLD
Log-in, if you are already a subscriber
Get unlimited access to thousands of curated premium stories and 5,000+ magazines
READ THE ENTIRE ISSUE
November 2019
A Look Back At... Our What's On Celebrity Encounters Over The Years
What's On Dubai
Inside Vida Creek Harbour
What's On Dubai
The Platform Studios
What's On Dubai
UAE Party Guide
What's On Dubai
What To Eat: Modern Indian Cuisine
What's On Dubai
40 Restaurants Love In The UAE
What's On Dubai
5 Authentic Greek Dishes You Need To Try
What's On Dubai
11 Wine And Cheese Nights
What's On Dubai
Sasan Nasernia - Emergeast Gallery
Art Market
In The Land Of Vanishing Giants
Outside Magazine
Uber Acquires Mideast Competitor Careem For $3.1 Billion
AppleMagazine
Doha- Capital Of Culture
Global Traveler
Shop And Play In Dubai
Business Traveler
The Future-Proofing Engine
Popular Science
Why So Many Superpowers Are Dropping Billions in Djibouti
Bloomberg Businessweek
Hospital Gear Could Save Your Life Or Hack Your Identity
Bloomberg Businessweek
CHILD'S PLAY
Architect and Interiors India
Mice Tourism
Gulf Business